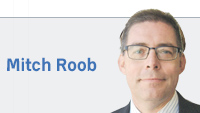 If you are reading this on Sunday, I hope you bought your beer yesterday. For at least another year, Sunday sales of alcohol in Indiana are banned. Yes, "craft" breweries and narrowly defined wine/vineyard shops can sell their locally produced product, but not retail stores.
To their credit, the proponents of 52 annual days of prohibition do not hide behind a religious pretense or moral consideration. As Michael Corleone said in "The Godfather," "It's not personal, Sonny. It's just business."
That's right. We have a law that forbids what on six other days is a legal act simply to insulate a few family businesses from 21st century competition. These businesses claim that, if Sunday sales were allowed, they would lose business. OK, I agree. But what is the public interest?
This year's attempt to legalize Sunday sales was opposed by the Indiana Association of Beverage Retailers, who commented, "… we believe this legislation fails to acknowledge that alcohol is not like any other consumer product. HB 1399, as introduced, gives big box retailers capabilities to sell alcohol as if it were milk."
Really? Monday through Saturday, Costco sells milk and wine. Commercially speaking, what makes Sunday so special?
Imagine if travel agents had convinced the General Assembly to outlaw the use of Orbitz or other travel websites because they would be put out of business. What if Gannett and IBJ had convinced the Legislature that freedom of the press applied only to works published on paper using a printing press, thereby allowing prior restraint or prosecution of "objectionable material" circulated on blogs or social media?
Barriers to entry into a geographically defined market have been used by many governments over the centuries to coddle new industries or to protect older industries. In some cases, such as steel, these laws were justified to protect industries because they had or have a national security interest. Continuing the prohibition on Sunday alcohol sales in Indiana fails these tests. Sunday sales exist in many states; how many are considering instituting a ban on Sunday sales of alcohol?
About 100 years ago, America banned sales of alcohol on all seven days of the week. Designed to end the scourge of alcohol abuse, history has shown this well-meaning policy as horribly flawed. Passage of the 21st amendment to the Constitution legalized the sale of alcohol, which became regulated by states. Each state created its own set of regulations regarding the sales, many designed to inhibit—if not eliminate—sanctioned inebriation and raise needed revenue during the Great Depression.
It's likely that many of the so-called Sunday "blue laws" were initially created as political salve for an evangelical constituency that had seen two generations of effort to outlaw the sale of alcohol fail. I do not know of a member of the clergy or a church whose doctrine still opposes the sale of alcohol on Sunday.
The longer a group of firms is artificially insulated from the markets, the less able it is to respond successfully when that insulation is removed. Perhaps the group fears that time has already come; so be it.
It is an embarrassing anachronism of a bygone era and hard to explain or defend to people or potential companies interested in moving to Indiana. As one of America's great wine lovers said, "The government that governs least governs best." It is past time for Indiana to take the small step of allowing Sunday sales of alcohol.•
__________
Roob, executive vice president at Keramida Environmental, has run Indiana Economic Development Corp. and Family and Social Service Administration. Send comments on this column to [email protected]

Please enable JavaScript to view this content.