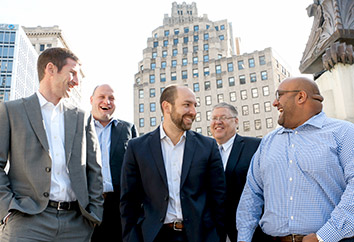 Ambrose Property Group is beefing up its ranks as it enters the lucrative health care market and embarks on a pipeline of projects totaling $100 million.
Aasif Bade and Patrick Chittenden—roommates at Indiana University—launched Indianapolis-based Ambrose in 2008 as a full-service real estate firm and four years later acquired the downtown 16-story Circle Tower, where the company has its headquarters.
But last August, the pair spun off the firm's property management division to DTZ (now Cushman & Wakefield) to concentrate on real estate ownership and development.
"Property management just wasn't our passion," said Chittenden, 35.
With that division off its plate, Ambrose is set to break ground in the spring on a $45 million medical facility in Mishawaka for the U.S. Department of Veterans Affairs, is partnering with Old Town Development to build a $33 million headquarters for Allied Solutions LLC in Carmel, and soon will build a $20 million office building for Stanley Security in Fishers.
That's quite a feat for Ambrose, which went up against far larger competitors to win the jobs.
"We're aggressive and scrappy, and still able to perform on $50 million projects," said Bade, 35.
Ambrose has grown from just Bade and Chittenden to 27 employees.
The company's latest addition is Grant Goldman, 34, who arrived from Pepper Construction Company of Indiana LLC to take the newly created position of senior vice president of development and construction. Goldman, who started Feb. 1, holds two civil engineering degrees—a bachelor's from Purdue University and a master's from the University of Texas.
Goldman, a vice president at Pepper, left after 10 years to help Ambrose pursue more deals.
"We've got the horsepower to do the big projects," he said, "but we're not over-sized."
Bade, a former Duke Realty Corp. executive who completed more than $200 million in transactions for the company, and Chittenden, a project manager at Meyer Najem Construction, started Ambrose on the north side in leased space in Parkwood Crossing.
The two funded their first few deals with bank loans and investments from friends and family members, Bade said.
Patrick Lindley, an industrial broker at Cushman & Wakefield, has known Bade since his Duke days and has worked with Ambrose on several industrial projects. Ambrose in 2014 bought 90 acres near Indianapolis International Airport where it plans to develop two massive distribution buildings.
Given his experiences with Ambrose, Lindley isn't surprised the firm is getting its share of bigger deals.
"This is truly a private development company where the decision-makers are always sitting at the table and will say 'yes' or 'no,'" Lindley said. "They don't say, 'Let me get back to you,' or, 'Let me take it to the finance committee.' They sit at the table the good old-fashioned way and cut deals."
Ambrose bought the 1930 art deco Circle Tower for $6 million from Boston-based Winthrop Realty Trust and since has invested $2 million in it while increasing occupancy from 85 percent to 94 percent.
First-floor tenants include Starbucks and Giorgio's Pizza. The upper floors of the 111,000-square-foot structure host dozens of small tenants, including venture studio High Alpha, which has tripled its occupancy from 5,000 square feet to 15,000 square feet since August.
Ambrose also has been active elsewhere downtown.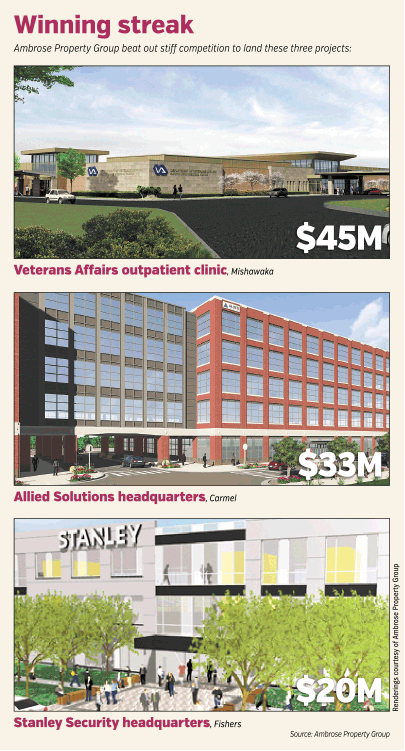 The company in June 2014 bought a five-building office complex at 500 N. Meridian St. that had been mostly vacant since Seattle-based insurance giant Safeco Corp. left in 2009 as part of its acquisition by Boston-based Liberty Mutual.
New tenants, including the law firm Hall Render Killian Heath & Lyman and the accounting firm Blue & Co., have helped improve occupancy.
Ambrose also bought the Landmark Center in December 2013, for $8 million, and sold it in June 2015 to New Jersey-based Fairbridge Properties for $21.5 million—a tidy profit.
But development is what Ambrose has its sights set on now, particularly in the medical office and life sciences fields. Goldman's connections in the health care and industrial sectors led Bade and Chittenden to recruit him.
While at Pepper, Goldman oversaw millions of square feet of industrial projects, including a $38 million distribution center home decor retailer Gordmans Inc. built in Clayton and a $17 million headquarters and distribution center Honzo Logistics built in Plainfield.
As a project manager, Goldman led construction of the $200 million Simon Family Tower at Riley Hospital for Children.
The 80,000-square-foot VA outpatient clinic in Mishawaka is Ambrose's first foray into health care.
Bade learned about four years ago that the VA wanted to offer more outpatient services, leading Ambrose to pursue a similar project in Grand Rapids, Michigan.
It lost out on that one, "but we learned a ton," Bade said.
Armed with more knowledge, Ambrose submitted a proposal for the project in Mishawaka and was one of 30 developers chasing the work, Bade said. The location near St. Joseph Hospital that Ambrose secured and its ability to get the city to agree to move a road lifted the company above competitors, he said.
The VA signed a 15-year lease with Ambrose for the 'round-the-clock outpatient clinic. It should open in July 2017.
Closer to home, in Carmel, Ambrose has entered into a joint venture with Old Town Development in which Ambrose will deliver the 140,000-square-foot office building for Allied. The five-story building in Midtown will allow Allied to double the size of its existing headquarters on City Center Drive.
"We've done a lot of downtown office projects, but we knew we wanted to be in the suburban office game, so we're excited about that," Bade said.
Also in the suburbs, Ambrose gained control in 2015 of 55 acres in Fishers that were part of the 70-acre Delaware Park development. It will use six acres of the property for the Stanley office building.
Stanley called for proposals, received five, and selected Ambrose's site.
Stanley Security will move from its current headquarters at 9998 Crosspoint Blvd. in Fishers. A Stanley facility at 6161 E. 75th St., in Indianapolis near Binford Boulevard, won't be affected by the changes.
If that's not enough, Ambrose might start developing in other markets. It already has scouted Cincinnati, Louisville and St. Louis.
"Buy low and sell high; that's the object," Bade said. "So we're waiting."•
Please enable JavaScript to view this content.