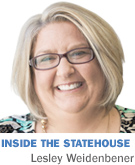 Gov. Mike Pence faced some criticism after his administration picked three areas of Indiana to share in $84 million in Regional Cities funding that had been intended for only two.
Without checking first with key legislative leaders, Pence announced back in December that he would ask the General Assembly to give him another $42 million to ensure all three regions—areas anchored by Fort Wayne, Evansville and South Bend—received full funding for their proposals.
That didn't go over well with some House Republicans, who believed they'd already provided plenty of cash for a fairly speculative program, one that was intended to be more pilot than statewide program.
"We struck a deal last year and those who object to it, that's what they're saying—we set it in statute, that's what it was," House Speaker Brian Bosma, R-Indianapolis, told WFYI-FM 90.1 last month. "The administration did more. They should be held to the statute."
But Pence made a politically astute move at the time, one that essentially ensured he got the money.

Pence
He kept all three regions in limbo.
It would have been easy for the Indiana Economic Development Corp. board, which he appoints, to pick two winning regions from the seven that applied for funding. Those two communities could have split the $84 million the Legislature had already approved.
IEDC could have then picked a runner-up, a third region that would be funded only if lawmakers agreed to spend another $42 million. But that would have been a bad move—at least politically. It would have left the one runner-up proposal open to special scrutiny with only a handful of lawmakers to defend it.
Instead, IEDC's decision left none of the regions feeling secure about getting the money. And it left lots more lawmakers interested in making sure the additional $42 million was approved.
Just listen to how Abby Gras, IEDC spokeswoman, described the situation to The Journal Gazette in Fort Wayne. She said in February that the agency was holding off signing contracts with any of the three regions until the fate of the funding bill was known.
"If the General Assembly doesn't approve the legislation, it will create a question as to which regions will receive funding," she said.
That's some incentive to pass a bill, especially when at least 22 members of the Indiana House represent those regions. That's more than one-fifth of all members. And 14 of the 50 senators represent at least some part of the affected areas. While that's far from a majority of members in either chamber, it's a pretty influential bunch. In fact, the list of lawmakers includes Senate leader David Long, R-Fort Wayne.
Still, House leaders played hardball with the proposal, tying it to higher gas taxes they support—but Pence opposes—to pay for road and bridge projects.
In the end, Pence, Bosma and Long came together and struck a deal that provides for some additional road funding (but no tax increases), plus the $42 million for the regional cities program. That's a big win for Pence all around—a victory he earned with some smart politics.•
__________
Lesley Weidenbener covered the Statehouse for two decades—a span that included five governors, 20 regular legislative sessions and countless campaigns—while working for three news organizations. She is now IBJ's managing editor.
Please enable JavaScript to view this content.