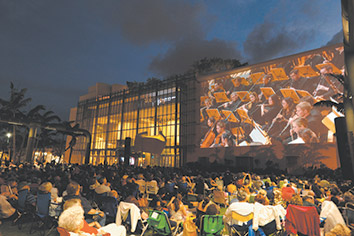 Katrina and I have visited Miami several times in the last few years, but on our last visit we found a place we had not seen or even heard of before. It falls into the category of an unusual sight in a usual destination, which is a benefit of traveling with an open mind and a willingness to veer off the beaten path.
The New World Center in South Beach, near the Lincoln Road Mall, is an architectural masterpiece, designed by the renowned Frank Gehry. It was built on unused land six years ago to house the New World Symphony, whose mission is to prepare highly gifted graduates of distinguished music programs for leadership roles in orchestras and ensembles around the world.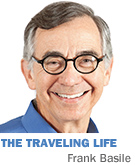 An orchestral academy, it provides a training ground for its 86 Fellows by offering them an experiential curriculum, thus helping to prepare the next generation of classical musicians. It's internationally recognized for reimagining the scope of orchestral music, commissioning new works, creating new performance formats, and exploring the dynamic combination of video art and classical music.
An added plus for those of us who love to hear such music but don't play: NWS hosts free "wallcast" concerts—which are live projections of artistic programs taking place inside the concert hall—on the 7,000-square-foot, state-of-the-art projection wall on the side of the NWC building. A thousand people can enjoy the concert free from neighboring SoundScape Park.
■ We also enjoyed The Ancient Spanish Monastery, which is not only beautiful, quiet and secluded, but also has an interesting, unique history. It was an actual working monastery in Spain that was dismantled stone by stone, brought here in 1925, and reassembled. William Randolph Hearst thought of the idea and financed it. Among the many interesting sights are the original stained-glass windows that are more than 800 years old, the beautiful gardens and a picturesque courtyard.
■ If you want an almost whimsical feel of the 1920s, I recommend a visit to the Venetian Pool in Coral Gables. We learned that the pool is a historic landmark made out of a coral rock pit. There is a waterfall along with a bridge and other interesting, period things to see in addition to enjoying a refreshing swim. But beware that the water is a little chilly due to the fact that the pool is completely spring-fed. It was built in the 1920s, but it's clean and well-maintained and definitely worth a couple of hours while you are in the area.
■ During the same visit, we had a delicious Cuban dinner at the Versailles Restaurant and Bakery in Little Havana. The restaurant's placemats not-so-modestly proclaim it "the world's most famous Cuban restaurant." That might or might not be the case, but it does serve wonderful mojitos. On the opposite end of the spectrum, we made our regular stop for lunch at the truly famous Joe's Stone Crab restaurant (not to be confused with Joe's Crab Shack).
Postscript: The morning after our return from Miami, I had breakfast with a small group, which included Gary Ginsling, CEO of the Indianapolis Symphony Orchestra. I asked what he knew about the NWS. He replied, "I played in it as a musician for three years!" I asked if there were many former musicians now in orchestral administration, as he is. He said, with a smile, "Not many musicians cross over to the dark side!"•
__________
Basile is an author, professional speaker, philanthropist, community volunteer and retired executive of the Gene B. Glick Co. His column appears quarterly. Basile can be reached at Frank_Basile@sbcglobal.net.
Please enable JavaScript to view this content.