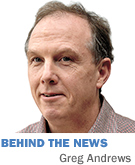 New Angie's List Inc. CEO Scott Durchslag set a high bar for himself at the company's investor day this month—a presentation full of big thinking and specific performance targets built on the premise that the company can use technology to revolutionize the sale of home services (think everything from roofing to toilet repair) in the United States.
Analysts universally said he did a good job, though many want to see the company translate the talk into improved performance before jumping aboard.
"We continue to be impressed with the thoughtfulness, candor and apparent discipline of the new CEO," MKM Partners analyst Rob Sanderson said in a report. "We also agree there is a large opportunity, but await signs of successful execution before recommending the stock."

Durchslag
Durchslag, a former Best Buy executive hired in September, told analysts he will reinvigorate growth by dropping the paywall, which he said will open the floodgates to a deluge of new customers.
After registering, the free users will gain access to Angie's List's previously locked-down reviews. The company isn't abandoning paid memberships, however—instead switching to a "freemium" model with added benefits for paid Silver, Gold and Platinum members.
Durchslag made a compelling case the paywall is the root of the company's slowing revenue growth. Memberships, growing at a 60 percent clip a few years ago, rose just 8 percent in 2015, reaching 3.3 million.
That slowdown, in turn, has dragged down revenue growth from service providers—which pay Angie's List for advertising and need a robust, growing pool of members to justify that investment.
The company's market research found reigniting membership growth faced an impenetrable obstacle: While baby boomers historically have been willing to ante up for annual memberships, which average about $20, the next wave of prospective customers, millennials, is not.
"Ninety percent of home-owning millennials are unwilling to pay," Durchslag said. "Houston, we have a problem.
"And that's why you saw the change in the reviews paywall. That's an unsustainable position to stay in."
Analysts cheered dropping the paywall, saying it will dramatically increase the number of consumers using the service while allowing Angie's List to scale back the massive sums it spends on marketing in a quest to sign up more paying customers.
With the paid model, Durchslag said, 90 percent of the visitors to Angie's List are nonmembers who bounce off the paywall. "So from that universe of 30 million households that are looking to hire a service provider, in terms of what actually comes through, it's only 3 million members."
The move will bring short-term pain, however, shrinking 2016 revenue from $367 million to $348 million and cutting projected EBITDA—earnings before interest, taxes, depreciation and amortization—from $38 million to $32 million, according to RBC Capital Markets estimates.
But longer term, Durchslag said, the change will usher in a new era of growth. He put himself on the spot by projecting that, by 2020, revenue would double to $750 million and EBITDA would be in the neighborhood of $150 million.
Part of his optimism stems from the fact that the home services industry—a $400 billion market—is only beginning to harness the Internet. Today, only 0.7 percent, or $3 billion, in home-services spending occurs online. He thinks such spending could triple to $9 billion by 2020.
Angie's List is racing to ensure it has the technological chops to speed the transition.
"Candidly, Angie's List has been stuck on a legacy platform that has a user experience that reminds me more of 2002 than it does 2016," Durchslag said. "That all changes with Angie's List 4.0."
At the same time, Angie's List will use technology to help its roster of service providers—many of them mom-and-pops with fewer than a half-dozen employees—manage and grow their businesses.
Durchslag said the providers will be able to use Angie's List's platform for billing and payment processing. He said his company even will be able to serve as a consultant of sorts, advising, "Hey, if you want to grow by this much, here are the three things that you need to do."
He said Angie's List's strategy, along with its already-strong brand awareness and reputation, positions it to come out on top as home services go through the "winner-takes-most" transformation that has swept through such industries as ride sharing, home sharing and travel reservations.
"Expedia isn't flying the planes or running the hotels, and Airbnb doesn't own all the homes," he said. "They are a platform that is an intermediary to connect consumers and vendors."•
Please enable JavaScript to view this content.