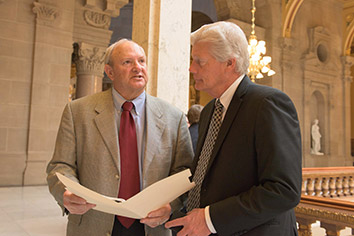 Luke Kenley is used to saying no.
The Indiana Senate Republicans' chief budget writer combs through countless spending requests every two years, each time weighing competing interests as he puts together a final product—one that now tops $30 billion.
Inevitably, someone leaves unhappy. Usually, many people.
But the Noblesville resident's decision to seek another term in office after 24 years at the Statehouse was an exercise in saying yes. Kenley, 70, considered retiring, but his work called to him.
"You don't want to overstay your welcome," he said. "It took quite a bit of thought. But when I get down here and get so interested in a problem that I can't quit thinking about it, I think I'm still in the right place."
Kenley, a former grocery store owner who was first elected in 1992, said he is running for office again because he wants to work on a long-term funding solution for shoring up Indiana's roads and infrastructure. And he said he wants to work with Republican Gov. Mike Pence on fiscal issues for another term.
Still, it's easy to make enemies in Kenley's job as chairman of the Senate Appropriations Committee, where just about everything budget-related ends up. Kenley said it's all part of the job.
"Being the watchdog comes with the territory," he said. "You're always reflecting: 'Am I being fair? Is this the right thing to do? Did you handle this the best way you could?' It either pushes you to be a better person or you get to be such a grouch nobody can handle you."
Scott Willis, a Westfield resident and small-business owner, says it's time for a new voice. So for the first time in eight years, Kenley is facing a challenger in the Republican primary.
Some say Kenley's stature as a major GOP leader at the Statehouse probably attracted the challenge.

Brinegar
"When you're a leader, you have to lead and decisions you make aren't always popular," said Senate President Pro Tem David Long, R-Fort Wayne. Kenley "has negotiated every budget since Mitch Daniels was governor."
During that time, the state's budgets have been in the black, and the state has built a cash surplus of more than $2 billion and earned the highest credit rating possible.
"We need that kind of thoughtful, long-term thinking to keep Indiana a state that lives within its means," Long said.
At the same time, funding for schools, roads and higher education has increased—although not nearly as fast as some have hoped.
Tough but fair
Behind closed doors, Long said, Kenley is seen as a tough negotiator on budgets and issues important to him.
"He's a master chess player," Long said. "It's not a game, but he is able to see a number of moves ahead and basically can see the goal. You get there by deft negotiating. He's effective and it's one of the reasons the budget is in as good a shape as it is."
That approach has gotten results—and earned Kenley critics. He authored the 2010 property tax reform bill—which became Daniels' signature agenda item—that imposed constitutional caps on various classes of taxpayers. It saved many Hoosier homeowners money but has strained local governments.
And Kenley championed a major welfare reform bill in 1995 that reduced welfare rolls 50 percent. While it saved the state millions of dollars, critics said it simply shifted to charities the responsibility to take care of needy people.

Tallian
Kenley also was an early supporter and a key driver of changing the state's school funding formula so it focuses less on funding school buildings and more on funding students, wherever they are. That can hurt districts that are losing enrollment quickly and shifts more money to faster-growing suburban areas—although poor districts still receive more money per child, in part because children in those districts often cost more to teach. That's left suburban residents complaining over the years that they still feel squeezed.
"He gets hit from all sides," said Hamilton County Commissioner Steve Dillinger, a longtime friend. "There's a lot of pressure put on someone like Luke, with his status, that he just has to be tough enough to say no. I think that's an asset, not a liability."
Kenley has a reputation for making waves in Senate committee hearings by asking tough questions of testifying special-interest groups and lobbyists. He's questioned Ivy Tech Community College for its lackluster graduation rates and the state's public universities for large tuition increases.
Kenley has also bucked his own party on some issues, including school reform, expressing skepticism about some Republicans' desires to quickly expand the school voucher program.
"I've had to argue with my friends that enough is enough," Kenley said. "There's a balance to this whole thing. It has been quite a tightrope to walk to find that position."
Still, Kenley is not afraid to say what he thinks. Earlier this year, he said local developer Ersal Ozdemir needed to "stand up and be a man." Ozdemir has tried to secure public money to build a downtown soccer stadium for his Indy Eleven team.
"If you're a real capitalist, you should have money of your own in this," Kenley told IBJ.
Truth-telling
Over the years, he's also taken on university presidents, business leaders and others as they insist they need state money or support for this project or that program.
"He's an inquisitor," said Kevin Brinegar, president of the Indiana Chamber of Commerce. "If you go testify before his committee, you need to know your stuff. He shares his point of view pretty freely and it generally doesn't take very long to know where he's coming from and what it's going to take to influence him or potentially change his mind."
Kenley said it is in his nature to be blunt, but he has learned over the years how to be more graceful about it.
"It's very important for you to be as diplomatic and helpful as you can to people, but I think you need to be a truth-teller," he said.
That has earned him admirers even from frequent critics on policy matters. Retired members of the Indiana General Assembly in January presented Kenley with the "civility in government" award, one of the first five honorees to receive it.
And Sen. Karen Tallian, D-Portage, who serves on the Appropriations Committee with Kenley, said he has a strong work ethic and a willingness to listen to different perspectives over the years.
"He has a greater knowledge of what's going on in the state than damn near anybody I know," Tallian said. "We differ on things, clearly, but he'll always sit down and talk to me and listen to me. He doesn't just blow you off because you're in the minority party."
Gov. Mike Pence called Kenley a good friend. "Whether it be property tax reform, funding for local infrastructure, ensuring education dollars follow the student, Luke has been a leader Hoosiers can depend on and be proud of," Pence said.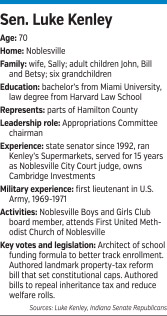 Part of why Kenley wants to run again is to help mentor younger Republicans. For instance, he said he is in a good position to help younger senators get comfortable with the possibility that raising taxes might be the best way to take care of the state's long-term road funding needs.
"I've tried to share decision-making and force some of the decisions on some of these people so that overall we have a deeper, wider bench," Kenley said.
Road ahead
Kenley's re-election is by no means a sure thing. After all, he moved into Senate leadership after then-Sen. Larry Borst, who chaired the Senate Finance Committee, was toppled in 2004 in a challenge from the right by Sen. Brent Waltz.
But Kenley said he welcomes Willis' candidacy—even though he's under no illusion that campaigning will be easy. The first time Kenley ran, he was 47 and knocked on 10,000 doors in 100 days.
"Nobody should be whining or crying about the fact they have an opponent," Kenley said. "I'm just going to get out there and do the best I can. I'm not 47 anymore, but I feel good and energetic."
Still, Kenley has contemplated what he'd do if he lost. He said he would likely get more involved in community issues in Noblesville, where he and his wife, Sally, have been nearly lifetime residents. They are active in their church, as well as at the Boys and Girls Club of Noblesville.
"One of my resolutions coming out of this final session is finding the transition point that allows me to move on in a different setting," Kenley said. "I don't have a problem taking on challenges. There's a lot to do."•
Please enable JavaScript to view this content.