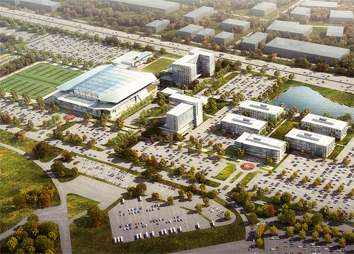 A plan to develop a $500 million medical center and sports complex at Indianapolis International Airport will not get cleared for takeoff this week after all.
The airport board is pulling the issue from Friday's agenda to allow board members to reconsider whether the proposal is the best use for the land—a move that comes as some health care leaders in the community question whether the plan would work.
Airport authority board Chairman Kelly Flynn sent an email Tuesday evening to other board members, telling them "we need to take a step back."
"Considering all the controversy, real and imagined … I'm pulling the item from consideration at this Friday's board meeting," he wrote.
In the email, he referred to recent, unspecified discussions with an administration member for Mayor Joseph Hogsett, who took office less than three months ago. It's uncertain whether Hogsett supports the proposed medical center—and his spokeswoman wasn't immediately available for comment—but the change of administration is apparently not helping the developer, Athlete's Business Network.
The firm's leaders have said they discussed the proposal with Hogsett's predecessor, Greg Ballard. Some of ABN's leadership team had claimed close political ties to Ballard.
But with a change in administrations, the company's plan now appears to be on a slower track.
"In conversations with the mayor's office, it has become clear that in order for us to be successful in putting this land back on the tax rolls, we need to take a step back," Flynn wrote to other airport board members.
It was unclear whether the matter will come before the board at a future meeting. The board was to have considered signing a letter of intent with ABN for its bold plan to build a massive complex on about 130 acres of unused land near the old terminal.
The development would include four medical office buildings, two hotels, a 20,000-seat indoor stadium, practice fields, a fan zone, an obstacle course, sports entertainment and retail, and an armed forces center.
The project's centerpiece would be a "Global Center for Brain Health," a research center specializing in concussions, post-traumatic stress disorder and other brain injuries.
Now, the airport board will have a chance to take another look at the plans—and perhaps at other proposals for the site.
In the meantime, another developer is continuing to push a plan to build a casino and "lifestyle center" on the same location.
Full House Resorts, a Las Vegas-based company that owns Rising Sun Casino Resort in Indiana,has been pushing to build a "boutique casino" with 700 slot machines and 50 table games. The company's 700,000-square-foot proposal includes a hotel, European-style square, conference center, offices and condominiums as part of a $650 million casino and retail complex.
Full House originally rolled out the plan last summer after the airport requested proposals to redevelop the land near the old terminal. But the casino plan seemed to stall after Gov. Mike Pence and the Republican-dominated Legislature voiced opposition to expansion of casino gambling in the state.
Then, last month, the airport authority passed over the casino plan and instead picked two other projects for the land: ABN's medical complex and a proposal by South Bend-based Holladay Properties, which is still in the works but calls for attracting a range of retail and industrial projects on 300 acres near West Washington Street.
Last week, Full House hosted a community forum to discuss its proposal, called American Place, in Wayne Township. More than 50 people showed up to hear company officials outline their plan, which they said could generate about 4,000 jobs and an estimated $85 million in tax revenues.
Full House officials could not be reached for comment Tuesday evening.
The airport board's decision to slow things down followed weeks of uncertainty over whether ABN has sufficient financing and community support.
IBJ published stories in recent weeks raising questions about the credentials of ABN's management team. The company's CEO, Craig Sanders, is a former part-owner of a Dunkin' Donuts franchise that struggled, lost millions of dollars and filed for bankruptcy. Sanders later filed for personal bankruptcy to protect his assets but said he subsequently settled with creditors and withdrew the petition.
And the company has declined to identify any of its investors, saying it would be inappropriate before the airport board signs a letter of intent.
Once the airport board approves a letter of intent, ABN said it could start lining up financial commitments, allowing the airport to begin due diligence on the project.
Some health care executives in Indianapolis have expressed surprise and concern about the scale of ABN's plan, given that it never has built as much as a warehouse or a shopping center.
Dennis Murphy, president of Indiana University Health, said Tuesday he was "having a hard time understanding" how ABN would achieve its ambitious goals, which would require huge investment and one of the biggest health care recruitment drives in memory to attract all the professionals needed to fill five medical buildings.
Dr. Jay Hess, dean of the IU School of Medicine, used stronger language, saying the whole thing sounds "far-fetched."
ABN's plan had shown some hiccups in recent days. The company canceled a community forum in Wayne Township planned for this week to explain its proposal and take questions. And the airport management canceled a planned appearance this week before a City-County Council committee to explain the ABN proposal.
This is the second time the airport board has pulled the ABN letter of intent from its agenda. Just last month, the board pulled the same item after IBJ began to report on the company's questionable track record and raised questions about its financing.
ABN officials were unavailable for comment Tuesday evening.
Flynn, the airport board chairman, could not be reached for comment Tuesday. But, in his email, he outlined a range of concerns over moving ahead with ABN's proposal this week, including the casino company's recent community meeting and "ABN's inability to coalesce any political community support."
Another airport board member, Michael Wells, called ABN's proposal "pie in the sky."
"I think everyone just wants to slow down and take a hard look at this before we move any further," Wells said.
Please enable JavaScript to view this content.