Since San Francisco-based Salesforce.com bought Indianapolis-based ExactTarget Inc. for $2.5 billion in 2013, attention has focused on its offshoots—executives like ExactTarget co-founder Scott Dorsey who've gone on to grab headlines with new companies and investments.
But over the past few years, Salesforce and some of its competitors have been using their Indianapolis operations to help forge a new industry—the creation of cloud-based digital dashboards known as "marketing clouds." They're essentially software Swiss Army Knives for marketers, featuring tools for email marketing, social-media monitoring and more.
ExactTarget became the core of Salesforce Marketing Cloud, and that business unit is headquartered in Indianapolis. One of its offices is on Monument Circle, just a few hundred feet from the Circle Tower office of Oracle Marketing Cloud, which emanated from Redwood City, California-based Oracle Inc.'s 2013 buyout of Indianapolis startup Compendium Software LLC.
Monument Circle is also home to Austria-based Emarsys eSystems AG, which established its U.S. headquarters in Indianapolis last summer and offers a marketing cloud for retailers.
It's no secret that Indianapolis has a high concentration of marketing technology professionals, evidenced in part by the acquisition of such firms as ExactTarget and the marketing software firm Aprimo Inc., which sold to Dayton, Ohio-based Teradata Corp. for $525 million in 2010. But what's less known is that Indianapolis is a key battleground in the burgeoning marketing-cloud war waged by tech titans who want their software hubs to be home base for marketers trying to reach increasingly digital customers.
Sindwani
"We're in the part of the cycle where it's still the second or third inning … but the good thing for vendors is that there are lots of tailwinds, lots of dollars being spent on marketing technology," said Deepak Sindwani of Boston-based Wavecrest Growth Partners, which is eyeing Indianapolis and other Midwestern cities for enterprise-software investment opportunities.
"I don't expect Indy to be Silicon Valley anytime soon," he said, "but as a pocket of innovation for [marketing clouds], I think it certainly can be for a long time."
According to International Data Corp., chief marketing officers are projected to spend $32 billion on technology software in 2018, up from $23 billion in 2015. Fueling this growth is marketers' desire to gain insights about existing and potential customers, to personalize marketing campaigns, and to accurately assess what's working and what's not.

Software that helps solve specific marketing challenges has been around for decades, but the underlying data sets have largely been disjointed.
Since about 2009, software giants Salesforce, Oracle and San Jose, California-based Adobe Systems Inc. collectively have spent billions on acquisitions in order to offer an integrated bundle of marketing applications.
In the case of Salesforce and Oracle, the deal-making bought them outposts in Indianapolis, which they have since expanded. Salesforce has grown Indianapolis employment since the ExactTarget acquisition from about 1,000 to 1,400, though it doesn't disclose how many fall under its marketing cloud.
Oracle has about 500 employees across three Indianapolis offices, most of them in sales and support jobs that were here before the Compendium acquisition. The downtown office spawned by that deal has doubled its head count to about 50.
Of course, Indianapolis is not the only city that has large software companies working to shape the marketing cloud. Silicon Valley, New York and London are among the others, observers said.
But the fact that software behemoths are partially forging a fast-growing industry locally signals that talent and investment might continue to coalesce here—paving the way for innovation and new companies. Software jobs and non-technical jobs could follow, experts said, not to mention the retail and services jobs that support those companies.
"It's a magical thing if you can make it happen," said David Spitz of Portland-based Pacific Crest Securities. "There are a lot of ingredients that have to go into it to make it work, including having a successful company that [has] sprung up and either stayed independent or kept a big nexus of activity in the region.
"The key now for Indy is to make sure those people don't up and leave, and [to] make sure you build an ecosystem around it."
A burgeoning field
Dozens of digital marketing hubs exist today, ranging from niche offerings for specific industries to multifaceted software suites.
Features vary, but many offer ways to manage audience profile data, orchestrate marketing campaigns, and track return on marketing spending. A shoe retailer, for instance, can use these platforms to email coupons to only its biggest spenders, establish cart-abandonment trigger offers, or assess which social media ads drove the most sales.
Marketing clouds have come to represent the most beefed-up digital marketing hubs, and they strive to offer insights about all customer interactions and serve as the dashboard for most–if not all–marketing activities.

McCorkle
"Marketers for many years would say it's the marketer's job to manage the brand of an organization, and the brand is the sum of all touch points that customers have with the organization," Salesforce Marketing Cloud CEO Scott McCorkle said. "It's now actually possible—the digital technologies make it possible—to manage all those touch points at every phase of the customer life cycle."
Tech companies' acquisitions have turned that possibility into reality. Oracle, for instance, bought marketing automation company Eloqua for $871 million in late 2012 and bolstered it with at least five other purchases.
Oracle, which has a stock market value of $162 billion, has drawn global attention for its marketing cloud ambitions, but it's made little noise locally since it scooped up content marketer Compendium. The acquisition gave Oracle software that allows marketers to create and promote content like blog posts.

Garrison
Nevertheless, Oracle has quietly invested to bulk up its presence here, adding positions in areas beyond content marketing. Kaila Garrison, a product marketing director who joined Oracle after the acquisition, said Oracle also renovated its space, adding a fully stocked kitchen and adjustable electric desks in lieu of secondhand furniture.
"We are kind of flying under the radar here, but maybe that's OK. But we're not flying under the radar globally, that's for sure."
Salesforce, which has a stock market value of $48 billion, made a name for itself by selling customer-relationship-management software for sales and support teams. But it realized it needed to have software for marketing teams, too, so it bought ExactTarget.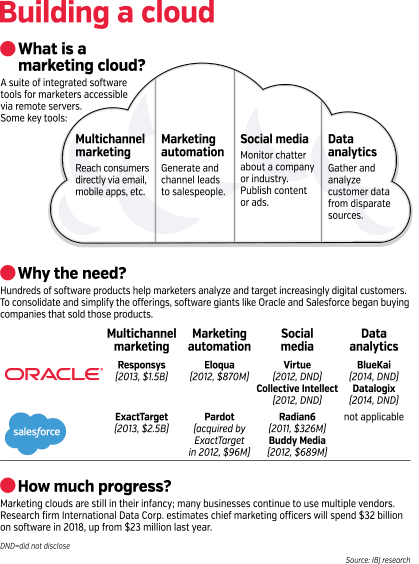 It ultimately bolted on BuddyMedia and Radian 6—two social-media software firms it bought in prior years—to ExactTarget to create Salesforce Marketing Cloud.
While a number of ExactTarget executives and employees left the company post-acquisition, Salesforce has bulked up its presence here, adding jobs—and ultimately floors—in its three locations downtown.
IBJ has reported that the company plans to scarf up another 200,000 square feet of space in Chase Tower, Indiana's tallest building. While McCorkle wouldn't comment about potential real estate moves, he said he expects the head count here to grow 50 percent in the next several years.
"With all the objectivity I can muster, Salesforce is not just another technology company. It's the fastest-growing enterprise company, and it's Forbes' five-time 'most innovative' company," he said.
"I mean, really, it is amazing, incredible, whatever superlatives you can find, that Salesforce's second-largest campus is in Indianapolis. That is really a big deal."
Up-and-comers
In a January report, research firm Gartner listed Salesforce, Adobe and Oracle as the top digital marketing hub "leaders," meaning they had the most complete vision and were most able to execute of the 22 companies reviewed.
But digital marketing remains fragmented, with scores of startups—including many based in Indianapolis—plotting innovative solutions to marketing challenges.
Local firms include SmarterHQ, whose predictive-analytics platform helps retailers determine the best time and channel to send customers offers and other messages.
Others include Sigstr, which allows marketers to insert subtle messages below email signatures, and DemandJump, which connects disjointed data sources and makes marketing recommendations.
According to Gartner's report, 46 percent of respondents who had a digital marketing hub used only one software product, while the rest used two or more.
"However, reinforcing the view that hub solutions have gaps," the report said, "even among those who opted for a single-source hub, 91 percent reported integration with other vendors."
Former ExactTarget Chief Marketing Officer Tim Kopp said the startups' innovations will unleash a new round of buyouts.
"I view it as a forest: All the big trees were knocked down. Now, the undergrowth has a chance to really start booming," Kopp said. "And you're starting to see the next wave of companies—like predictive analytics, account-based marketing, this whole new set of innovation—come, and once those companies get big enough, the clouds will just buy them."
Emarsys, which was founded in 2000, offers a digital marketing hub that allows retailers like eBay, ToysRUs and Volvo to run multi-channel campaigns and track outcomes. It opened its U.S. headquarters in Indianapolis after considering Austin and San Francisco, and followed up by landing a $33 million equity investment from San Francisco-based Vector Capital.
Sean Brady, a former ExactTarget executive and president of Emarsys Americas, said the difference between Emarsys and the marketing cloud heavyweights is that Emarsys grew its product organically–as opposed to through acquisitions–and doesn't take a one-size-fits-all approach.
"A lot of the [marketing cloud] technology is focused on multiple verticals, and not specifically solving one vertical's challenges," Brady said. "We focus on e-commerce and retailers, making sure they can achieve their key objectives by leveraging technology more efficiently."
Indy's transformation

Baggott
Exact-Target co-founder Chris Baggott has been a catalyst in helping Indianapolis reach this point. He ran a dry cleaning business in the 1990s, and collected data on customers to send targeted messages. He developed a manual system for segmenting and engaging customers and experimented with email as a channel. He even performed the task for other dry cleaners.
Baggott had a friend who knew software developers, and they built software that automated his system, which became the foundation for ExactTarget. He said that, at the outset, the fledgling company had two choices—to distribute its software via what came to be known as the cloud, or deliver it on clients' premises.
"Back in those days, it wasn't called the cloud, it was called an ASP—an application service provider. So we built it as an ASP because, for us, we were so bootstrapped that it was cheaper. And it turned out to be a brilliant decision that we made for economic reasons."
Dorsey, the former ExactTarget CEO who is also Baggott's brother-in-law, was working for a Chicago company that failed during the 2000 dot-com bust. So he became available to join Baggott's venture and brought along business partner Peter McCormick. ExactTarget journeyed to a $161 million initial public offering in 2012, made several acquisitions, then sold to Salesforce.
Baggott also was a co-founder of Compendium, launching it after leaving ExactTarget in 2006. Compendium started as a blogging software developer, but eventually switched to providing cloud-based content marketing.
Another major company that helped build Indianapolis' digital marketing prowess was Aprimo. It spawned several offshoots, including the lead-generation company LeadJen and the product development agency InnovateMap.
Andersen
Kristian Andersen, partner at venture studio High Alpha, said the marketing technology muscle Indianapolis built has helped it stand out among tech cities, and it also helped ancillary businesses build their own muscle.
"We have—for better or worse, consciously or unconsciously—focused on marketing tech … and that's what has allowed us, largely, to be as successful as we have been over the past 10 years.
"If we had bifurcated our focus … it's tough," said Andersen, speaking at IBJ's Technology Power Breakfast March 10. "Now we've got companies like [Rook Security] and, in the services sector, [Sticksnleaves], that are able to basically take advantage of the fact that we've now built a sufficient gravitas."
Baggott said the marketing-tech cluster has emerged naturally, and that it's interesting to see tech giants Oracle and Salesforce "battling in the streets of Indianapolis."
He said he was fortunate to grow companies under former Gov. Mitch Daniels, who offered to stay "out of the way" if that's what companies wanted.
"When I moved here in 1992, I remember … people talking about the brain drain," Baggott said.
More graduates stick around now, he said, because of opportunities "here to do world-class work for cool, world-class companies in Indianapolis. And that, I think, is the biggest impact of all of this, and it's still growing."•
Please enable JavaScript to view this content.