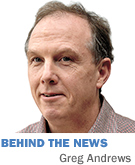 The story behind locally based Lids Sports Group is as feel-good as it gets. In the mid-1990s, Scott Molander and Glenn Campbell, who both were training store managers for Foot Locker, decided to try opening cap shops. If all went well, they figured they'd open 20 in five years.
"For me, it was easy," Molander said years later when interviewed for a video on the company's history. "I said, 'I can get a job any time. I mean, if I ate potatoes and macaroni and cheese and had a brick of Velveeta and a cold beer, that's all you needed.'"
Such austerity measures ultimately proved unnecessary. The chain—launched as Hat World in 1995 with a single location at Tippecanoe Mall in Lafayette—had swelled to 150 locations by 2001. That year, its far-larger rival Lids Corp. of Boston slid into bankruptcy court, and Hat World swooped in to buy its stores—nearly tripling its locations overnight.
By the time Nashville, Tennessee-based Genesco Inc. bought the chain for $165 million in 2004, it had 485 locations, and by 2012 it shot past 1,000. It was minting money for Genesco, which owns a collection of retail businesses. At its peak in 2011, operating profit swelled to $86 million.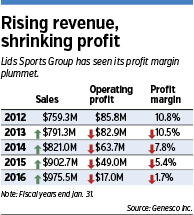 But those profits have mostly vanished, and the company is retrenching and returning to its roots after expanding the types of merchandise carried in its stores and stumbling in a bid to diversify into providing apparel and equipment to youth and school sports teams.
In January, Genesco announced it was abandoning team sports after six years and selling Lids Team Sports to BSN Sports, a division of Memphis, Tennessee-based Varsity Brands. The next month, Genesco CEO Bob Dennis sent Lids Sports Group CEO Ken Kocher packing after 10 years in the post and 19 years with the company and named himself interim chief.
On Genesco's fourth-quarter conference call March 11, Dennis sent a resounding message that Lids was fixing its problems, which had dragged down Genesco's overall results, and that better times lie ahead.
"The strategy at Genesco is to operate businesses that are difficult for others to replicate and have the potential to attain a leadership position in the spaces they occupy. When it came to Lids Team Sports, a competitor, BSN Sports, already had established significantly more scale, and we were clearly playing catch-up from a No. 2 position," Dennis said on the call.
He added that "the sale allows us to focus 100 percent on the core retail business where we believe our most important growth opportunities lie."
That retail business has grown more complicated in recent years. In addition to operating hat shops, Lids Sports Group runs two other chains—Lids Locker Room, which sells a variety of fan gear, and Lids Clubhouse, which runs fan shops for professional and college teams.
Dennis said that to get Lids Sports Group back on track, the business has shrunk its bloated inventories 25 percent over the past year—sacrificing profits by unloading goods at steep discounts to position stores to run lean and mean going forward.
It also has put the brakes on expansion and instead plans to close or renegotiate rents for 50 underperforming stores, with the aim of developing what Dennis calls "a healthier store base."
Analysts are hopeful but cautious.
"We acknowledge the positives, but we've seen many premature instances where it looked like Lids was bottoming," Jeffries analyst Edward Plank said. He said he'll become more bullish if Lids demonstrates that "the inventory pain is truly behind us" and "the division can make meaningful profitability strides this year."
All the tumult is occurring at an awkward time for the business, which recently relocated 350 employees from the northwest side of Indianapolis to a new, $22 million headquarters in Zionsville.
Genesco built the headquarters in part to house Lids Team Sports, though its workers—including Molander, who ran the business—now have switched to the buyer.
Meanwhile, Campbell, who had stepped away from Lids, is "back working more aggressively in the business," Dennis said, joining a new CFO, a new head of planning, as well as established executives.
I am very confident that the team that's in place and everyone underneath them are very capable of keeping the momentum going," Dennis said.•
Please enable JavaScript to view this content.