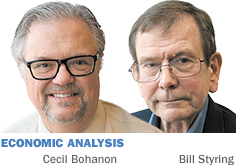 Anyone on the sunny side of 40 is apt to have a soft spot for "recycling." The standard fare taught from grade school on is that tired old Mother Earth is running out of resources. Anything that slows or stops depletion of fixed planetary resources, whether renewable energy or recycling solid wastes, is always and obviously a good thing.
Well, it isn't obvious, and it isn't always a good thing. Economists generally take a different view. Wealth, technology and relative prices tell us when it makes sense to use a virgin resource from the Earth and when to reuse something.
Our hunter-gatherer ancestors didn't worry about garbage. They just moved on. As we started staying in one place and got slightly wealthier, what to do with our garbage became a problem. Usually, we dumped it into the nearest waterway. This was free, but it didn't do our sources of clean drinking water much good. The tradeoff between free waste disposal and getting something to drink that wouldn't kill you limited population growth for millennia.
The Romans had the wealth and technology to solve this problem with their magnificent system of aqueducts. Effectively, they built an artificial river for fresh water and used the Tiber to dispose of their junk.
What to do with waste plays out today in ways dominated by economic realities. One of us (Bohanon) last year saw unsanitary refuse dumps firsthand in Kabul, Afghanistan. Goats were taking care of the organic material. Small children were "recycling." They were rummaging for anything that could be sold for a few pennies to supplement their families' meager incomes. Afghans are so poor they have no better alternative.
We who live in rich societies have better choices. We rightly recycle when the cost of doing so is less than obtaining brand new material. Glass, aluminum, scrap metal and paper can fall into this category. At the other end of the spectrum, kitty litter could theoretically be recycled, but the cost of doing so is high relative to the benefit. Raw clay that goes into kitty litter is relatively abundant. Price signals indicate recycling kitty litter is uneconomic. (If you wish, carefully use dirty kitty litter as compost for your flower bed.)    
Don't misunderstand. We're not arguing recycling is bad—just that to recycle or not depends on costs and benefits. It's not a Manichean choice between good and evil.•
__________
Bohanon is a professor of economics at Ball State University. Styring is an economist and independent researcher. Both also blog at INforefront.com. Send comments to ibjedit@ibj.com.
Please enable JavaScript to view this content.