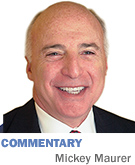 Todd Young, candidate for U.S. Senate, sent a solicitation the other day imploring me to take a principled stand and chip in $5 "to help us recruit more conservatives like yourself."
As anyone who has read this column knows, I am not a conservative Republican. I do favor fiscally conservative Republicans, but they usually fail me on social issues.
As to Congressman Todd Young's quest for the U.S. Senate, I was poised to listen. Young is Indiana's 9th District Congressional representative. After graduating from the U.S. Naval Academy with honors, Young accepted a commission in the United States Marine Corps. While serving his country, he earned an MBA at the University of Chicago. He picked up an MA from the School of Advanced Study at the University of London and rounded out his education with a JD from Indiana University's Robert H. McKinney School of Law (the other one).
A few years ago, Young impressed me with his decision to buck tea party ranks and vote against the idiocy of shutting down the federal government. More recently, I was blindsided when Young marched in lockstep with some Republicans endeavoring to block Obama's Supreme Court nomination on political grounds. Their feeble "spin" attempt notwithstanding, this is partisan politics at its worst. The judiciary is no place for politics. Is the nominee fit or is he not?
President Obama nominated Merrick B. Garland to the Supreme Court to fill the seat created by the death of Justice Antonin Scalia. That nomination was rejected by Senate Majority Leader Mitch McConnell (R-Kentucky) who declared his intention to kill the nomination regardless of the qualifications of Judge Garland by refusing to hold hearings on his nomination. McConnell has watched too many episodes of "House of Cards."
Todd Young had an opportunity—a chance to once again think for himself and exercise common sense. He failed. He had a chance to separate himself from his Republican opponent, Marlin Stutzman, who has steadfastly followed tea party orders his entire career. He failed.
Not only is Young's position disrespectful to the office of the president, but he abetted in sinking the career ambition of a nominee who has drawn praise from Democrats and Republicans. Obama said, "I have selected a nominee who is widely recognized not only as one of America's sharpest legal minds, but someone who brings to his work a spirit of decency, modesty, integrity, even-handedness and excellence." Few disagree. David Strauss, a constitutional law expert at the University of Chicago told The Huffington Post, "It's hard to think of anyone, from any party in any era, who was better qualified to be a Supreme Court justice."
Pundits have opined that in an election pitting probable Republican nominee Donald Trump against Hillary Clinton, Trump will add this election to his list of failures that includes the Trump real estate school and the casino bankruptcies. And if McConnell does not budge from his position, President Clinton will nominate to the Supreme Court someone who is more liberal than Garland. Young, who will undoubtedly follow party lines and support Trump down to his last boastful bash, will be saddled along with the rest of the lemmings in the conservative wing of the Republican Party with someone they would less prefer to Obama's nominee.
I am reminded of the tea party effort to unseat Sen. Richard Lugar, a true statesman. Indiana Republicans prevailed in the primary, replacing an extraordinary leader with Richard Mourdock, a tea party regular. And what did that action achieve for the Republicans? The election of a Democrat.
There are alternatives to Young in this senatorial race. Besides Stutzman you may vote for a solid experienced Democrat running for this office, Baron Hill. In accordance with Todd Young's entreaty, I will take a principled stand and consider that alternative.•
__________
Maurer is a shareholder in IBJ Corp., which owns Indianapolis Business Journal. His column appears every other week. To comment on this column, send email to [email protected]
Please enable JavaScript to view this content.