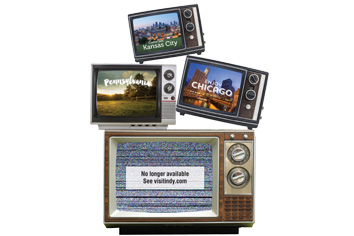 It was as easy a decision as it was unusual.
When Visit Indy decided in the third quarter of 2014 to go all-digital with its seven-figure leisure advertising campaign, it got no pushback from its board.
That doesn't mean the move didn't take guts, a fact that was born out during the 2015 annual gathering of the Destination Marketing Association International Conference in San Francisco.
More than 50 hands shot up in the air when a Facebook executive asked the marketing officers of the nation's biggest convention and visitors bureaus if their organizations allocated at least 50 percent of their leisure marketing budgets to digital.
That number dropped in half when the speaker asked who devoted 60 percent to digital. Only a half dozen remained when the figure was upped to 70 percent.
When the allocation was widened to 80 percent, only one hand remained in the air. It belonged to Chris Gahl, vice president of marketing at Visit Indy.
Something dawned on Gahl: Every major U.S. city was represented in the room. "I left that meeting floored we were the only city in the nation that was 100 percent digital—and with butterflies that we were all alone."

Gahl
Armed with a ream of data after the first full year of the all-digital plunge and urged forward by Visit Indy's marketing firm, Indianapolis-based The Basement, those butterflies have since been replaced with a sense of confidence that the organization chose the right path.
"The move to digital reflects what we know about our customers," Gahl said. "Our customers are online. Even when watching TV, we've found people's eyes during commercials drift down to the cell phone or tablet. The results we've been able to achieve in the last year have shown us we're on the right track."
Still, taking $1 million and pouring it all into a digital tourism campaign is no small risk.
"A million dollars is not a small marketing spend in this industry," said Denise Miller, vice president of Indianapolis-based Strategic Marketing & Research Insights LLC, a nationally known hospitality research firm. "Putting all that into digital is a bold move."
Companies across the nation and across industries are moving more toward digital advertising. By 2017, the amount spent on digital advertising will surpass TV ad spending, according to Interpublic Group's Magna Global, a globalmarketing and advertising research firm.

Miller
But there's no blueprint for what Visit Indy is doing.
Not one of 20 people in the hospitality industry IBJ contacted had heard of another visitors' bureau putting all its advertising eggs into a digital basket.
As recently as 2012, Visit Indy spent only 15 percent of its leisure marketing budget on digital, while 60 percent went to TV and 25 percent to radio.
The amount spent on digital crept up to nearly one quarter in 2013 and 29 percent in 2014 before Visit Indy went all in last year.
While there's "absolutely been a push to increase digital marketing" in the hospitality sector, most organizations have been far less aggressive than Visit Indy, Miller said.
For instance, Visit California—a Strategic Marketing & Research client—has gone from 100 percent TV advertising to 20 percent digital marketing in the last two years, she said.

Phillips
The Children's Museum of Indianapolis has gone from earmarking 5 percent of its marketing budget for digital in 2014 to 20 percent in 2015, according to the organization's vice president of marketing and external relations, Lisa Townsend.
"There are a lot of synergies between digital and traditional media," Miller said, "so destination organizations are trying to draw a balance."
Brand and image
Visit Indy and The Basement spent a whole year planning their all-digital campaign, with some unnerving moments.
Brian Phillips, The Basement's executive creative director, said he remembers Visit Indy Vice President of Tourism Development Mary Huggard saying, "I can't believe we're not going to have broadcast ads in Chicago."
Dropping traditional advertising altogether is risky for a destination like Indianapolis, Miller said.
"Going full digital with a strong brand like Orlando makes more sense. Our research shows people are more likely to tune out of advertising for a brand they're not as familiar with and that's a real possibility with digital," she said. "Traditional media is good to establish your brand and image, and digital is good to get consumers to the final decision point."
TV ads are more visual than digital ads and can say more, she added. "Traditional ads are good at getting people to consider something they're not considering."
There's also a fear, she added, that digital ads can "more easily get lost."

Bolster
"I certainly don't want to say it isn't a workable campaign," Miller said. "I don't know all the details."
Phillips and Todd Bolster, The Basement's vice president of client services, cited distinct advantages to going digital. They've led other clients—including Visit South Bend, Butler University, Indianapolis Symphony Orchestra and Indiana Economic Development Corp.—down the path of growing their digital marketing.
It's an effective weapon for an entity competing with larger players, the duo said.
Visit Indy wants "to punch above their weight class," Bolster said, "and to do that, you have to be more efficient. Digital allows you to do that."
A digital campaign is more targeted, trackable and adjustable, Phillips said, than traditional advertising.
"A digital campaign is ongoing. You don't just make a buy and sit back and wait for the results," he said. "Digital is a weekly collaboration. Understanding the data and optimizing it is extremely valuable."
Record results
Gahl said the results speak for themselves.
Summer 2015 saw about a 1 percent increase in weekend hotel-room night bookings "and a record number of people clicking onto Visit Indy's website," he said.
Visit Indy unleashes its summer leisure campaign April 1; it runs through the end of August. Since increasing digital advertising, Visit Indy has seen steady increases in hotel bookings and Web visits.
Friday and Saturday hotel-room bookings from Memorial Day to Labor Day have grown almost 15 percent—to 405,983—in the last three years. With refinements to the digital campaign, Gahl predicted, that number will grow to 415,000 this year.

Meanwhile, traffic to Visit Indy's Web portal where local travelers come to plan trips has increased 74 percent since 2012, to 2.88 million user sessions. The Basement's Phillips said increased traffic will lead to even bigger sales increases for the local hospitality sector.
There are no plans to turn back from digital. To the contrary, Visit Indy is increasing the amount it spends on digital ads to attract corporate meetings and conventions.
In 2014, Visit Indy increased its digital spending on the corporate meeting and convention side to 40 percent, then doubled it to 80 percent in 2015, and bumped it up to 85 percent this year. A small amount is held out, Gahl said, to buy cover ads on trade publications that are mailed directly to association leaders and meeting planners or distributed at trade shows.
After analyzing the 2015 data, Visit Indy decided to decrease the number of 30-second video ads it uses in favor of more 15-second spots—which often direct people to its website and booking center.
The group has also deployed a strategy known as geo fencing. For instance, people using cell phones to go online while they're at Churchill Downs or surrounding parking lots on the day of the Kentucky Derby can expect to get an ad that reads: "You think these horses are fast, come see some real horsepower at the Indianapolis 500." The ad then directs them to a site to book a trip.
Visit Indy is also employing technology to track people who have clicked on their ad using a mobile device so that they later receive a mobile ad if they come within a certain distance of target areas such as downtown Indianapolis or the Indianapolis Motor Speedway.
"The key for us is finding the right person at the right time at the right place," Gahl said. "Digital advertising has definitely helped us do that more efficiently. The next level for us is messaging those people and fine-tuning that message to better induce the buy."•
Please enable JavaScript to view this content.