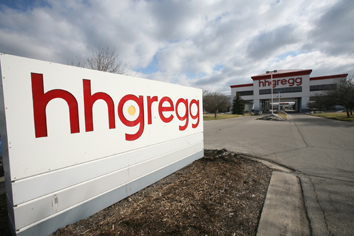 The revolving door in the leadership offices at HHGregg continued to turn this week with the departure of another senior-level executive.
Trent Taylor, chief information officer at the Indianapolis-based appliance and electronics retailer since 2011, resigned "to pursue other opportunities," the company said in a public filing.
HHGregg said it would begin looking for a replacement for Taylor, who was previously an executive vice president at Walgreen's. The company offered no further comment on the resignation.
Taylor is at least the ninth senior-level executive to leave HHGregg since mid-2012 and the seventh to depart since early 2014, either through resignation or termination.
Taylor's exit comes just a month after the resignation of longtime CEO and president Dennis May, who was with the company 17 years.
The ongoing departures have left the struggling retailer with a sparse group of senior leaders who have relatively little experience at the company.
Robert Riesbeck, who joined HHGregg 18 months ago as chief financial officer, is now CEO, CFO and interim president.
Keith Zimmerman, chief merchandising and marketing officer, was hired in December 2014, becoming the retailer's fourth chief merchandising officer in about three years.
The only other senior manager listed by the company is Chief Human Resources Officer Charles Young, who joined the company in 2008.
The company has eliminated the positions of chief marketing officer and chief operating officer over the past 14 months, further thinning the executive ranks.
Here's a rundown of the recent executive exodus:
— Trent Taylor, chief information officer, resigned in March 2016;
—Dennis May, president and CEO, resigned in February 2016;
— Julie Lyle, chief marketing officer, departed in March 2015, and her position was eliminated;
— Troy Risch, COO, departed in January 2015, and his position was eliminated;
— Jeffery Haines, chief merchandising officer, resigned in November 2014;
— Gregg W. Throgmartin, executive vice president and COO, resigned in May 2014;
— Jeremy J. Aguilar, CFO, resigned in January 2014;
— Michael Larimer, chief merchandising officer, resigned in March 2013;
— Douglas Moore, chief merchandising officer, resigned in June 2012.
In addition to the executive losses, Chairman of the Board Michael L. Smith decided not to run for re-election in April 2015 after 10 years on the board.
HHGregg, which operates 227 stores in 20 states, lost $26.9 million, or 97 cents per share, in its most recent quarter, which ended Dec. 31, as store sales fell 11 percent.
Company shares fell 6.6 percent Wednesday after the company disclosed Taylor's resignation. Shares dropped another penny Thursday, to $2.10 each, down 42 percent since the beginning of the year.
 
 
Please enable JavaScript to view this content.