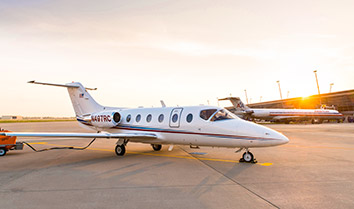 A year after launching in Indianapolis, a niche airline that had served corporate customers with nonstop flights aboard six-passenger jets to a handful of regional destinations has stopped most of its service from Indianapolis International Airport.
Massachusetts-based OneJet announced Wednesday it would realign its services to make Pittsburgh the main hub for the company, and that it has decided to cut service from Indianapolis to Memphis, Nashville and Milwaukee, leaving Pittsburgh as its only destination from Indianapolis.
However, OneJet plans to expand its Indianapolis-to-Pittsburgh service on June 14 after strong demand from corporate customers.
"It's really a quality-over-quantity argument," OneJet CEO Matt Maguire said. "I know that certainly this will not be good news for some of our customers. We see this as being strategically really important for the company."
The company launched in Indianapolis in April 2015 with the hope of tapping into corporate demand for nonstop flights between Indianapolis and other midsize cities.
Its local service to Milwaukee, Memphis and Nashville stopped Tuesday.
The company had 10 Indianapolis-based pilots and one maintenance crew worker, who will lose their jobs if they don't move or commute to Pittsburgh with the company. The airline plans to retain its Indianapolis customer service team.
OneJet accounts for a tiny fraction of air traffic at Indianapolis International, but the move does reduce the number of nonstop destinations from the airport. OneJet provided the only nonstop service from Indianapolis to Memphis, Nashville and Milwaukee. Passengers still will be able to reach those cities through routes using at least one other airport.
In 2015, OneJet had 1,220 enplanements—the number of passengers boarding planes—at IIA, or 0.03 percent of the airport's 4 million enplanements, according to airport spokesman Jeff Dutton. In January and February of this year, OneJet had 279 enplanements, or 0.05 percent of the airport's enplanements.
"This doesn't have much impact on the momentum we've experienced recently here at the airport," Dutton said.
Maguire said Pittsburgh has become an important market for OneJet since it started service there in May.
"This is the right decision for the company and the network," Maguire said. "We have some fantastic customers out of Indianapolis. It was a tough decision because, having a smaller operation, we know a lot of our customers personally. I really don't want this to be any sort of judgment on [Indianapolis airport Executive Director Mario Rodriguez] or the airport team."
Please enable JavaScript to view this content.