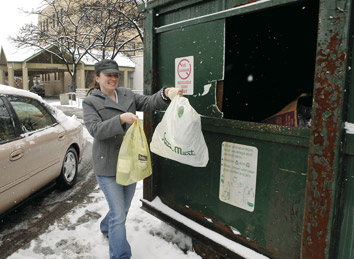 City officials are urging Indianapolis residents to think big about the future of recycling in the community following Mayor Joe Hogsett's February decision to temporarily suspend the city's contract with Covanta to build a co-mingled trash and recycling center.
About 75 people joined city officials at the Garfield Park Arts Center on Wednesday afternoon for a meeting to discuss ideas for a new citywide recycling program.
"We have no preconceived notions about what this is going to look like," said Deputy Mayor Jeff Bennett, who added that the meeting was meant to kick off a months-long public dialogue. "We want to exhaust all of our options and aim for what's possible."
Several groups thanked Hogsett for his recent decision to put a pause on the "advanced recycling center," which would have used sensor technology to pluck recyclables from the city's trash. Critics said the facility would produce low-quality materials, and they expressed concern over whether the contract would remove incentives for increased participation in the city's curbside recycling program.
"Recycled trash isn't a terrible idea," City-County Councilman Jeff Miller told residents. "It's not even a bad idea. It's not a progressive idea. It's not the best idea. We're better than that as a city."
The Indiana Court of Appeals in late February reversed an earlier ruling that favored the city and Board of Public Works, ruling instead in favor of Graphic Packaging International, Rock-Tenn Converting Co. and Cathy Weinmann, who accused the city of not doing a public bidding process when then-Mayor Greg Ballard's administration amended a contract with Covanta to build the ARC facility.
The court decision effectively gives the city a "do-over," said Rosemary Spalding of Earth Charter Indiana. "We have an excellent opportunity to develop a new plan," she said.
Hogsett told attendees at the meeting that he vowed a new plan would be more accountable to the public.
"Though we may not all agree at this very moment on the final destination, the journey we embark upon today will be transparent, be responsive and it will be inclusive of all residents and stakeholders in this city," Hogsett said.
Carey Hamilton, director of the Indiana Recycling Coalition, proposed that curbside recycling should be available to all single-family homes in the city, more drop-off locations should be created for those who live in apartments, and that the city should embark on developing a comprehensive "sustainable materials management plan."
Currently, only about 10 percent of Indianapolis residents participate in a curbside recycling program.
She said that if Indiana were able to increase curbside recycling by 25 percent, it would create 10,000 new Indiana recycling jobs in collection and processing. She also it would also boost manufacturers in the state.
"This is an economic transformation," Hamilton said. "We have at least 77 manufacturers in Indiana that rely on recycling feed stock. They need our material. We need to get the good-quality material that they want to buy to those manufacturers. It's pretty straightforward."
One resident said he believed manufacturers need to join the city in leading the charge if they want the city's recyclables. He said they need to be educating residents about where recycled material goes once they throw it in a bin.
Jesse Kharbanda, director of the Hoosier Environmental Council, said the city also should think about expanding accessibility to dispose of household hazardous waste. Kharbanda said there are only four drop-off sites in Indianapolis, which he said is not enough for a city with more than 850,000 people.
Some residents said a new state law that restricts cities from imposing "plastic bag bans" was a step backward for Indianapolis to be more sustainable.
State Rep. Justin Moed, D-Indianapolis, said Indianapolis should be playing a leadership role when it comes to increasing recycling across the state.
"Unfortunately, we're not really producing a lot of progressive-minded policies [in the state Legislature]," Moed said. "That might be an understatement. It's a difficult environment. A big part of moving that needle is going to come from leadership in our cities."
Even those who wouldn't directly benefit from a new residential recycling program came to advocate for it.
Jessica Davis, who is the director of for IUPUI's Office of Sustainability, said the university of 30,000 in downtown Indianapolis has invested heavily in recycling bins.
But she said that because the majority of students and faculty members live in the city, the university's participation in recycling hasn't been robust because people haven't learned good behaviors at their homes. IUPUI's recycling rate is 10 percent, "dead last" among the university's peers, Davis said.
Davis warned city officials to make sure there is a heavy education component to any new program.
"We're worried about the continuation of the status quo," Davis said. "We are adequately providing recycling infrastructure, and we're not seeing the performance we want. I think this is going to be far more challenging than the infrastructure itself: What are we doing to get them to participate?"
Please enable JavaScript to view this content.