Architect Drew White, co-founder of Axis Architecture + Interiors, has made a name for himself over the last two decades with his firm's modernist, eco-friendly designs for everything from the soon-to-be-built $5.9 million Martindale-Brightwood library branch to the almost-complete $27 million downtown transit center.

But he didn't seem destined to become an architect. He got into the profession as an 11th-hour fallback when his first academic choice didn't pan out.

"Believe it or not, I wanted to go into pre-med," said the Columbus, Ohio, native who received his undergraduate degree in 1983 from Ohio State University. "I was a freshman, and I had taken two quarters of chemistry and biology and had a really hard time with it. I called the school of architecture in the spring, and they said I had three or four days to decide if I wanted to enroll for next fall. At the time, they didn't require a portfolio. I said, 'OK, I'll do it.'"

Like ground cover planted around a new building, it took a while for his chosen profession to take root.

"Architecture school was a journey," White said. "They kept saying maybe I should try engineering, or maybe I should try another profession. But I didn't give up. And it was because of that and my resilience that I've been a successful person. Because if someone tells me I can't do something, I like that challenge."

White next earned a graduate degree from the University of Illinois in 1985 and, along the way, developed an appreciation for the symmetry and efficiency of modernist architecture.

"I think I'm interested in things being honest," he said. "Clean lines, and rational from a stylistic standpoint. But I also think that my process is based on research: listening to our clients, understanding their program and their desires, and applying that to a solution.

"It's not about me just going somewhere and doing my thing. It's a collaborative, participatory process that's based on research and listening."

Axis' most high-profile project right now is the transit center—a massive central-city bus terminal at the corner of Washington and Delaware streets. Scheduled to open in June, it will form the linchpin of a plan to revamp Indianapolis' public transportation system.

IndyGo CEO Michael Terry said that, given the structure's importance, the city sought something more distinctive than the typical government-style structure.

"We didn't want just a square building," Terry said. "This is designed for the rider—to bring some dignity and respect and brightness, so that if they're waiting for a bus, they'll be able to wait in comfort. This isn't just what the Indianapolis Public Transportation Corp. wanted in a look. This is a community building."

Terry said one of the benefits of working with Axis was that the firm was able to incorporate input from various city agencies and other stakeholders—in other words, to wring a coherent plan from the musings and desires of many.

"From Drew personally, I think he's been a good visionary and a good listener, which you have to be in this business. You have to listen and be able to interpret and understand what the client is trying to communicate to you."

Terry
The result will be a 14,000-square-foot facility offering clean lines and lots of glass, plus such environmental bells and whistles as solar panels, LED lighting and rain gardens to help rainwater percolate back into the ground instead of flowing into sewers. Terry predicted the building will earn the silver designation from green-certification program Leadership in Energy and Environmental Design, or LEED.

Fitting in

The area around the transit center—recently christened the Market East Cultural District—is rapidly morphing into a modernist mecca, with the nearby development of the Artistry Apartments and Cummins Inc.'s $30 million global distribution headquarters.

And then there's the presence on the opposite side of Washington Street of the granddaddy of all Indianapolis modernist structures, the 28-story City-County Building.

White is one of the few people who will admit (in public, at least) that he likes the hulking structure.

"I love the City-County Building," he said. "There's people who look at me and say, 'What are you talking about?' But I enjoy the modernist approach and the formality of the tower and its side buildings."
While the transit center might fit with surrounding buildings, White said downtown suffers from a lack of overall coordination of design.
"There are preservation commissions that look after historic neighborhoods in our city, but we don't really have a downtown design commission," White said. "I think we need that. Something to oversee projects.
"I've had some people who weren't even architects ask me, 'Why is it that a lot of these buildings all look the same?' I think it's because there's a lack of oversight. Maybe there needs to be some guidelines to help developers and architects to design better."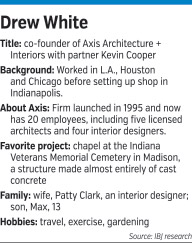 Not that White sees Indianapolis as an architectural basket case. He said the airport terminal gives visitors a great first impression of the city, and that he loves the Sidney and Lois Eskenazi Hospital. He also said downtown has made great progress in recent decades developing new housing and retail, much of it on sites formerly used for surface parking.
"The new housing we're doing downtown from an economic standpoint has been wonderful," White said. "And the Cultural Trail has been a huge addition to downtown."
Signature project
White considers another important downtown addition to be The Nature Conservancy's $5.8 million headquarters, which was designed by Axis and opened in 2011.
The project earned the highest LEED certification, one of the first downtown projects to receive the designation. Itseco-friendly elements include a water system that captures rainwater to flush toilets; rain gardens that capture 100 percent of storm water; a geothermal system that uses 40 percent less electricity than a standard 20,000-square-foot building; and windows that actually open, giving staffers access to sun and fresh air.
"We were looking for a firm that could design a LEED platinum building and fit well with the values of The Nature Conservancy," said Mary McConnell, the organization's Indiana state director. "Axis brought a level of professionalism and creativity that the other firms did not."
She added, "They provided great ideas and practical solutions to create a beautiful building that's efficient to operate and a pleasure to work in."
It should be no surprise that, given his love of modernism, White lives [with his wife, Patty, and their 13-year-old son, Max] in a mid-century modern home near Highland Golf and Country Club. White, an athlete, has given up running marathons but is still into exercise and gardening.
At age 55, he joked, living in a mid-century modern is perfect for him, since he is a product of the mid-20th century.
But that doesn't mean he sees modernism as a thing of the past. Indeed, he sees a bright future for the style in Indianapolis.
"I think it's important for us to continue to challenge architects and designers in our city," White said. "We have to keep designing better projects. I've been a cheerleader for that for as long as our practice has been around."•