Telecommunications giant AT&T Inc. recently opened what it calls an "engagement center" in not-for-profit Launch Fishers, marking the first time the company has established a presence in any co-working space in the country, officials said.
The space—which features mounted TVs, displayed tablets and phones, and a charging station—looks like a section of one of AT&T's retail stores. But it doesn't come with sales associates or cash registers, and the investment suggests the company is looking to get closer to entrepreneurs in a non-salesy way.
"There are over 60 co-working spaces throughout the state of Indiana; Launch Fishers is the crown jewel of them," AT&T Indiana President Bill Soards said last week while giving a demonstration of the new space. "So, this is an opportunity to try something new, to see how we can better engage with these [entrepreneurs] and be a direct part of the ecosystem and offer some benefit."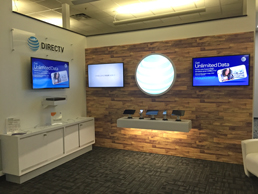 AT&T's center at Launch Fishers cost $20,000, and the telecom likely will invest more in hosting programming. (IBJ Photo/Jared Council)
The center opened in early April but was officially announced Monday. The only other places AT&T has such locations are its two "Fan Zone" outposts at Yankees Stadium in New York and at AT&T Park in San Francisco.
Besides the five displayed devices and a dozen or so chargers, Soards said the key feature of the Launch Fishers center will be programming. This could include a breakfast demo on new devices, for instance, or a presentation on topics such as cybersecurity.
AT&T's first large event at Launch Fishers will be an "Internet of Things Civic Hackathon," where volunteer coders will concoct tech solutions to vexing civic problems such as drug abuse. It's scheduled for the last weekend of April.
There's no formal contract between AT&T and Launch Fishers, Soards said, and the center represents the company's good will. On one hand, AT&T has invested about $20,000 to build the center and will likely invest more in programming. On the other hand, its prominently displayed logo is positioned near the entrance of Launch Fishers, which has 575 members.
AT&T will provide free DirectTV service to about 20 screens in the 52,000-square-foot facility space, but officials said that deal is not related to the engagement center. AT&T also made a $50,000 donation to Launch Fishers within the past year and provides internet access there, which Launch Fishers pays for.
Soards said his 137-year-old company has seen its industry disrupted on multiple fronts over the years, prompting AT&T to embrace "a culture of innovation … faster than we ever have before."
"So this is viewed as a way to bring AT&T closer to the innovation community," he said.
The center is not meant to be a revenue-generator, Soards said, and it's unclear what the return on investment will be. He described it as a "grand experiment" that will probably take "different twists and turns over the coming months."
"We're not here to sell," he said. "We're here to help them grow, help us learn and work collaboratively to do bigger and better things in the state of Indiana." 
Please enable JavaScript to view this content.