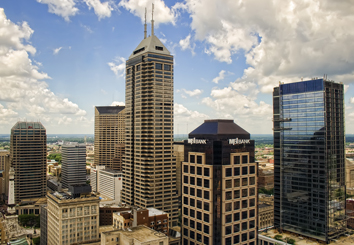 The Indianapolis-area office market continues to rebound from the recession and in fact is now boasting its lowest vacancy rate since 2008, says one brokerage that tracks local occupancy.
"There's a lot of confidence in the economy, and there's a healthy balance of growing Indiana companies and companies that are moving here," said Matt Waggoner, a JLL senior vice president. 
JLL cites in its first-quarter office report what Waggoner refers to as "needle-moving transactions"—five signed leases in the first three months of the year combining for 377,000 square feet of activity.

The tenants were Allied Solutions LLC, leasing 109,600 square feet at Midtown Carmel; Stanley Security Solutions, 80,000 square feet at Fishers Pointe; Sallie Mae, 75,558 square feet at Three Woodfield Crossing; Republic Services, 68,000 square feet at Two Concourse at Crosspoint in Fishers; and NextGear Capital Inc., 44,479 square feet at City Center at Penn in Carmel.
The deals represent 218,000 square feet in newly leased space.
The companies won't occupy their new spaces until later this year or even until 2017, so net absorption in the first quarter stayed relatively flat. But vacancy managed to decline to 15.6 percent, from 15.9 percent in the fourth quarter, due to the removal of a handful of office buildings from the local inventory for other uses, JLL said.
Waiting in the wings is a major lease deal from technology giant Salesforce, which is said to be negotiating for as much as 400,000 square feet of space in downtown's Chase Tower. Salesforce's current Indianapolis offices are spread out over three downtown buildings, and occupied about 215,000 square feet as of late 2015.
Besides JLL, commercial real estate brokerage CBRE also shows first-quarter vacancy declining—from 16.5 percent in the previous quarter to 15.9 percent.
"The fundamentals for office demand in the Indianapolis market remain steady, and the top-performing submarkets [Carmel and Keystone] experienced a strong start to 2016," said Nick Svarczkopf, vice president of CBRE's local office, in a press release.
According to CBRE stats, the 15.9 percent vacancy mark is the lowest for the metro office market since the third quarter of 2007, when it was 15.6 percent.
The vacancy rate in Carmel is just 8.3 percent, according to CBRE statistics, and 12.5 percent at Keystone Crossing.
Even downtown Indianapolis, where vacancy for years had hovered around 20 percent, finally is showing signs of improvement.
CBRE says downtown's vacancy rate dipped to 17.5 percent last quarter from 17.8 percent in the fourth quarter of 2015.
JLL shows a more pronounced drop, to 16.3 percent from 17.5 percent in the fourth quarter of 2015. The urban core is getting a big lift from Class B properties, where vacancy is just 11.6 percent, compared with the much higher rate of 19.6 percent for more prestigious, state-of-the-art Class A buildings.
Several of downtown's trademark office towers have struggled lately to attract new tenants–particularly younger companies that seem to favor older buildings with more character.
"That's actually where a lot of the demand is," Waggoner at JLL said of the Class B buildings, "because [companies] like that creative product, and the price point is low enough."
Asking rents downtown in the first quarter stood at $19.77 per square foot—$21.52 per square foot at Class A buildings and $17.23 per square foot at Class B properties.
The improving health of the Indianapolis office market is starting to push overall rents higher. Rents for Class A and Class B properties combined stood at $19 per square foot last quarter, compared to $18.89 per square foot in the fourth quarter, according to JLL.
JLL and CBRE generally define the Indianapolis office market as including the city of Indianapolis, Greenwood and the northern suburbs. The total square footage of office space in the market amounts to about 31.6 million square feet—17.5 million square feet of Class A space and 14.1 million square feet of Class B space.
 
Please enable JavaScript to view this content.