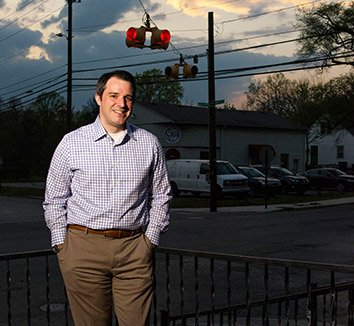 It was one of Joseph Hogsett's earliest campaign promises.
"As mayor, one of the first things I'll do is install more streetlights in dangerous neighborhoods," he said in a 30-second commercial last summer, as he walked down a dark, empty street.
The city was struggling with violent crime, and it ended up racking up 144 homicides last year, the highest in its history.
One way to help prevent crime, Hogsett said: more streetlights.
He promised to lift a moratorium on new streetlights, which was put in place in 1981 under former Mayor William H. Hudnut as a money-saving measure. For more than three decades, as three more mayors came and went, the moratorium remained in place, even as the city's population grew by more than 100,000 people.
"Waiting 30 years for safer streets is long enough," Hogsett declared in the commercial.
But how much longer it might take is anyone's guess. Nearly four months after taking office as the 49th mayor of Indianapolis, Hogsett has yet to roll out a plan or timetable. His spokeswoman, Taylor Schaffer, said the administration is still in discussions with Indianapolis Power & Light Co.
It's unclear how many more streetlights the mayor wants to install, where they would go, and who would pay for them. Indianapolis has 92,000 streetlights, but most are paid for privately. The city pays to light only 29,000, spending $5 million a year to do so.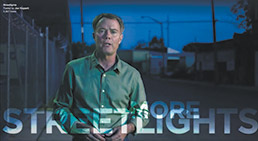 More streetlights for safer neighborhoods was one of Mayor Joe Hogsett's campaign platforms. The issue was featured in one of his campaign commercials.
 (IBJ photo/ Eric Learned)
"We are in conversations with IPL and other stakeholders as to how we can most effectively lift the moratorium and bring light to darkened neighborhoods across the city," Schaffer said.
In March, state regulators declined to issue an order that would have converted the city's streetlights to LED technology. Indianapolis officials had said the technology would reduce energy use, lower maintenance costs and last longer—saving enough money to help fund more streetlights.
Now, the city and IPL are trying to work out a deal over the size and scope of more streetlights. IPL said it considers more streetlights a priority.
"We will continue to work with the city and pursue ideas which most effectively utilize the city's budget for public lighting," IPL spokeswoman Brandi Davis-Handy said.
For IPL, getting more business could not come soon enough. The utility saw its operating revenue and profit slip last year. The number of kilowatt hours sold fell 12.2 percent. The company attributed the drop to warmer temperatures this winter.
That put a big dent in the utility's finances. Operating revenue dipped 5.4 percent, to $1.3 billion, and profit tumbled 23.6 percent, to $59.5 million.
And the slide has been a long one. For the 10 years ending in December, IPL's sales of total retail kilowatt hours decreased at a compound annual rate of 1 percent, according to a governmental filing in February by IPALCO Enterprises Inc., the utility's holding company.
"This decline over the past few years illustrates the impact of the weak economic environment, as well as the continued implementation of IPL's energy efficiency program initiatives," the company wrote.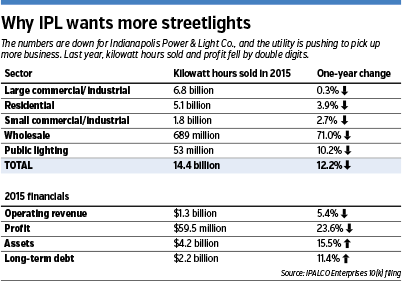 Grass-roots push
Meanwhile, several neighborhood leaders said they are eagerly awaiting more streetlights—or even just turning on lights that have gone dark in recent years.
The Butler Tarkington Neighborhood Association last year took an informal inventory of streetlights and found dozens were out.
Dark streetlights could have myriad causes. It could be City Hall wanted to light up another part of town for safety reasons, and shut off other lights to compensate. It could be a resident or business owner agreed years ago to privately pay for a new light in an alley or a street corner, then moved away or stopped paying, and the utility shut off the light. Or it could just mean a burned-out bulb.
"It's not an easy thing to figure out why a light is out," said Clark Kirkman, the neighborhood association's president.
The association said more lights would bolster safety. Last year, four homicides occurred in the southern part of the neighborhood, near 38th Street, which the police attributed to drug dealing.
"We pride ourselves on being a quality neighborhood, an area safe for decades," Kirkman said. "We have been vigilant in trying to stamp the drug trade out of our neighborhood. Getting as many lights turned on as possible is a priority."
Added Ruth Hayes, president of the Nora-Northside Community Council: "We've always been told, for years and years, there's no money for more streetlights, but it seems to me that it comes under the heading of crime prevention as much as anything."
Some neighborhoods have gotten tired of cursing the darkness and done something about it. In Irvington, on the far-east side, neighborhood leaders got federal grant money a few years ago to upgrade the main business thoroughfare, Washington Street. They installed planters, trees, medians—and decorative lights along several blocks, in front of restaurants and retail shops.
The Irvington Development Organization raised $250,000 as a local match for the improvements. And to pay the $12,000 electric bill every year, the organization holds fundraisers and solicits donations.
"Safety is important to us," said Margaret Banning, the group's executive director. "You take things out of the shadows."
Budget constraints
The $5 million the city spends annually for streetlighting comes out of a $40 million pot of gas tax revenue it receives annually from the state—a pot that is gradually shrinking due to more efficient cars that use less gas and pay fewer taxes.
The city also uses that fund to repair roads, bridges and sidewalks—meaning streetlights compete for funding with road repairs.
Last year, city officials testified before the Indiana Utility Regulatory Commission that they wanted to switch all streetlights over to LED technology to boost efficiency and save money.
Melody Park, director of the city's Office of Sustainability, testified the first 20,000 LED lights would be installed in six areas that have the highest crime rates in Indianapolis, and where community groups, neighborhood watches, churches, police, social agencies and others are working to reduce crime.
From there, the program would spread to nearby areas and in other, older neighborhoods, and finally across the city.
"Any LED streetlight savings from reduced city electric bills could be used to add new streetlights and poles where needed," she testified.
The commission ruled in March that there was "uncertainty" over what it would cost to retrofit to LED technology, and what the ultimate rate cost tradeoffs would be.
The commission declined to order an LED conversion throughout the city. It suggested the city officials and IPL work out an agreement. "We cannot find that the preference for LED streetlights is universal," the commission wrote.
Meanwhile, some neighborhoods wait.
Woodruff Place, a historic neighborhood just east of downtown known for its aging fountains, pays the city to maintain its ornate streetlights. But several surrounding streets need new lights, said Will Pritchard, an active member of the neighborhood association.
"I'm sure there are many residents that are hoping the moratorium is lifted," Pritchard said. "Personally, I don't understand how a city can even establish a moratorium on something as basic and necessary as streetlights."•
Please enable JavaScript to view this content.