A large mixed-use project proposed for Broad Ripple would be the village's tallest yet—even rising above the development under construction on College Avenue that stirred strong opposition among some residents.

Plans call for an 80-foot, six-story building with 105 apartments and 5,000 square feet of street-level retail at 6311 Westfield Blvd., where a three-story office building now stands.

By comparison, Browning Investments' $37 million, 150-unit Coil project along the Central Canal on College will stand 75 feet tall when finished and be anchored by a Fresh Thyme grocery.

The nearly one-acre property on Westfield is adjacent to where the canal converges with the White River and offers scenic views of the waterways. It is owned by Birch Tree LLC, an entity of Newpoint Parking owner Todd Morris.

Morris started his real estate career at Simon Property Group Inc., with stops at Browning and the former Colliers Turley Martin Tucker before venturing out on his own in 2008.

"That site, with that view of the river on the Monon [Trail], is better than what's sitting there currently," he said. "We've been studying this project for a long time."

The 15,000-square-foot building was constructed in 1990. Morris bought it in 2006 from Sherry Rising-Moore, a Broad Ripple property owner, and paid $1.8 million, according to county assessor records.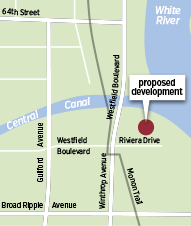 He is seeking to rezone the site and also is requesting variances from the city. The variances are needed to exceed a height restriction for that area of 65 feet while providing 110 parking spaces on two levels when 128 are required for a project that size.

The Broad Ripple Village Association's land use and development committee is set April 26 to vote on whether to support the project. Two days later, the Metropolitan Development Commission's hearing examiner is slated to consider Morris' zoning requests.

Morris likely would co-develop the project with Buckingham Cos., whose representatives have appeared with him at previous land-use committee meetings. A spokesman for Buckingham said the company won't comment on the project because it does not yet have the land under contract.

Morris declined to put a price tag on the project, or estimate apartment rental rates. But he said he's had discussions with city officials about the possibility of receiving financial assistance from the North Midtown tax-increment financing district.

Even though Morris needs a variance from the city to exceed height restrictions, the development does meet the goals of the Envision Broad Ripple plan. For that area, the plan calls for projects up to eight stories, or 100 feet.

Envision Broad Ripple is a guideline for village development that was completed in late 2012.

Brooke Klejnot, executive director of the BRVA, said she expects the land use and development committee will support the project.

"Broadly speaking, the proposed development satisfies many of the criteria outlined in the Envision Broad Ripple plan," she said in an email.

Some, though, wonder whether another large mixed-use project will benefit Broad Ripple.

Rudy Nehrling, president of the Good Earth Natural Foods store, was one of the more vocal critics of Browning's Coil project, arguing that the building's large size wouldn't mesh with its smaller neighbors.

Many Good Earth customers are growing even more concerned about increased traffic congestion in the village, Nehrling said, now that Morris is moving forward with his project.

But Nehrling isn't about to mount any opposition campaigns this time around and is striking a more diplomatic chord. Browning sued Good Earth and a Broad Ripple resident but lost in its bid to make them pay to cover construction delays resulting from their appeal of variances awarded for the development.

"More people living and working in Broad Ripple isn't necessarily a bad thing," Nehrling said. "This is the direction that Broad Ripple is going; it's the cost of progress."

Supporters of Morris' project argue that, despite Broad Ripple's thriving bar and restaurant scene, the core of the village still suffers from a dearth of housing.

"In the heart of Broad Ripple, the residential component is underserved," said Scott Lindenberg, a partner of Reliant Partners Commercial Realty, on College. "It's really what Broad Ripple needs."

The office building Morris wants to demolish to make way for the development has served him well, he said, and typically is fully occupied. But he thinks "pent-up demand" remains for rental housing in Broad Ripple, even with the Browning project.

And even more rental housing could be coming to the area.

J.C. Hart Co. in September bought from three local real estate professionals land at the northwest corner of East 66th and Ferguson streets, just south of the Indianapolis Art Center, and intends to build a $17 million, 108-unit project.

Known as Park 66 Flats, the L-shaped development would stretch from Northside Opti Park along 66th Street east to Ferguson Street and north along Ferguson.

Meanwhile, if all goes as planned, Morris hopes construction can start early next year so he can begin delivering units in the spring of 2018.

What's unusual about the property, because of its proximity to the canal and White River, is that it really has no direct neighbors.

"We're not blocking anyone's view; we're not encroaching on anyone's site lines," Morris said. "We're almost on a little island with beautiful views of the city."

Locally based Blackline Studio is architect on the project.•