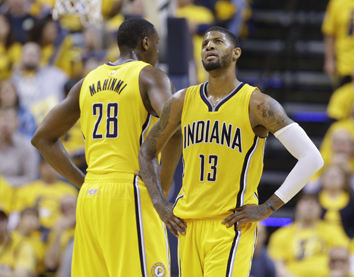 It was all there for the Pacers Thursday night. Home court advantage in the series. The promise from a 1-1 split in Toronto. An announced full house (though it wasn't) of gold-shirted, full-throated supporters, eager to add their roar to the occasion. The chance to let two nations know that they were serious.
And then, unfortunately, they played the game. Hello, hard facts of life.
Barely 2-½ hours later, the green seats were visible again at Bankers Life Fieldhouse, the gold masses having melted into the night. Game 3 had been lost in a big way to the tougher and smarter Raptors, 101-85. Toronto led the series 2-1, and had indeed looked five seeds higher than Indiana. At least.
"We didn't do our job. This one, it sucks. We didn't take care of business on our home court. We were in the driver's seat," Paul George would say afterward. "We missed a great opportunity, simple as that."
OK. But why?

We have seen these Pacers for months, zig-zagging their way through the schedule. Some nights on task, some nights lost in a fog. But that was the regular season. This is the playoffs, where the idea is to start fast, play relentlessly hard, punch first, and chase after every loose ball as if it had a winning Powerball ticket taped to it. Glitz and glamour and cute stuff doesn't cut it now. Grit does.
No question who brought the grit Thursday night. The Raptors got to almost all the proverbial 50-50 balls–and a few that were maybe 60-40 Indiana. They did the clawing and the grinding. You could tell by their 15 offensive rebounds, the 17 turnovers they forced, the fact they could shoot 41.5 percent and get outscored 27-13 at the free throw line, and still win going away.
As for the Pacers, not until there was 5:13 left in the game did they break 70. George had 25 points–and shot 6-for-19 to get them–and the rest of the starting lineup combined for 27.No signs of urgency, nor visible intentions to take the fight to the visitors. The very stuff of Playoff Basketball 101.
"That's what the playoffs are all about," George said. "And we're not holding up on that end. We're treating this like it's a regular season game. We're failing to be the physical team.
"We've got to be the first team to be on the floor, diving for loose balls, getting every loose ball. We've got to be that team. We can't let the opposing team be the first one to really put their imprint on the game as the physical teams. That's what it comes down to. In the playoffs, whoever's physical is going to win the game."
The Pacers did pile up some noticeable statistics. They had three technical fouls, unleashing their frustration against the referees, and not the Raptors. They dominated in the category of most passes thrown into the first row. At halftime they showed a very balanced offense: 12 field goals, and 12 turnovers.
None of that will keep a team afloat long in the postseason.
So now what? Game 4 is Saturday, and another loss would put the Pacers in a 3-1 deficit, otherwise known as Direville. "It's not where we want to go," Solomon Hill said.
C.J. Miles had a helpful suggestion for the turnover problem. "Throw it to the guy in the same color uniform."
Frank Vogel said anything might be on the table, personnel-wise. "I don't know what our lineup will look like next game."
Solomon Hill addressed Indiana's ongoing issue of lousy starts. The Pacers have been outscored by 23 points in the first quarter so far in this series, as if shot out of a … bubble blower. They're frustrated before they're sweaty.
"When you get down like that, it kind of takes the mental out of people," Hill said. "We need to play with our backs against the wall from the beginning. We come out and get punched in the face first, then we go, OK, let's fight. We're not coming out swinging."
Myles Turner, a rare Thursday bright spot with 17 points off the bench, mentioned Indiana's offense has to be more adaptable. "They scout just like we scout. They know our plays pretty well, so we've got to do a better job executing our second options."
George seconded the motion.
"I'm trying to tell my guys whatever coach has drawn up, they know. They know what we're running. They're going to be in spots. The best offense is us playing randomly, just being in the attack mode. Too many times we're playing passive. We're not being aggressive and we're not being assertive. That's playing right into their hands."
But in the end, it may come down to simple will. The quality that helps get rebounds, and loose balls, and turns broken plays into basket, and makes the stops that must be made. No more Mr. Nice Guy.
"Hopefully as a group we respond ticked off," George said of Saturday. "That's the only way to overcome a loss like this."
This from Solomon Hill. "All it takes are plays being made by guys who aren't the stars to get a team going. … That's all effort and heart. We have to see where our hearts are."
You'd think they would have already known that by Thursday night.
Please enable JavaScript to view this content.