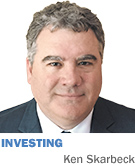 The bloom has come off the rose of the decade-long investor stampede into hedge funds. Earlier this month, officers for the $51 billion New York City Employees Retirement System unceremoniously announced they were exiting all their hedge fund investments. That follows hedge fund withdrawals by CALPERS, the huge California pension plan, and others.
Institutional investors are known for mimicking the actions of their peers. So, just as institutions flocked into hedge funds on the advice of their consultants, this may be the beginning of a mass exodus from these so-called alternative investments.
The final straw appears to be the wretched performance results turned in recently by a number of high-profile hedge funds. Luxor Capital's hedge fund, a pension fund favorite, has lost 18 percent in each of the past two years. Activist investor William Ackman's Pershing Capital lost 20 percent in 2015. Other large hedge funds run by David Einhorn, Paul Tudor Jones and the firm Brevan Howard are losing clients due to poor performance.
In a recent letter, Dan Loeb, who manages hedge fund Third Point, described the first three months of 2016 as "one of the most catastrophic periods of hedge fund performance that we can remember." Loeb continued, "There is no doubt that we are in the first innings of a washout in hedge funds and certain strategies."
Just how poorly the average hedge fund has performed is demonstrated by the $1 million wager made between Warren Buffett and Protege Partners. Back in 2007, Buffett, who has been outspoken about the high fees charged by hedge funds, predicted that a stock market index fund would outperform them in the long run. Of course, many in the hedge fund industry confidently disagreed, with the hedge fund firm Protege Partners suggesting a friendly challenge: a 10-year bet, with the loser contributing $1 million to the winner's charity of choice.
The contest began in 2008, with Buffett picking an S&P 500 index fund to compare against a group of five hedge funds selected by Ted Seides at Protege. Now, after eight years of results, Buffett's chosen index fund has returned a cumulative 65.7 percent (a 6.5 percent annual return) versus the hedge fund portfolio return of 21.9 percent (2.5 percent annually). Of note, Seides left Protege last year and is currently not working in the industry.
The investor flight from hedge funds has also spilled over into their mutual fund clones: liquid-alternative mutual funds (alt funds). These mutual funds have been heavily sold to individuals under the premise that it gives the average investor exposure to hedge fund strategies. Of course, the fees on liquid alternative funds are also considerably higher than a typical mutual fund.
Opened in 2007, the MainStay Marketfield fund quickly became the largest alt fund, peaking at $21 billion in 2014. But the fund has terribly underperformed the S&P 500 by -17.5 percent over the past three years and assets have shrunk to $2.9 billion. Last year, 31 liquid-alternative funds were closed down.
With the heightened focus on the fiduciary duties that now apply to both brokers and advisers when managing retirement plans, it's going to be harder to defend investing in high-cost investments like hedge funds and alt funds, particularly when performance results have so woefully underperformed.•
__________
Skarbeck is managing partner of Indianapolis-based Aldebaran Capital LLC, a money-management firm. He can be reached at 818-7827 or ken@aldebarancapital.com.
 
Please enable JavaScript to view this content.