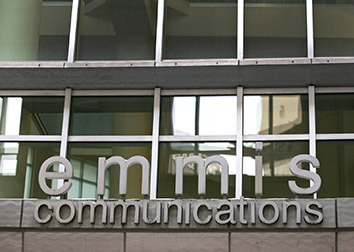 Emmis Communications Corp. on Thursday said it plans to boost its share price through a "reverse stock split" that will combine every four shares into one.
The move is aimed at averting the delisting of its stock by Nasdaq. The media company for months has been out of compliance with the exchange's rule requiring shares trade for at least $1.
The Indianapolis-based media company said it would make the move this summer "if necessary."
The reverse split would reduce the number of Emmis shares from more than 41 million to just more than 10 million. At its current price of 57 cents per share, the 4-to-1 split would boost the price to $2.28.
Emmis received a letter from Nasdaq in December notifying the company that its stock had closed below the exchange's minimum $1-per-share requirement for 30 straight business days.
Nasdaq rules give Emmis 180 days, or until June 6, to get back in compliance. To do so, Emmis stock must close higher than $1 per share for 10 straight business days before the end of the 180-day period. If it doesn't, Nasdaq will move to delist the stock.
At the time of the notification, Emmis shares were trading at about 68 cents each and the stock hadn't closed above $1 since Oct. 22.
On Monday night, the stock closed at 57 cents—but had fallen to 43 cents in February.
Without its Nasdaq listing, Emmis shares would be relegated to penny-stock status on the over-the-counter bulletin board or on the pink sheets. Once that happens, shares are harder for investors to buy and sell.
The situation isn't a new one for the company. Emmis has averted a delisting three times in the last six years. The company was warned about possible delistings in November 2010 and in October 2009, but its stock rebounded both times.
Emmis owns 19 FM and four AM radio stations in New York, Los Angeles, St. Louis, Indianapolis, Terre Haute and Austin, Texas. The traditional radio business has struggled in recent years as listeners moved to other entertainment and audio-delivery options.
In a report released Thursday, Emmis said it lost $9.5 million, or 21 cents per share, during the fiscal fourth quarter ended Feb. 29, an improvement over the $105.8 million, or $2.47 per share, it lost in the same quarter of the previous year. The previous year's loss included non-cash impairment losses totaling $74.6 million
Total revenue was $50.9 million, down from $53.4 million, a year ago.
Emmis radio revenue for the fourth fiscal quarter was $36.4 million, down from $38.8 million from the prior year, a decrease of 6 percent.
The company said its clusters of stations in Indianapolis and St. Louis grew their market shares in both the most recent quarter and the last full year. The company has been struggling in the Los Angeles market, due in part to the loss of a popular DJ there last year.
Emmis announced several cost-cutting moves in January after weak fourth-quarter earnings.
"The good news is our first quarter is much improved and currently pacing flat to the prior year," CEO Jeff Smulyan said in a written statement. "New York's performance has been stellar, ratings in LA have begun to grow again, and ratings across our other radio markets are very strong." 
Emmis publishing revenues were down 2 percent in the fourth quarter and down slightly year over year.
Please enable JavaScript to view this content.