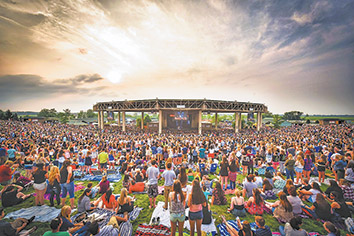 The summer season at Klipsch Music Center in Noblesville is set to be the biggest in a decade.
Nearly 40 headliner acts are on tap for the outdoor amphitheater, owned by Live Nation Entertainment. Recent seasons have hosted only about 30 shows.

Newport
"In my mind, one of the biggest things we're managing from a business perspective is the number of shows," General Manager Andrew Newport said. "It's a really great problem for us to have. I wouldn't even say it's a problem."
More shows are also planned for the Farm Bureau Insurance Lawn at White River State Park, which is also operated by Live Nation. With 22 shows scheduled, this season is the venue's largest ever. Before last year, the Lawn averaged about 12 shows per season.
"It's been a long time since we've done 60 shows," Newport said. "I think there's some excitement. There's a buzz."

Myers
Brenda Myers, president and CEO of Hamilton County Tourism Inc., said the demand at Klipsch—and for summer outdoor concerts in general—has been impressive.
"They're brilliant marketers and they're just constantly refreshing their product," Myers said of Klipsch staff. "And I think that's how they stay relevant."
About 5 percent of Hamilton County leisure travelers have reported that their primary reason for visiting was to attend a concert at Klipsch, and 6 percent of weekday business travelers said they went to a show during their stay, Myers said.
"I would have never guessed that to be honest with you," she said. "It's significant financial support for tourism in Hamilton County. There is no doubt about it."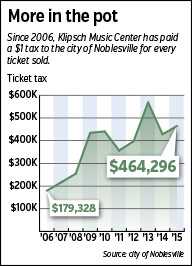 The summer season kicks off May 14 at both venues with Miranda Lambert, Kip Moore and Brothers Osborne performing in Noblesville, and Ellie Goulding, Years & Years and Bebe Rexha taking the stage downtown.
"Most markets don't even have one amphitheater, let alone two," said Kyle Johnston, Live Nation's marketing director. "We're a great market. We kind of just quietly do what we do."
Klipsch and the Lawn both rank among the most popular amphitheaters in the world, according to music trade publication Pollstar. On the 2015 list, Klipsch is ranked sixth by ticket sales and the Lawn is 95th.
Klipsch sold almost 465,000 tickets last year—an 8.6 percent increase from 2014, according to data from the city of Noblesville. (Klipsch has paid a $1-per-ticket tax to the city for road infrastructure improvements since 2006.)
The venue, which seats 6,000 in the covered pavilion and 18,000 in the lawn, opened in 1989 as Deer Creek Music Center. It operated as the Verizon Wireless Music Center from 2001-2011, when speaker manufacturer Klipsch Group Inc. bought the naming rights for an undisclosed price.
The Farm Bureau Insurance Lawn has a capacity of 7,500 and has hosted concerts since 2004. The venue sold 26,500 tickets last year, according to Pollstar data.
Live music is hot
Across North America, gross sales for concerts increased 14 percent from 2014 to 2015, with more than 42 million tickets sold last year.
Country music continues to be a big demand driver—at least at Klipsch where the Country Megaticket (a sort of season pass that lets buyers see a series of country artists) will include 14 shows, up from the usual 10.
Johnston said Klipsch is the only amphitheater to book all the acts touring on the Megaticket.
In addition to the country concerts wrapped into the Megaticket (which is managed by Live Nation), the Dixie Chicks and Zac Brown Band have also scheduled appearances at Klipsch.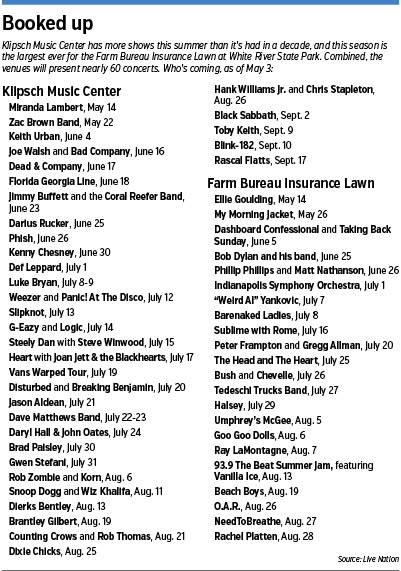 "That's 16 country shows. That's a complete NFL season—home and away games," Johnston said. "And that's just half the season."
More than just country concerts are lined up. As usual, the traveling rock festival called Vans Warped Tour makes a stop in July, as does the Dave Matthews Band, which will perform two nights in a row.
Various rock artists including Def Leppard, Black Sabbath and Counting Crows with Rob Thomas are scheduled, and shows featuring rap music from Snoop Dogg with Wiz Khalifa and G-Eazy with Logic are on tap.
Chris Stapleton, who released his debut country and bluegrass album in 2015, is performing for the first time at Klipsch in August, with Hank Williams Jr.
A total of 39 shows have been announced at Klipsch, and more could be added.
"We wouldn't be doing this many shows if people weren't coming to see them," Newport said.
This year's Lawn lineup includes Dashboard Confessional with Taking Back Sunday, Phillip Phillips with Matt Nathanson, "Weird Al" Yankovic, Gwen Stefani and Goo Goo Dolls.
More shows means more work for the seasonal employees, and Newport said Live Nation is bringing more staffing in-house, rather than contracting with vendors for services like security and maintenance. Eventually, all the staff will be in-house.
Newport said he had to hire an additional 150 employees this season, to a total of 600. The venue employs about 1,000 people throughout the year.
No major projects
No major infrastructure projects are scheduled this summer at Klipsch, but a few significant upgrades to address common complaints could occur within the next few years.
"There's not anything that's going to be huge and sexy this year," Newport said.
Instead, crews will focus on repaving asphalt, giving buildings a fresh coat of paint, and updating dressing rooms for musicians.
"I get excited about asphalt. The public might not," Newport said. "There's not a lot going on, but again, we have some pretty ambitious goals over the next couple years."
Newport wasn't willing to share more details, but said the projects would involve issues "on everyone's radar" and would be expensive.
"I don't really want to talk about it until the shovel is in the ground," he said.
Live Nation is launching at least one program this year, called the "supper club," to offer concert-goers a dinner package with different levels of food and drink options.
Newport said the details, including pricing and what shows would offer the package, haven't been finalized, but that it could include anything from barbecues to sit-down meals with wine.
"We'll tier it based upon what we think the crowd is looking for," Newport said.
Staff will also focus on traffic this summer, helping people get to the venue.
Multiple construction projects along Interstate 69 will be under way, and the Indiana Department of Transportation will be starting work on exit 210—the interchange most concert-goers use to reach Klipsch. The exit will be rebuilt as a diverging diamond, which is meant to improve traffic flow and reduce stops. It will remain open, but construction will last through next summer.
The solution? Encourage people to come early, and remind them of other routes.
"As long as you communicate with people," Johnston said, "that's half the battle."•
Please enable JavaScript to view this content.