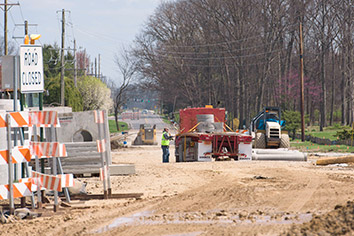 It's officially construction season.
Or it might be more aptly named headache season for drivers along Interstate 69 in Fishers and Noblesville.
Nearly $126 million of federal, state and local dollars will be pumped into the heavily traveled highway to give it a major face-lift from 106th Street to north of Campus Parkway as part of the state's list of 770 projects it will be pursuing this spring and summer.
Plus, an additional $11 million will be spent to improve a few of the local roads near I-69 in Fishers.
The upgrades come with overlapping timelines. Some projects have already started, including a new $3.2 million roundabout at 96th Street and Cumberland Road. But that won't be completed before other infrastructure improvements—including a new $34 million I-69 exit at 106th Street—get started.
The 106th Street interchange construction will also overlap with INDOT's $92 million investment to add a lane in each direction on I-69 from 116th Street to State Road 38, redesign exit 210 at Campus Parkway and add a southbound lane from 116th to 106th streets.
The city of Fishers is also starting a $7 million project on 116th Street, which is one of the closest alternatives to 106th Street for drivers trying to cross I-69.
Coincidence seems to be the culprit for all these road projects, and state and local officials say they are determined to minimize the frustration.
"It just kind of happened to come together at the same time," INDOT spokesman Nathan Riggs said.
The construction will cause more congestion in an area already described as a parking lot during weekday rush hours.
One of the most heavily affected businesses will be Klipsch Music Center, which has about 30 shows scheduled this May through September.
State and local officials have been "kind enough to listen to some of our concerns," Klipsch General Manager Andrew Newport said. "Some of them they can feasibly work around and some of them they can't … but we're very fortunate to have the relationship where we can sit down and talk about those problems."
At exit 210—the interchange most Klipsch concert-goers use—the state is installing a "diverging diamond," similar to the one recently opened in Greenwood, which was only the second of its type in Indiana.
Through the diverging diamond, drivers criss-cross lanes to turn left instead of a standard left turn that involves waiting for oncoming traffic to pass. Traffic signals on either end of the bridge control the crossing vehicle flows.
"You eliminate those competing turning motions," Riggs said.
The exit 210 construction schedule has not been finalized, but the work will be done in phases so the exit can stay open at all times.
"It's kind of a puzzle to maintain traffic," Riggs said. "It was determined very early on that closing the interchange was not going to be feasible."

The project will spill over into summer 2017, though, meaning two seasons at Klipsch will be affected.
"Oftentimes when people are heading out to those concerts, it's during those evening rush hours," Riggs said. "We're watching the schedule so that we can minimize our impact on that."
Newport said his staff will update visitors on the construction and recommend they arrive early.
"This summer might be a little bit challenging," he said. "But as long as you have a good plan, it's manageable."
Despite the nearly inevitable frustrations, state and local leaders hope to make the construction season as painless as possible.
The "#INDOTDrivesIndiana" public awareness campaign launched April 6 in conjunction with the state's official kick-off to construction season. It's designed to provide drivers projects' locations and schedules, with an interactive map and project-specific websites, Facebook pages and Twitter accounts.

The campaign will "hopefully give you a little less stress as you navigate those construction projects," INDOT Deputy Commissioner Ryan Gallagher said.
But some Fishers residents have already called the 106th Street project a nightmare and complained the originally planned detour—Hague Road—was inadequate. INDOT has moved the detour to Allisonville Road.
Jason Taylor, Fishers' assistant director of engineering, said Allisonville and Lantern roads should be able to handle the extra detour traffic.
Fishers has also tailored the schedule for the 116th Street project—which includes adding an eastbound lane from I-69 to Cumberland Road, removing the traffic signal at USA Parkway, extending Oak Drive and adding a traffic signal at Exit Five Parkway—to ease conflicts with the 106th Street construction.
Taylor said the Oak Drive extension to USA Parkway will be the first leg of the project. Next will come restriping and widening 116th Street from Commercial Drive to Oak Drive.
Reconfiguring the Exit Five Parkway and USA Parkway intersections on 116th Street shouldn't happen until after the 106th Street exit is open, he said.
Riggs said the biggest potential conflict on the interstate—adding another southbound lane from 116th to 106th streets—will also be delayed until after the 106th Street exit is open.
Adding travel lanes on a nearly 15-mile stretch from 116th Street in Fishers to State Road 38 near Pendleton will be conducted in five-mile sections, according to Riggs. The stretch from 116th Street to exit 210 at Campus Parkway will be patched and paved this spring, then widened.
While that section is being widened, crews will move north to the next five-mile portion for patching and paving.
"It will not all be starting at once," Riggs said.•
Please enable JavaScript to view this content.