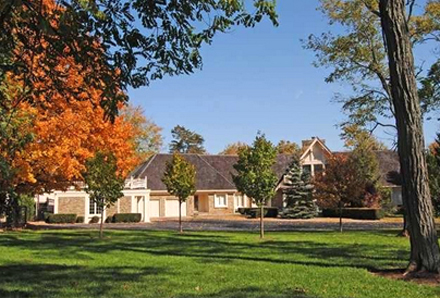 Lucas Oil Products founder Forrest Lucas has agreed to buy the former Nancy Irsay estate at 116th Street and Ditch Road in Carmel.
Lucas confirmed to IBJ on Wednesday that he has the 38-acre property under contract. Nancy Irsay, the widow of former Indianapolis Colts owner Robert Irsay, died in November. She originally put the 10,000-square-foot Robert Irsay Pavilion and 8,600-square-foot home on the market in May 2013 for $3.7 million.
Lucas declined to disclose what he's paying for the estate but said he might ultimately redevelop the land.
"Some day, I could put more houses on the property," he said. "Right now, I like it just the way it is. It's beautiful. [But] we do have an awful lot of work to do to get it in shape."
Lucas is already familiar with the neighborhood. In 2010, he and his wife, Charlotte, paid the "bargain" price of $3 million to buy the former estate of Conseco co-founder Stephen Hilbert. Situated on 33.6 wooded acres fronting 116th Street, it includes a 25,000-square-foot mansion and another 30,000 square feet of outbuildings.
"It's right next door to the land and house I own," Lucas said. "I'm pretty much living up here full time now."
The Hoosier native and former truck driver founded his company, which sells fuel and oil additives and other automotive products, in 1988. In 2008, he paid $121.5 million to put the Lucas Oil name on the home of the Indianapolis Colts for 20 years.
Steve Pittman, a developer in Hamilton and Boone counties, is familiar with the former Irsay estate.
"It's a really, really beautiful piece of land in a very high-end area," he said. "It makes sense to me that the Lucas family would want to acquire that property and expand their estate."
The 15-room spread was built in 1978 and cost Irsay more than $43,000 in annual property taxes, according to the original listing information.
Nancy Irsay's two brothers in March conducted an auction to sell her belongings.
 
Please enable JavaScript to view this content.