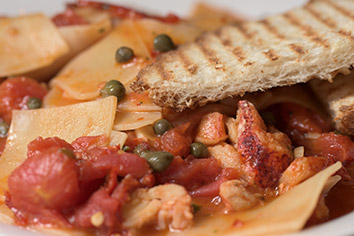 When you hear the name—or even when you step into—Nicole-Taylor's Pasta and Market (1134 E. 54th St., 257-7374), you might not realize there's a sit-down lunch option hidden in the back.
And that's a shame, since the quality of the limited offerings is high and the atmosphere as fresh as the food.
Up front, you can buy four-ounce servings of pasta (for some, a single serving; for others, a forkful), meats and cheese, and other deli items. But there's a back room—and by "back room," I mean probably a former storage area that's reached by a long hallway. There aren't even any windows. But that doesn't matter, because this is the sort of place where the food gets your full attention.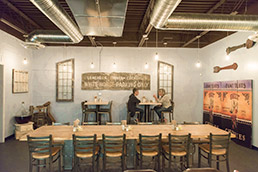 Diners can spy a look into Nicole-Taylor's pasta-making process. (IBJ photo/Eric Learned)
Pasta Rags ($12.99) consists of hand-cut squares of nearly paper-thin pasta gently mixed with sundried tomatoes, bites of lobster, and plenty of capers. Rather than simply the dual tastes of pasta and creamy tomato sauce, it offered a harmonious mix of multiple flavors and textures in a portion neither skimpy nor excessive.
The Penne with Peas ($12.99) was equally impressive. I still don't understandthe hesitancy of many diners to embrace peas as a strong optional element in pasta dishes (Americans are more resistant to this than Italians), but I suspect a taste of this offering will cure that. Here, the peas weren't soft and sweet like the typical, garden-fresh variety, but large and with a much firmer texture—almost like chickpeas. A liberal sprinkling of prosciutto and a garlic-parmesan heavy cream sauce didn't weigh things down.
It's hard to tell how much the knowledge of the pasta's freshness influences taste. The pasta production area—in a separate, windowed room next to the dining area—is on full display to patrons. This is not as entertaining as it sounds, though. As we ate our meal, we were treated to the sight of a man sitting in front of a pasta machine, half-heartedly picking up strands of pasta in his gloved hands as they were extruded by a machine. The process wasn't exactly eye candy, but one can't argue with the result.
From the trio of sandwiches, we sampled the Toscano ($9.50), a grilled treat layering Toscano salami, capocollo salami and milk provolone with just enough Giardiniera to bring its own flavor without eradicating the rest of the elements.
House-made Cannoli ($3.99) tipped to the side of subtlety in its cream filling and fried-dough tubing. But the fact that it cracked under our fork turned a traditional solo dessert into a collection of shell pieces, the better for dipping and sharing.•
Please enable JavaScript to view this content.