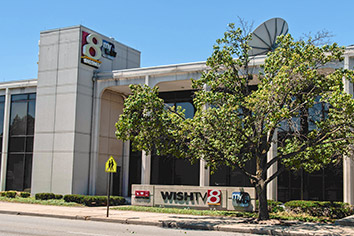 Elbert Tucker, news director of WISH-TV Channel 8, is leaving the post after one year for the same job at a station in Nashville, Tennessee, continuing a pattern of departures from the former CBS affiliate in Indianapolis.

Elbert Tucker
A native of Chattanooga, Tucker, 53, told IBJ on Friday that the move to Tennessee was motivated by a desire to be closer to family.
"When the position came open in Nashville, I said to my wife, 'I don't want to regret not at least having a conversation about the job,'" Tucker said.
"My parents and my brother live in Chattanooga. Nashville is practically home for me. It's where we have our family reunions. It's where I proposed to my wife," he said.
The move is an internal one, in that WISH and WKRN-TV Channel 2 in Nashville both are owned by Richmond, Virginia-based Media General Inc. The firm owns, operates or services 71 television stations in 48 markets.
Tucker joined WISH in April 2015 with three decades of media experience under his belt. He had been news director of WBNS-TV in Columbus, Ohio, since 2010. Much of his career was spent at WKRC-TV in Cincinnati, starting in 1992 as an executive producer and eventually moving up to news director.
He's the latest in a string of departures from WISH since CBS announced in 2014 that it would move its local affiliation from the station to WTTV-TV Channel 4, including reporter Jessica Hayes, reporter and anchor Daniel Miller and investigative reporter Karen Hensel.
Longtime lead news anchor Eric Halvorson departed in October 2015 after the station declined to extend his contract.
At WISH, Tucker followed in the footsteps of veteran newsman and meteorologist Steve Bray, who ascended to news director following the August 2012 ouster of news director Patti McGettigan.
Tucker had to hit the ground running, as the station bolstered its local news programming 42 percent to more than 60 hours per week. It also increased its news-gathering staff.
Ratings for some of its newscasts declined from 2014 to 2015, potentially due to the addition of a fifth local news operation in the Indy market and WISH losing CBS programming.
Tucker said Friday that his impending departure was based solely on wanting to return to Tennessee.
"On one hand, I have this great opportunity [in Nashville], but I'm really proud of what we're doing here and I like it," he said. "We're having fun and we're focused."
Tucker noted that WISH in April was awarded first place by the Indiana Associated Press in the category of outstanding news operation in its broadcast news competition.
Tucker will start his job in Nashville on June 1.
"So, I'll be working on race day [on WISH's Indy 500 coverage], and then get all of my stuff together and then drive on down," he said.
 
Please enable JavaScript to view this content.