Turmoil within the USA Cricket Association could jeopardize the organization's national championship set for Indianapolis' new World Sports Park in August, though local officials remain confident the event will happen.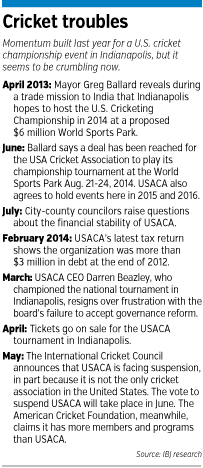 A string of events—including a tax filing showing USACA was $3 million in debt at the end of 2012; the sudden resignation of the organization's CEO, Darren Beazley, who championed the event here; and a challenge from a rival association—threaten to kill not only the local event, but USACA itself.

The Dubai-based International Cricket Council next month is set to vote whether USACA should be suspended as an affiliate organization. If suspended, USACA would lose out on about $400,000 annually the ICC funnels into the Florida-based organization.

"Without the money from the ICC, I just don't know how USACA is sustainable," said Jamie Harrison, CEO of the rival American Cricket Federation.

Under ICC rules, membership is dependent upon a board's proving it is the sole recognized governing body for cricket in the country. More than half of U.S. cricket leagues have spurned USACA and joined ACF. Switzerland's cricket governing body was suspended from the ICC in 2012 under similar circumstances.

Indianapolis cricket aficionado Jatin Patel said a national cricket championship in Indianapolis "would definitely help the city." But, he added, "I have no idea where [the USACA national championship event] stands now."

"The way things are, the event looks impossible," said Patel, who lobbied Indianapolis mayors Bart Peterson and Greg Ballard in support of the World Sports Park and efforts to bring in a big-time event, but later joined ACF as a board member and national coaching director. "This is not a problem with the World Sports Park. It's just that city officials are talking to USACA and no one else. They need to get the entire story of what's happening in this sport."

Ballard spokesman Marc Lotter said the mayor and his staff are aware of USACA's problems, but remain confident the event will run as scheduled.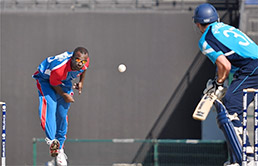 USA Cricket Association is one of two American-based cricket associations. (Photo courtesy of USA Cricket Association)
"We've been working directly with the ICC as well as USACA to make sure this event happens," Lotter said.

A USACA spokeswoman told IBJ no one has been hired to replace Beazley, who resigned in March. The spokeswoman said someone would call back to discuss the national championship event in Indianapolis, but no one did. Subsequent calls to USACA were not returned.

Members of Indianapolis organizing committee, which is chaired by IndyParks Director John Williams and includes members from the Indiana Sports Corp., Indy Eleven, Department of Public Works and Visit Indy, said they talk to USACA weekly and planning for the event is progressing.

Gahl
"We keep in very close contact with them," said Visit Indy Vice President Chris Gahl, a member of the local organizing committee, "and we have no indication the event won't happen. We're full speed ahead." In fact, Gahl said seven of the eight regions scheduled to play here in August have already booked hotel reservations, and the eighth is finalizing its plans. Each team will bring a 25-person contingent, Gahl said, and they have booked rooms at Holiday Inn Express East, La Quinta Inn East and Comfort Inn East.

The local organizing committee also has started a marketing campaign that includes all corners of Indiana in addition to Chicago, Louisville, Cincinnati, Dayton and Columbus, Ohio.

"We're not trying to fill Bankers Life Fieldhouse. We're trying to make inroads into a growing international sport," Gahl said. "We think we will have 1,500 spectators each of the four days."

City officials plan to ramp up marketing in mid-June, including a targeted email campaign and online, TV and radio ads.

The local cricket movement began in earnest in 2012 when Ballard committed $6 million from the Rebuild Indy fund to turn Post Road Community Park, a 48-acre tract on the east side, into the World Sports Park with five multipurpose fields designed for soccer, lacrosse, hurling, rugby, Australian-rules football and Gaelic football, in addition to cricket.

The movement got a boost in April 2013, when Ballard revealed during a trade mission to India that Indianapolis was looking to host the U.S. Cricketing Championship in the summer or fall of 2014. That announcement made international as well as local news.

In June, Ballard signed a deal with USACA to bring the event here.

Despite some criticism, Ballard gained endorsements for his endeavor from ISC President Allison Melangton, Visit Indy CEO Leonard Hoops and a big segment of the business community, including the Indianapolis Chamber of Commerce, Eli Lilly and Co., Roche and Dow AgroSciences.

But last summer, some City-County Council members began raising concerns about USACA's stability. Some of those concerns have been borne out.

Several USACA vendors told IBJ they haven't been paid by the organization in six to 10 months. A source tied to the ICC said "Beazley's departure was the final straw."

"Darren Beazley was their only hope for stability," said one USACA vendor. "He was their only hope to gain credibility in the American marketplace, and they ran him off after 14 months. They haven't been able to keep a chief executive for more than two years because they're so dysfunctional."

Beazley's departure has not had a major impact on the local event, Gahl said.

"The timing of Darren's departure is not ideal," he said, "but we had four solid weeks of transition."

It's difficult to say what has caused instability in recent years in USACA, which was founded in 1965. Several cricket insiders pointed to the board makeup and lack of athlete representation on the board. Beazley had recommended a governance overhaul for the organization, but board members rebuffed him.

Harrison, of the American Cricket Federation, said even if the event in Indianapolis is pulled off, it won't be a true national championship due to USACA's erosion.

"We now have twice as many leagues that belong to our organization as USACA has," Harrison said. "We represent 10,000 [players] in the U.S. We're coming together and stepping into the void."

Patel said USACA's troubles are a black eye at a time the sport is growing locally and nationally.

"We have more than 80 players right here [in Indianapolis]," Patel said. "We're working with more than 240 Indiana schools that are now giving instruction in cricket. We have a lot of American youth starting to embrace the game. The sport is poised for growth. We just have to get the proper organization in place."•