It's hard to think of a more by-the-numbers profession than that of certified public accountant. But these days, while skillfully juggling numbers is still vitally important, a whole range of "soft skills"—the kind of stuff that rarely gets mentioned in accounting classes—is gaining importance.

To help CPAs catch up, the Indiana CPA Society in 2014 launched an online program that helps its members (and others) cope with the more "human" side of their profession.

Bowyer
"We know that CPAs are really great at keeping up their technical skills and keeping up with changing regulations, but we also know that this field is becoming ever more reliant on skills such as critical thinking, interacting with people, and becoming a trusted business adviser for their clients," said Jess Halverson Bowyer, strategist for the CPA Center of Excellence.

The Center of Excellence, a not-for-profit arm of the Indiana CPA Society, spent half a decade developing a training program to help number-crunchers get in touch with their warm and fuzzy sides.

"We're trying to be a place that looks toward the future for CPAs, to try to see the challenges that are emerging and what resources we can provide that give them that excellence mind-set," Bowyer said.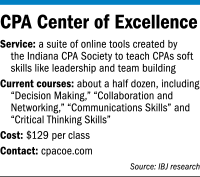 The Center of Excellence describes its project in promotional materials as "practical tools that develop high-impact, high-commitment talent management programs." The product, created by Indiana CPA Society volunteers and staffers—plus input from United Kingdom-based Ph.D. David Griffiths, founder of K3-Cubed Ltd.—includes an online self-assessment test, plus a half-dozen courses with titles ranging from "Critical Thinking Skills" to "Collaboration and Networking" to "Leadership."

Instead of gathering somewhere in a classroom, students can study online at their own pace.

"We wanted people to have flexible options," Bowyer said. "You can do 10 minutes today and an hour tomorrow, or you can do the entire course in a day."

Each class costs $129. So far, about 500 people have signed up (at http://www.cpacoe.com/). Though most of those taking courses so far are CPAs, you don't have to be one to participate. Indeed, the Indiana CPA Society would like to see the program offered in other states and by other parties, such as universities. But that could be a slog, because of a thicket of federal and state restrictions to navigate.

"It's difficult, because the CPA profession is regulated by the individual states," Griffiths said. "This is a somewhat tedious process, but we are making significant progress that is being recognized nationally."

Griffiths noted that Gary Bolinger, CEO of the Indiana CPA Society, was recognized by Accounting Today in 2015 as one of the 100 most influential people in the profession largely as a result of the Center of Excellence project.

The project continues to expand, with a new course on ethics set to debut soon. A recent survey of almost 700 CPAs conducted by the CPA Center of Excellence validated the need for the program. It found the most important skills employers find lacking in new hires are critical thinking, communications, problem solving, analysis and leadership.

But while the newcomers are interested in mastering soft skills, they're also deeply uninterested in sitting down in a classroom or other rigidly structured venue to do so. Hence, the perceived need for an online option.

Whatever the mode of delivery, the need to develop systems to help CPAs become more "people pleasing" seems apparent.

"Decision-making, critical thinking and collaboration are essential to function as a professional at a high level and to add value to employers and clients," Griffiths said.

"Much of this is driven by increasing complexity and the accelerating velocity of change. In today's environment, those skills traditionally referred to as 'soft skills' are increasingly important to professional success."

The Indiana CPA Society, based at Woodfield Crossing near Keystone Avenue and East 86th Street, has more than 8,100 members in public practice, business and industry, government and education.•