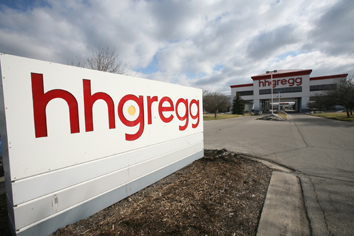 The interim chief of HHGregg Inc. wants to become its permanent CEO.
Robert Riesbeck, chief financial officer of the Indianapolis-based appliance and electronics retailer, was called upon to lead the struggling company following the departure of former CEO Dennis May in February. May had been with company since 1999 and CEO since 2010.
Riesbeck, 52, told analysts on a Thursday conference call that a decision on his future will be made in August, following a six-month trial.
"But I fully hope and expect to keep this role," he said.
Asked to clarify whether he indeed aspired to make the transition from interim to permanent CEO, Riesbeck responded, "that's what I would hope."
Riesbeck joined HHGregg as CFO in September 2014, arriving from Boca Raton, Florida-based private investment firm Sun Capital Partners Inc. He spent four years there as operations executive/group CFO overseeing financial operations for a group of portfolio companies with revenues exceeding $5 billion.
From February 2007 to September 2010, Riesbeck was CFO of Indianapolis-based Marsh Supermarkets, which is owned by Sun.
Riesbeck spoke to analysts Thursday for the first time as HHGregg's interim CEO, after the company posted another quarter of disappointing earnings. HHGregg hasn't reported a profit in more than two years, though the company is showing signs of improvement.
For the quarter ended March 31, HHGregg lost $9.1 million, or 33 cents per share, down from a loss of $25.2 million, or 91 cents, in the same period a year ago.
It was the ninth straight quarter in which HHGregg has posted a loss. It last reported a profit in January 2014.
For fiscal year 2016, HHGregg reported an 8 percent slide in sales.
The company lost $54.9 million, or $1.98 per share, compared with $132.7 million, or $4.72 cents per share, in the prior fiscal year.
The company operates 226 stores in 20 states. Shares were trading late Friday morning at $1.66 each, down nearly 3 percent on the day. The shares were trading at $4 each a year ago.
 
Please enable JavaScript to view this content.