Three top executives of Baldwin & Lyons Inc.—who spent a combined 124 years with the Carmel-based trucking insurer—have suddenly "retired" after clashing for months with the board's executive chairman.
CEO Joseph DeVito, Chief Financial Officer Patrick Corydon, and Deputy Chairman and former CEO Gary Miller notified the company last week that they were stepping down, the company said in a May 19 regulatory filing.
The filing said the retirements "were due to their disagreement with respect to the company's recent leadership changes, overall strategy and other matters." The company announced promotions to fill the vacancies, with Randall Birchfield, executive vice president of sales and underwriting, becoming CEO.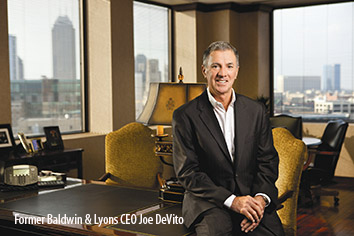 While Baldwin & Lyons' statement did not elaborate, and a spokeswoman declined to comment, the company's filing included DeVito's emotional resignation letter, which blasted the leadership of Executive Chairman Steve Shapiro, 50, a director since 2007 whom the board elevated to executive chairman last October.
Shapiro, whose family is Baldwin & Lyons' largest shareholder, replaced Miller, who was demoted to deputy chairman. Miller, 75, joined the company in 1965 and served as CEO from 1997 to 2010. He had been chairman 18 years.
DeVito and Corydon had similar longevity. DeVito, 64, joined Baldwin & Lyons in 1981 and had been CEO since 2010, while Corydon, 67, started at the company in 1978 and became CFO the following year.
"I have done everything that I could to make the best of a situation that has now become not only intolerable to me, but perhaps more importantly, potentially significantly damaging to the company," DeVito wrote.
He added: "The elevation of Steve Shapiro to the position of executive chairman and subsequent actions and decisions made by Steve have significantly reduced my authority, and thereby my ability, to properly and appropriately run the company. This is not intended to be a criticism of Steve as a person, however, in my opinion, he does not have the necessary background or experience to serve in that capacity. I believe he was assigned that position, not due to any qualifications or background that would merit the appointment, but rather as a result of his family's ownership of stock."  
The Shapiro family of Highland Park, Illinois, a major Baldwin & Lyons shareholder for decades, owns 49 percent of the company's Class A voting shares, as well as 15 percent of its Class B nonvoting shares. The family has four seats on the 15-member board. Steve Shapiro is a vice president of SF Investments, the family's investment vehicle. His bio says he also is a member of North Vernon Investment Management LLC and general partner of the New Vernon Insurance Fund.
In his letter, DeVito said that after Shapiro became executive chairman, he  "personally hired two individuals with virtually no previous experience in our industry or with any of our company's operations or products." He did not identify the individuals.
He said he believed the men had been unemployed or were working for a Shapiro-related company, but were hired with salaries that ranked them in the top 12 at the 500-employee company, with one making $400,000 per year and the other making $250,000.
"Both have special working conditions," DeVito wrote. "They are the only two employees of our almost 500 that have no stated goals or performance metrics. Both of them are in sales development but report to Steve directly, not our EVP in that area."
DeVito said one of the individuals is the son of one of the company's directors, who is "the best friend of Shapiro's father." The other, he said, is a "personal friend of Steve's."
DeVito, who made $2.5 million in compensation in 2015, said he was asked on April 1 to pay each man a bonus of $50,000 "without any reasons or performance indications of any kind."
The criticism didn't stop there. DeVito said that since Shapiro's promotion, "the company has become much more deeply engaged in a series of ever increasing and deepening related party transactions, including insurance and investment activities, that have generated a series of inquiries, both internal and external."
"If we have any issues here, it puts the entire enterprise at risk, including our A.M. Best rating … and market value of the company," he wrote. "If there is even the hint of a problem, the rating goes down, we lose the largest program we have and investors will flee."
DeVito said he strongly recommended "that the board should immediately hire an independent counsel to investigate and report findings and action regarding all related party transactions, both current and planned."
In a prepared statement, the company said "an independent committee of the board of directors of the company has been authorized to conduct a comprehensive governance review, including a review of certain matters brought to the attention of the board in connection with the written notifications of retirement. Independent legal counsel has been retained to assist in this review."
Miller submitted a brief resignation letter, stating, "With the board's recent changes in management and authority, and the resulting changes in the company's direction, culture and business practices, I am retiring."
Reached Monday night, Miller told IBJ: 'I think pretty much the letter says it all. I have been there over 50 years, and I think it was just time to leave."
The company's new CEO, Birchfield, 52, joined the company in September 2013 as vice president of underwriting and has been executive vice president of sales and underwriting since April 2014.
   
Michael Case, 47, general counsel and secretary, was given the additional position of chief operating officer. Case has been with the company since 2003.
Douglas Collins, 56, was appointed interim CFO on Thursday. He had been director of accounting and finance since March 2015.
Michael Edwards, 47, was named treasurer and chief accounting officer, the company announced Monday.
Also on Monday, the company said Jeffrey S. Cohen, managing director of the investment firm Stifel Nicolaus in Indianapolis, resigned from the board May 17. Cohen, 52, joined the board in August. The company said "there was no disagreement between the company and Mr. Cohen relating to the company's operations, policies or practices that led to his resignation."
Founded in 1930, Baldwin & Lyons, Inc. specializes in marketing and underwriting insurance for the transportation industry. The company this month reported first quarter profit of $14.1 million, up from $6.2 million in the same quarter a year earlier. Revenue was $80.7 million, up from $74.3 million.
The company's thinly traded Class A shares have barely budged since the company disclosed the management turmoil. The stock closed Monday at $23.47, down 1.4 percent.
The stock has lagged peers in recent years. A $100 investment in the company on Dec. 31, 2015, rose in value to $126.28 five years later. Over the same span, a $100 investment in the Nasdaq Insurance Index rose to $194.53, and a $100 investment in the Russell 2000 rose to $155.18.
In his resignation letter, DeVito wrote: "My tenture as our CEO has been one of both record growth and profit. Anyone looking at those results, along with the strongest balance sheet in our history … and best ever talent would know that the future is bright."
He added: "Whoever was behind this obvious attempt to humiliate me personally and embarrass me publicly and professionally certainly succeeded. For that, they should be ashamed."
Please enable JavaScript to view this content.