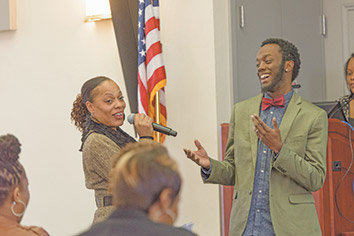 PitchFeast, the grassroots pitch event aimed at under-resourced entrepreneurs and creatives, is growing up.
Since 2012, the monthly event had been a program of Dreamapolis, an organization aimed at aiding urban entrepreneurs. But PitchFeast became its own entity last year and is undergoing changes intended to improve the long-term sustainability of the events, some of which have drawn upward of 120 people.
It really doesn't need Dreamapolis anymore, CEO Kendrea Williams said.
"It's just like a parent company waiting to retire," Williams said one balmy April afternoon, as she headed to Pendleton to pick up catered food for the PitchFeast event that night.
PitchFeast works like this: Guests pay $10 to get into the event, then eat food donated by Nameless Catering LLC. They hear pitches from people behind fledgling for-profits or not-for-profits, as well as social or creative projects.
The crowd then votes on the best pitch, and the winner gets 75 percent of admission proceeds plus pro bono business services. The other 25 percent covers PitchFeast operating costs. The April event winner was Project Purse Indy, which holds "reverse purse parties" to collect bags and donate them to women in need.
One of PitchFeast's most notable changes is that the organization became a 501(c)3 and a 502(a)2 not-for-profit in March, two IRS designations that allow attendees to deduct admission fees when they file income taxes.
PitchFeast's keeping 25 percent of admission proceeds is also a change—up from none last year when Williams footed event costs out of pocket. The group is also looking to create other revenue streams, hire employees, and coordinate similar pitch events for school clubs and organizations that help entrepreneurs, Williams said, among other pursuits.
"We filed for local trademark. Our next step is to file for federal trademark, so we can start expanding this thing outside of Indiana, once we expand it throughout," she said.
Williams inherited both Dreamapolis and PitchFeast when the groups' co-founders, Jaron M. Garrett and Derrick Braziel, left Indianapolis a couple of years ago. Williams joined up with the duo in 2013 as an undergraduate student at IUPUI, while she was working on a project related to minorities and entrepreneurship.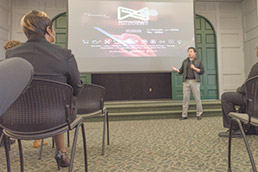 Shuo Li pitches his MyFavor Aid startup, which is an on-demand concierge service. (IBJ Photo/ Eric Learned)
When she arrived, she forged partnerships with other organizations so winners would get more than just cash. Today, those resources include free and reduced memberships to The Speak Easy or Launch Fishers co-working spaces, business law assistance from Reichel Stohry LLP attorney Michael Head, and tickets to events held by local innovation think tank Centric Indy.
The vibrant 41-year-old, who chews gum nearly every waking moment and rocks an arm tattoo of a cross and three roses, is wholeheartedly dedicated to PitchFeast, said her 20-year-old daughter, Safari Jackson.
"She's very interested," Jackson said, "because there have been times when she's tried to start her own business and she never had the resources—not necessarily money, but connections—to get to the next level."
PitchFeast has been a godsend for entrepreneurs like Janet Mackins, the 65-year-old founder of Mind-Body-Soul Connection LLC, a company aimed at improving the lives of senior citizens and their caregivers.
Mackins started the company last July. For now, it puts on monthly comedy shows for seniors and caregivers. Mackins aspires to one day open an elder-day-care facility. "[PitchFeast] helped me to step outside of the box, to get in front of folks and share my vision," she said.
Ieshia Hill became a PitchFeast winner last August after pitching her vision for Lady Sports News, a news site about female athletes in Indiana.
To move the idea forward, the 28-year-old met Kristen Cooper of Startup Ladies, which offers free entrepreneurial classes. According to a Startup Ladies blog post, Hill met Allos Ventures Managing Partner Don Aquilano at one of the classes, and he chatted with her about tips for generating revenue.
"He gave me tasks to do and things to research to help me create a business model that will bring revenue," Hill said. She incorporated Lady Sports Network LLC in March.
Former Speak Easy Executive Director Denver Hutt was a PitchFeast board member. Williams said Hutt, who died in January, was a big supporter of PitchFeast's mission to help innovators of all stripes get ideas off the ground.
"I think people miss that mark when they talk about innovation; they automatically think that it has to include technology," she said. "No, it just has to be a different way of doing business.
"Denver [Hutt] really voiced that she didn't like how innovation was defined by tech, white and male in this city."•
Please enable JavaScript to view this content.