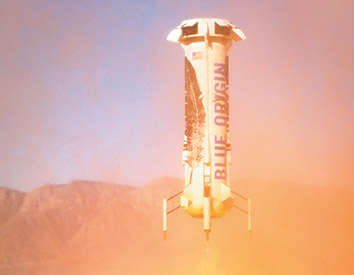 A cadre of private rocket companies is gearing up to offer suborbital joyrides for well-heeled tourists. Purdue University professor Stephen H. Collicott is making sure his students' experiments are along for the ride.
Collicott, a professor of aeronautics and astronautics, is placing payloads with many of the new players. Any day, he's scheduled to fly an experiment on New Shepard, the suborbital system developed by Blue Origin, the rocket company founded by Amazon founder Jeff Bezos.

Collicott
Liftoff is imminent, but Collicott, who plans to be at the company's Texas test range, can't share the date.
"It's soon," he said. "I'm afraid that's the best I can do."
He's also placed a down payment with Virgin Galactic to fly 200 pounds of experiments on the company's tourist-hauling rocket plane, SpaceShipTwo.
And this summer, he's booked flights on the "Vomit Comet"—the not-so-affectionate nickname for a large passenger plane operated by Zero Gravity Corp. that simulates weightlessness by flying in enormous parabolic arcs.
When the Vomit Comet reaches the top of each arc, it generates about 30 seconds of ersatz weightlessness.
These are busy times for his Purdue students, who are preparing numerous experiments.
"Between suborbital rockets and Vomit Comet flights, I think we're up to 12 payloads right now," Collicott said. "Some days it's a scramble."
Building payloads can be a mad dash, but getting a ride, even with so many players emerging, is still a waiting game.

Collicott reserved space with Virgin Galactic several years ago, when it looked as if its SpaceShipTwo would become operational at any moment. But then, on Oct. 21, 2014, it broke up in flight, killing one of the pilots. The company built a second ship and is just now getting back to testing.
"The impression I get right now is that their main focus is on getting to flight," Collicott said. "And servicing the 800 people who have put in down payments for tourist trips."
Scientists might be just as excited as the tourists. Virgin says it can haul 1,300 pounds of experiments on one trip. And one payload rack (about the size of a large steamer trunk and meant to replace a single passenger seat) costs a modest (for spaceflight) $50,000. Other suborbital providers charge similar prices.
Collicott got the opportunity to fly a Blue Origin payload back in 2009, but the explosion of the company's test vehicle two years later forced a delay. A new ship launched last year. Its passenger capsule parachuted safely back to Earth, but the propulsion stage—which was supposed to land vertically like in a 1950s sci-fi movie—crashed. On the very next flight, however, the propulsion stage landed safely, and has been reused on two subsequent missions.
"We'll be flying again before the end of the year without customers on board," Blue Origin's business development manager, Erika Wagner, said last summer. "We'll be doing commercial flights next year."
So far, the trusty Vomit Comet is the only system operating regularly. It was scheduled to visit Indianapolis on May 28—not to do research but to offer joyrides. The cost: $4,950 for 15 parabolic maneuvers, each creating 20 to 30 seconds of weightlessness.
Though competition in the suborbital niche has been a long time coming, Collicott said the results will be worth the wait.
While hitching a ride on a NASA-sounding rocket could set you back $2.5 million, Virgin Galactic and another hopeful, XCOR Aerospace, quote fees of $50,000 for relatively large payloads. And the crewed systems offered by Blue Origin, Virgin Galactic and XCOR will allow researchers to go with their payloads. If that comes to pass, Collicott wouldn't mind tagging along.
"It would be really cool," he said. "For someone who, as an 8-year-old, watched Neil Armstrong walk on the moon, it would be a dream come true."
For now, Collicott has to satisfy himself with trips on the Vomit Comet. Add up his Vomit Comet time, and Collicott reckons he's slipped the surly bonds of Earth for maybe 15 minutes.
"I'd liken it to going off a high dive," he said. "When you bounce up, you get a second of floating in the air. It's like that feeling, but it just goes on and on."•
Please enable JavaScript to view this content.