Take a step into the lobby, and you'll immediately see a two-story digital message display, twirling, flipping, changing colors.

A few steps to the left, in a room nicknamed the HIVE (for Human Interactive Virtual Environment), you can touch an oversized wall display and take a virtual tour of a house, build and annotate a spreadsheet with someone in another city, or take part in a sales meeting on the other side of the country.

In a back room, engineers are getting ready to ship the computer processors for a large video wall—30 feet by 50 feet—to a Big Ten university's media school.

There's a reason this company is called Sensory Technologies.

Just about everything, in nearly every room, is hands-on and user-friendly, with enough eye-catching, oversized images to engulf your senses.

Paquin
"You learn through experience or interactivity," said Derek Paquin, one of the company's three principals, who oversees sales and marketing. "Our mission is to draw you in and use technology to solve issues."

The other principals are Andrew Sellers, who oversees design and engineering; and his wife, Anne Sellers, who oversees finance.

What Sensory Technologies does is take hardware and software created by other companies and customize it for clients.

Sellers
"Everything we do is different," Andrew Sellers said. "Every need is different."

The company serves customers in health care, education, finance, government and other sectors. Clients include the NCAA, Butler University and Indiana University Health.

Sensory Technology also runs its own cloud-based service. It provides digital sign technology and video collaboration in the cloud.

But the company doesn't just see itself as a tech engineering shop. According to its website, its goal is loftier: to use "emergent visual technology to amplify collaboration and simplify life."

Around the headquarters building, near West 71st Street and Interstate 465, workers huddle on projects at desks and cubicles. In one room, engineers are designing a system, one of about 1,000 orders the company handles each year.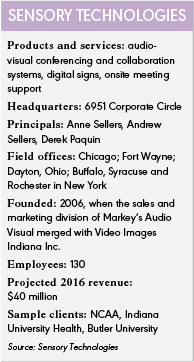 In another room, IT staff is monitoring client events and troubleshooting problems. In another room, sales reps are hunting down new accounts.

A room set up to resemble a corporate boardroom shows some of the more basic applications: videoconferencing, instant messaging, web streaming.

Overhead, in many of the rooms, wall screens show corporate presentation going on in real time. Other screens show metrics of jobs in progress, phone calls to client support, and work requests for IT issues.

The company, founded in 2006, has field offices in Chicago, Fort Wayne and Dayton. But lately, it has been on a tear to get bigger and extend its geographic reach and pricing power.

In February, it bought an audio-video division of Toshiba, picking up three markets in New York—Buffalo, Rochester and Syracuse—and another 40 employees, to bring its head count to 130.

Company revenue this year is expected to be $40 million, nearly double from four years ago.

Sensory Technologies will have plenty of opportunities to continue growing. The audio-video industry, estimated at $32 billion in North America, is hugely fragmented, with only about five national players, along with a few dozen regional players and hundreds of smaller operators.

The largest player is AVI-SPL, based in Tampa, Florida, with sales last year of $577 million.

"But it's almost hard to call us an industry," Andrew Sellers said. "We're almost a niche. Maybe the best way to describe what we did is the audio and video delivery portion of the IT industry."

Sensory is being selective in executing its growth-by-acquisition strategy. Before it bought the Toshiba division, it examined seven or eight other opportunities. And it continues to shop.

"There are a lot of baby boomers that built $5 million or $10 million companies who are ready to retire," Anne Sellers said.

And now, with the rise of cloud technology and ever-bigger screens and higher resolutions, Sensory Technologies is selling its message: that working together doesn't have to involve big travel budgets or time-consuming days out of the office.

"What we are," Paquin said, "is a tool for organizations to do things better, faster, cheaper."•