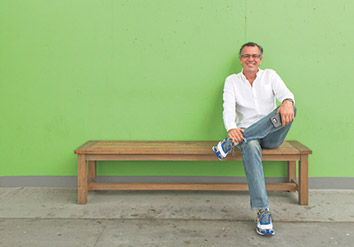 Bob Compton, 60, is one of the pioneers of Indiana's technology community. He invests in documentary films today, but in the 1980s, 1990s and 2000s, he helped fund firms like Software Artistry, Interactive Intelligence, Aprimo, ExactTarget and TinderBox.
The Washington, D.C., native arrived in Indianapolis in 1978 to work for IBM Corp., left in 1982 to attend Harvard Business School, and circled back in 1988 to work for CID Capital Inc.—the state's first venture capital fund, which had started seven years earlier.
The following are edited excerpts from a conversation with Compton about how Indianapolis went from being a barren entrepreneurial landscape in the early 1980s to one of the hottest technology hubs in the country.
IBJ: You got here in 1978, left for Harvard, and then returned in 1988. What made you come back?
COMPTON: Well, I went to school, then worked as a venture capitalist in Boston. I was doing early-stage, high-tech investing, and then moved back to Indianapolis to join CID to do the same thing in the Midwest—which was uniquely challenging.
IBJ: What was the venture and startup landscape like here around that time?
COMPTON: CID had done a few successful technology companies there in Indiana, but honestly the entrepreneurial sector in Indiana and Indianapolis was a small segment of the economy. … It was pretty much non-existent in the late 1980s.
IBJ: What did that mean for you as a venture capitalist?
COMPTON: It was challenging from two perspectives. One, it was hard to recruit executives who had built, or had been part of building, other companies. And it was also, candidly, hard to find early customers for these software companies because the larger companies in Indiana were somewhat risk-averse back then.
We started the companies there and, in order to grow, needed to recruit talent from both coasts and also needed to land customers on both coasts because they were more willing to take risks.
IBJ: So what changed that?
COMPTON: I think a lot of credit goes to Gov. [Robert] Orr and Lt. Gov. John Mutz, who played a very important role in setting up the first technology venture capital firm in Indiana.
It was also John Fisher, chairman and CEO of Ball Corp., and Marion Dietrich, who had been executive vice president of Cummins Inc., and Dick Wood, who was chairman and CEO of [Eli Lilly and Co.]—it was those individuals who had the vision and the courage to start an early-stage, high-technology venture firm in Indianapolis and require it to invest only in high-technology companies in the state. And that was CID. 
IBJ: Why was that so important?
COMPTON: Because there was no risk capital there. If you were a high-tech entrepreneur before 1983, it was almost impossible to raise meaningful venture capital to start and grow a high-tech business.
So as CID was successful and [raised] additional capital in larger chunks, we could invest more money in more companies and also put a bigger amount in each company.
IBJ: Who was behind it?
COMPTON: The very first fund was, I believe, 53 companies across Indiana. Lilly, Cummins, Ball Corp. There were a number of companies in northern Indiana, and some banks.
You may recall at the time that the Midwest was in a pretty bad recession, and it was becoming the rust belt. And they knew that, for Indiana to remain vibrant and growing and have rising incomes for its citizens, there needed to be a risk-capital pool that could invest in and build the next generation.
Every big company starts with one person and an idea, and setting up that first venture fund was what sparked the launch of the entrepreneurial sector there in Indiana.
IBJ: You can have money, but you need venture capitalists who are good at finding worthwhile bets. How did that come about?
COMPTON: Well, CID's first managing partner was Marion Dietrich, and he had started with Cummins in the 1960s and worked his way up to run global sales and marketing. He had studied at Harvard Business School under a Georges Doriot, who invented the idea of the modern venture capital fund; he set up the first venture capital fund in Boston in the late 1940s or early 1950s.
So Dietrich studied under him, as did John Fisher. I studied under professors whom [Doriot] had taught, so I learned the venture capital business both at Harvard and by doing early-stage, high-tech investing in Boston.
I was attracted to Indiana, really, by Marion Dietrich. I mean, he was a tremendous leader and an amazing citizen there of the state and I believed in his vision.
As challenging as it was in the early days, the good news was that there was a latent entrepreneurial opportunity, but what we needed was capital and a team to work with those entrepreneurs and businesses. I believed in that vision and I believed that I could contribute to that goal.
IBJ: So once you got the capital, the other ingredients became easier to acquire?
COMPTON: The entrepreneurs were there, but they needed that capital and they needed a coach and board members who would roll up their sleeves and really help them build the companies from the early going.
In the early days of ExactTarget, I was out making sales calls with Scott [Dorsey] and Chris [Baggott]. I was acting as a reference when customers who were signing up needed confidence that the business was going to be around. I would talk to them and assure them that we were committed.
It was not something that's done in Silicon Valley, but we needed to in Indiana because we needed to build things from scratch. When you start something in Silicon Valley, you can go down that street and hire engineers, salespeople and marketers out of Apple and Google and all the other companies.
IBJ: The entrepreneurs were here, then the capital came, then the coaching came, and you had to cultivate talent here.
COMPTON: Exactly. Because the talent didn't exist. There weren't lots of large, established companies in Indiana for us to raid for talent. So we took the teams that we had and we built them relatively quickly, basically grooming and developing the teams within each company.
IBJ: Are there any other ingredients that helped build this ecosystem into what it is today?
COMPTON: The way I think about it is, there are four pillars to an entrepreneurial ecosystem: talent, technology, capital and culture.
The talent is the entrepreneurs, and the technology is the ideas that they've developed. So Indiana in 1983, I would say, had talent and technology but was lacking the startup capital and was definitely lacking entrepreneurial culture.
So over the following 30 years, what ended up being built was the capital and the culture. And today, Indiana, and Indianapolis in particular, has a tremendous entrepreneurial culture and hundreds of millions of dollars in wealth that has been created that's a pool of capital that's being reinvested. So Indiana now has all four pillars and, I think, a lot of strength in all four pillars.
IBJ: Earlier this month, Salesforce announced that it was adding 800 jobs and placing its name on what is now the Chase Tower. What does that say to you?
COMPTON: Well, I would say that Indiana now has arrived and Indianapolis is recognized as one of the great technology entrepreneurial cities in the country.
I mean, Salesforce is a tremendous company, and making that kind of commitment to Indiana sends a signal to the whole country, particularly to venture capitalists and entrepreneurs, that if you want to start a business and grow it into something major, Indiana is a great place to do it.
Salesforce wouldn't be adding all those jobs if there wasn't tremendous talent in Indiana, particularly coming out of all the universities. Indiana has such a great collection of universities that graduates engineers, scientists, people who become great at sales, marketing and customer service. There are not a lot of states that have that many great universities that close together in a city that is now very supportive of entrepreneurs.
IBJ: How did you come to be involved with ExactTarget, which was ultimately acquired by Salesforce [for $2.5 billion]?
COMPTON: April Sasso, the wife of [surgeon and medical-device inventor] Rick Sasso—she's the one who introduced me to Scott Dorsey and Chris Baggott. The reason is, she has two sisters; one of them is married to Scott and the other one is married to Chris.
April called me one day and said, "Would you do me a favor and meet with my brothers-in-law? They started this little email marketing company." And I said, "April, we're friends and I think highly of you and highly of your husband, so I'd be happy to meet with them." That was the most profitable introduction of my entire life, and I'm forever grateful to her. And Indiana should be forever grateful, because, as a result, Salesforce.com is adding 800 jobs.
IBJ: So, you were the first investor and adviser in ExactTarget?
COMPTON: Family and friends had put money in, but I led that first outside investment round and I put in $500,000. I think it was in 2001. The full-time employees at that time were Scott Dorsey, Chris Baggott and Peter McCormick, and one employee.
They had a product, but the customers were dry cleaners and pizza shops. And so it took a lot of vision to go from that to what became the largest email marketing company in the world. So I put up a half-million dollars, and we brought in other individuals in Indianapolis for a total of, I think it was $1.2 million. Several years later was when we started bringing in venture capital rounds. I became chairman of the board and served there for about nine years.
IBJ: And what did that $500,000 investment turn into for you?
COMPTON: I did really well. It was the biggest home run of my career by a factor of three.
So, yeah, it was a very big success for me and for all the people who invested in the company. It was a success for the customers who bought the product. It was a success for the founders and the family and friends who believed in them. It was a success for all the individual investors who put money in, the venture firms, the public shareholders and now the state of Indiana.•
Please enable JavaScript to view this content.