The latest Hoosier inventions are emerging from the bustling orthopedic industry in Warsaw, from faculty laboratories at Indiana's flagship universities, and from health care firms across central Indiana, including Cook Medical Technologies.
It's all adding up to one thing: Indiana is experiencing a patent renaissance.
Indiana inventors secured 30 percent more patents—intellectual property rights granted to inventors by the federal government—in 2015 than they did four years earlier, according to data compiled by Carmel patent valuation company Pellegrino & Associates.

And at more than 2,000, last year's number is double the patents granted to Hoosiers in 2008, a low point for patents in the past two decades.

It's a trend the state's top economic development official, Secretary of Commerce Victor Smith, called a "perfect intersection" of new technologies and techniques permeating business sectors Indiana already leads, including manufacturing, agriculture and life sciences—and the beginning of a strong foothold in information technology.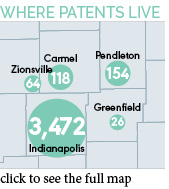 "When you get new technology and new materials and new approaches of how to do things, whoever comes up with the best recipe of those things, you're going to be at a strategic advantage," Smith said. "We happen to be a really good center of gravity for a lot of changes."

The growth in the state "doesn't surprise me," said Chad Pittman, vice president of the Office of Technology Commercialization at Purdue Research Foundation.

"In order for Indiana to be great, we had to work to be great," said Pittman, who previously was IEDC chief of staff. "There's a mind-set across the state of, 'We can innovate here in such a way that makes an impact to humankind.' I've seen that from Purdue to Evansville to Fort Wayne."

Sure, tracking patents is not a perfect compass for measuring innovation. Patents don't reflect the failure that is so critical to innovation, nor whether a product or method actually makes it onto the market—but they're a start.

"What you'll completely miss is innovation in the software space [or other sectors], where they don't need patents to be successful," said Marie Kerbeshian, vice president of technology commercialization at Indiana University Research & Technology Corp.
"But, certainly, increased patent numbers could reflect an environment in which you have high-tech workers who are supported by companies and universities to do that creation."

Indiana's public flagship institutions are driving some of the growth.

Purdue University and Indiana University are among the top patent owners in the state over the last five years, with Purdue coming in at No. 5.

At Purdue, the new administration under President Mitch Daniels and Purdue Research Foundation President Dan Hasler has "really changed" how the university approaches technology commercialization, including patents, Pittman said.

For one, it has recruited in-house patent attorneys and patent agents, "so we can better utilize our resources to pursue more patents and better patents," Pittman said.

Also, it's trying to shed a mind-set of fear in the tech-transfer world of not getting the best deal on a licensing agreement.

"Let's not not do a deal over half a percent of a royalty," Pittman said. "Maybe we leave potential royalties on the table, but let's get stuff out in the marketplace so things are happening."

Kerbeshian said there's also a growing desire among IU faculty members for their research to be relevant, especially in fields where they interact directly with end users, such as a medical school physician who wants to develop and create medical devices.

The patent increase might also reflect an environment where federal funding for university research has tightened, requiring universities to partner with companies on sponsored research. Those companies might be inherently more interested in commercialization, and patents come along with that.

The news isn't all good.
Though Indiana patent awards have increased, the state still trails the likes of California; Washington, D.C.; and New York. Indiana ranks 17th for patents granted since 2011, and it ranks 24th in "patent awards per capita" during that time, based on the state's 2015 population.

Mike Pellegrino, president of Pellegrino & Associates, said the state trend "looks OK" the last few years. But he said Indiana's patent activity has actually eroded over time as other states have taken better advantage of booming industries.

He called for "tighter alignment" between university research and "what the market actually demands." He also said Indiana should provide inventors more and better tax incentives.

"Some of the largest growth areas are the semiconductor, wireless and software sectors, and we're not keeping up," Pellegrino said.

But IEDC officials noted that Indiana inventors have historically submitted more patent applications than average. From 2006 to 2008, Indiana residents submitted 8,500 patent applications, or 13 applications for every 10,000 people, double the national average, according to IEDC.

Looking ahead, Indiana could be gearing up for more growth soon in patent awards.

Salesforce announced this month it would add 800 jobs in Indiana. Indiana will become a "global business center" after the impending Dow-DuPont merger. Rolls-Royce announced last year it would invest almost $600 million in Indianapolis as it partners with Purdue to develop new jet engines.

Smith said those investments will pay big dividends here for patent award growth—and, in turn, innovation.

"I would think we'd continue to stay at pace with our historical performance, if not gain ground," he said. "Just think of the patents that will come along from a brand-new, from-scratch engine design out of that one company."•