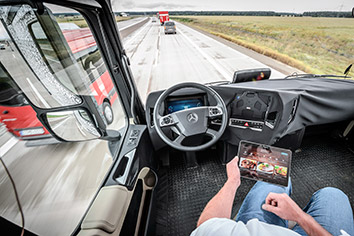 Disciples of self-driving vehicles promise a revolution that will reduce emissions, boost productivity, revive U.S. manufacturing, and reduce deaths from traffic accidents.
Yet many enthusiasts downplay another possible consequence: The elimination of millions of blue-collar jobs so far shielded from the off-shoring and automation that decimated millions of U.S. manufacturing jobs.
Truck driver is the most common occupation in Indiana and 28 other states, according to a study by National Public Radio using Census Bureau data. If you add bus and taxi drivers to the 1.7 million U.S. tractor-trailer drivers, 8 million Americans earn a living from driving.
Many of those jobs could be vulnerable in coming decades if vehicle automation proceeds as expected (fully autonomous passenger vehicles could be ready for delivery as early as 2020, though there are plenty of timeline skeptics, including tech entrepreneur and automated-vehicle enthusiast Scott Jones). To put what's at stake in perspective, 7 million manufacturing jobs have disappeared since that sector peaked in 1979.
"I think, long term, the majority of truck drivers will be unemployed," said Brandon Shapiro, a former Bain & Co. strategy consultant and founder and CEO of Los Angeles-based BridgeHaul, which develops software that automates trucking functions such as dispatching and payments. "Lots of blue-collar jobs are going to disappear, leaving a large pool of unskilled labor fighting for fewer and fewer jobs. We're going to get to a point where we're a workerless society."
Job losses won't happen all at once, Shapiro admitted. He expects passenger vehicles will automate first (Uber says it plans to launch a fleet of autonomous cars by 2030), and big commercial trucks will be last because of their size, the relative complexity of a separate tractor and trailer, and the difficulty of navigating urban areas. He also doesn't expect the public will be comfortable with driverless large trucks—at first. Automated trucks initially will have drivers on board in case something goes wrong, a similar model to the one employed by airlines (pilots' role in the cockpit is mostly precautionary since planes can run on autopilot).
Scott Vogel, director of Celadon Driving Academy in Indianapolis, said the predictions by Shapiro and others are far-fetched. Vogel predicted it'll be 15 or 20 years before autonomous trucks hit highways in large numbers, and even then he expects drivers will remain in the cabs—if only to handle hiccups.
"A truck can get from here to there, but at some point, you need a human driver," Vogel said. "I think there will always be a driver on board. That's my guess. Though I never thought there would be a truck that drives itself."
Celadon has placed a bet that drivers will remain in demand. It opened the Indy academy, a campus with three classrooms and 108 dorm rooms, in 2014. The center graduates about 30 students per week after a five-week course and has put more than 2,000 drivers behind the wheel.
Not if, but when

Jones
Tech entrepreneur Scott Jones has closely followed driverless technology for years; his Indy Robot Racing Team in 2005 fielded an entry in the Defense Advanced Research Projects Agency, or DARPA, Challenge that went head-to-head with the Stanford-sponsored predecessor to Google's self-driving vehicle in testing.
He's also developed a respect for the dangers of computer-piloted vehicles for humans onboard or nearby, and a skepticism for hyped timelines.
"There have certainly been some astounding improvements, but I still think we're quite a ways in the future before we have autonomous trucks, autonomous taxis," Jones said. "There might be vehicles where the human could take over from the autopilot. If you're in the back seat zoned out or asleep, I would certainly be uncomfortable knowing what I know about the technology. Especially in a white-out condition."
Jones deployed his own driverless technology into Indianapolis-based Precise Path Robotics, which makes self-driving lawn mowers for golf courses—where there are few obstacles other than squirrels.
"You can't move as fast as technology would move on its own when you put humans in or around the vehicles," he said, noting the driverless revolution is "a bit overhyped" at the moment. "It's not that it won't happen. It will. If you read the headlines today, they predict by 2020. I don't think truck drivers or taxi drivers need to be concerned in the next five years."
Meanwhile, investments in driverless technology will continue to improve the experience of cars consumers buy. Think parallel-parking assist. And as technology replaces jobs, Jones said, new ones will be created.
"There will be other jobs that make sense for people with those skill sets," he said.
What might the big rig of the future look like? A self-driving prototype from Mercedes-Benz, unveiled in 2014 and called "Future Truck 2025," replaces drivers with "transport managers" who take the controls when merging onto and exiting highways or in heavy traffic or construction zones.
Otherwise, the driver's chair pivots away from the wheel, and the computer handles normal highway driving and navigation. Many truck makers, including Freightliner, already are outfitting tractors with advanced automated safety features—like lane control and automatic braking—but Mercedes-Benz's fully automated "Future Truck" won't be available for at least a decade.

Bernhard
"It never gets tired. It's always 100 percent and sharp. It's never angry; it's never distracted," Daimler board member Wolfgang Bernhard said of the automated driving system, in an interview with Wired.
Safety probably will be a big selling point to regulators and the public once logistics companies and truck makers are ready to roll out self-driving trucks at
scale. In 2013, the most recent year data is available, 3,964 people were killed in crashes involving large trucks, according to the National Highway Traffic Safety Administration. Of those killed, 71 percent were occupants of passenger vehicles. Another 95,000 people were injured.
The world's first operational self-driving truck, the Freightliner Inspiration, began appearing on highways (with passive drivers onboard) in Nevada in 2015. The Inspiration needs millions of additional test miles, but trucking operators are salivating over potential savings on insurance premiums, legal settlements, and productivity they could unlock by running safer fleets. (Self-driving trucks are expected to double productivity since there's virtually no downtime, whereas human drivers can drive only 11 hours per day.)
On the highway, the Inspiration won't pass slower vehicles without the driver's hands on the wheel and alerts the driver to any unusual circumstances. If the driver does not respond, the computer automatically slows and stops the vehicle on the shoulder.
Improving, every mile
One advantage of automated driving is that computers continually learn and improve as they take in data about road surfaces, routing, weather conditions, and behavior of other drivers, said Felix
Lluberes, executive vice president of advanced applications at Atlanta-based Kore Telematics, a provider of machine-to-machine communications for fleet tracking and trucking logistics.
"The self-driving truck on the job will become more aware of the overall activities it performs and find ways to optimize its routes, reduce fuel, and delivery time," Lluberes wrote in an email. "These combined efficiencies have a proven impact in any economic model."
Early self-driving vehicles do have their flaws: For instance, they're bad at avoiding potholes and practicing courteous driving (they can't interact with other drivers). Eventually, Lluberes said, "the self-driving truck will operate with full autonomy once humans can resolve some ethical issues around the self-driving vehicle."
Many of those issues, ethical and otherwise—such as how to ensure data from vehicles is secure, and who's liable for wrecks involving autonomous vehicles—will be difficult to resolve.
"When do sensor systems fail, and what are the implications in the insurance industry?" Scott Jones asked. "It will take several years for court cases to be litigated—several years of partial paralysis."
On the regulatory question, those with the deepest pockets and strongest public case are likely to prevail. Many people predicted taxicab companies would outfox Uber, but the upstart spent more money courting politicians and did a better job mobilizing supportive users and drivers to its cause.
Truck drivers are unlikely to have much sway, for two reasons: Savings from eliminating labor costs will provide substantial incentives for trucking companies and their customers to automate, and unions—weakened in most industries—are particularly marginalized in trucking. Just 5 percent of truck drivers belong to a union, according to U.S. Department of Labor data.
A third issue is data security. The networked nature of self-driving technology could leave vehicles vulnerable to mischief, said Bill Henderson, an information security analyst based in Pittsburgh. "Hackers love to prove themselves, and self-driving trucks would be a trophy of a target," Henderson said.
The upshot: Surviving drivers would need more technology training and savvy but would have additional productive time in the cabin. Drivers at Celadon's academy are trained to operate sophisticated technology such as lane control that might be a precursor to autonomous models.
Shapiro, the former Bain consultant, predicted most highway driving for commercial trucks will be fully automated within 20 years, perhaps with no human onboard until drivers hop on for the last legs of navigation and loading and deliveries. Even for those remaining trucking-industry jobs, automation will shake up a legacy system that pays for miles driven. Fewer drivers and more in-cabin downtime could put downward pressure on wages. Tractor-trailer drivers in the United States earn a median $39,000 per year.
Broader fallout
The potential jobs carnage wouldn't stop with drivers. Automated commercial trucking also would eliminate the need for a vast network of truck stops and motels that serve big-rig drivers—and employ countless blue-collar workers in communities where good-paying work isn't easy to find. Think about all the abandoned rail infrastructure left behind by interstate highway construction in the 1950s and 1960s.
Also at risk are many of the jobs for the 500,000 Americans who manufacture cars and car parts, as cheap and efficient networks of self-driving cars for hire would sharply reduce the number of vehicles on the street.
A gaggle of companies—including Tesla, Audi, Volvo and GM (which in March spent $1 billion to acquire Cruise Automation)—are working on self-driving passenger vehicles, and most expect broad rollout within a decade. To be sure, workers will be needed to manufacture autonomous vehicles, and that could create thousands of new jobs. But many more could be lost if public demand for cars drops as autonomous fleets make transportation more convenient and efficient.
A 2013 Columbia University study predicted that a fleet of 9,000 autonomous cars in New York City could replace every taxi and deliver a wait time of just 36 seconds and a cost of just 50 cents per mile. And similar systems in smaller cities could move people around even more efficiently; the study predicts a cost of just 15 cents per mile for an optimized system in Ann Arbor, Michigan.
Autonomous cars, like trucks, should be safer: Morgan Stanley predicts widespread use of the technology would save 30,000 lives and prevent more than 2 million injuries annually. That's based on a 90 percent reduction in motor vehicle crashes.

Aulenbacher
Carrie Aulenbacher, a third-generation trucking employee at Lake Erie Logistics in Erie, Pennsylvania, is excited by the autonomous concept vehicles. But she's not convinced jobs for drivers will disappear. On the contrary, the industry has struggled to recruit and retain enough drivers to fulfill growing demand.
Even if autonomous trucks proliferate, she predicted, drivers will always ride along to handle mechanical failure or accidents. The enormous costs of replacing entire fleets and buying new technology also mean the rollout will be slower than some expect.
"After being around truckers all my life, I truly believe the truck ain't nothing without its driver," Aulenbacher said. "I really don't know of a machine that can surpass a human being."
Even if she's wrong, and autonomous vehicles eliminate millions of jobs, there are silver linings for the economy, wrote Zack Kanter in an essay for Quartz. Human drivers account for the majority of shipping costs; cutting them out would save companies and consumers billions and, in theory, boost the standard of living (except for truckers, of course). Such fleets also would save fuel by operating more efficiently, reducing emissions. A convenient network of autonomous passenger vehicles could leave consumers with hundreds of billions of dollars of disposable income to spend on something else.
"Eliminating the needs for car ownership will yield over $1 trillion in additional disposable income—and that is going to usher in an era of unprecedented efficiency, innovation, and job creation," Kanter wrote.•
Please enable JavaScript to view this content.