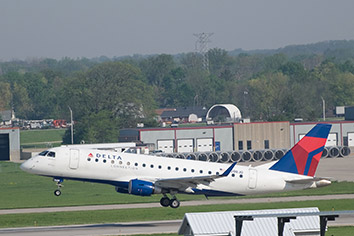 Republic Airways Holdings Inc. has reached what it calls a "milestone" deal to continue flying routes for United Airlines, another step meant to help the Indianapolis-based company emerge from bankruptcy.
Financial details of the deal, which must be approved by the U.S. Bankruptcy Court, were not released and were blacked out in court documents.
But Republic said in a filing that it had negotiated "very significant tangible and intangible short term and long term economic concessions" and that the deal represents a "significant step" forward in its plan to emerge from bankruptcy by the end of the year.
Republic Chairman and CEO Bryan Bedford said Friday in a written statement the newest agreement "will secure United as a long-term strategic partner, provide significant benefits to our airline, and will preserve a reliable and on-time travel experience for United's customers."
The deal means that Republic will continue flying 54 Embraer 170 and 175 planes that it operates for United as well as future Embraer E-Jets flights. According to court records, Republic was flying 280 flights per day as United Express as of Jan. 31.
The new agreement would become effective with court approval.
Republic—which has called Indianapolis home since the early 1990s and employs 1,600 people locally—entered bankruptcy in February after losing $27.1 million in 2015 on revenue of $1.3 billion.
A national pilot shortage combined with Republic's years-long dispute with its pilots over a new contract left the company unable to fulfill all of its obligations to larger airlines. Republic and the pilots reached a deal last fall.
Republic then tried to go to the Big Three carriers to negotiate new deals that lightened its flying load and helped fund the $40-an-hour starting salary it now pays pilot hires—the new top in the regional industry. But when that didn't work, the company went into bankruptcy to try to force negotiations.
So far that's appeared to be a good strategy.
The bankruptcy court has already approved a deal that allows Republic to keep flying commuter routes for Delta Air Lines Inc. Under that agreement, Republic will phase out the use of 50-seat aircraft in favor of larger 70-seat and 76-seat planes it also uses. Delta also entered into a credit agreement to give Republic $75 million.
Republic shares were up 2 cents late Tuesday morning, to $1.31 each.
Please enable JavaScript to view this content.