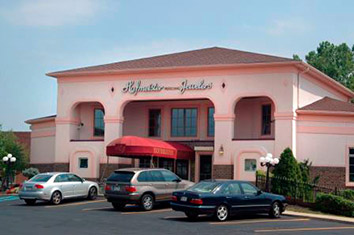 Hofmeister Personal Jewelers Inc., one of Indianapolis' best-known jewelry stores, has been sued by Wells Fargo Bank for allegedly defaulting on a $2.3 million mortgage on its Clearwater Crossing store.
The suit is the latest legal problem for the 43-year-old retailer, which is still trying to pay off debt from a Chapter 11 bankruptcy it filed in 2011.
In a lawsuit filed Tuesday, the bank said Hofmeister failed to make a monthly mortgage payment of $21,004 that was due on March 1 and missed further payments on April 1 and May 1.
The bank said it sent a notice of default to Hofmeister on March 31 and a notice of acceleration and demand for payment on April 20.
Hofmeister took out the mortgage in April 2006 in the principal amount of $2.8 million. It still owed nearly $2.3 million on the loan as of Feb. 8, according to the lawsuit.
Wells Fargo said it is seeking a total payoff of almost $2.4 million to cover the mortgage, fees and additional interest penalties for late payments. It also seeks to have the mortgaged property, at 3809 E. 82nd St., sold at a foreclosure sale to pay off the debt.
The suit is filed against the retail business, its affiliates and co-owner Carter Hofmeister.  
Gary Hofmeister founded the jewelry business in 1973 in downtown Indianapolis. The retailer later moved to the basement of Glendale Mall and, in 1992, to the current free-standing location at Clearwater Crossing.
 
Hofmeister Personal Jewelers filed for Chapter 11 reorganization in April 2011, listing assets of nearly $3.8 million and liabilities of $5.4 million.
Carter, Gary's son, owns about 85 percent of the business and manages operations, according to court papers. He did not return a phone message from IBJ left Wednesday morning.
Under a restructuring plan reached in July 2012, Hofmeister agreed to pay off creditors over seven years.
The retailer agreed to make annual installment payments to PNC Bank, its largest creditor, starting at $150,000 and growing to $405,000 by 2019 to pay off about $1.8 million to the bank.
The No. 2 secured creditor, Hearts on Fire Company LLC, was expected to receive a total of about $443,000 over the same period.
The retail jewelry industry has been struggling ever since the Great Recession began taking a toll on discretionary spending. Jewelry stores also are facing growing competition from online retailers.
According to data from the Jewelers Board of Trade published by National Jeweler, the number of companies exiting the jewelry industry has been climbing, and the trend is not expected to end soon.
A total of 335 jewelry businesses in the United States and Canada ceased operations in the first quarter, compared with 250 in the first quarter of 2015, National Jeweler said. The figure includes stores, wholesalers and manufacturers.
Please enable JavaScript to view this content.