Zoobilation is not your average black-tie fundraiser.

Guests sport tuxedos with shorts and animal-printed accessories. The creatures they're supporting are nearby the entire evening and the threat of thunderstorms is a reoccurring fear.

The Indianapolis Zoo's annual event turns 30 this year. While many fundraisers lose steam after years of repetition, this one has bucked the trend.

What started as a moderate fundraiser in 1986 at Herb Simon's house with a few hundred guests has grown into a highly regarded annual celebration that is possibly the most lucrative single-event fundraiser in the state.

In 2015, more than 5,300 guests attended and helped raise an all-time high of $2.2 million for the not-for-profit.

"If it's not the largest, it's got to be close to the top in the state," said Jessica White, founder and owner of not-for-profit fundraising consulting firm Jessica White Associates. "I commend them for coming up with the idea and being able to build on it."

To compare, Susan G. Komen of Central Indiana's Race for the Cure, a well-known fundraiser that supports breast cancer awareness, raised $1.3 million in 2015 and $1.15 million this year.

The Indiana University Dance Marathon, which raises money for Riley Hospital for Children at Indiana University Health, brought in $3.88 million last fall, but that event lasts a year and ends with a 36-hour dance. The Purdue University Dance Marathon collected $1.1 million for the children's hospital.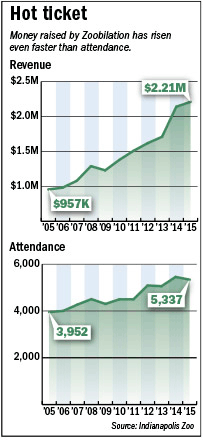 Zoobilation, which takes place on the second Friday of June on the zoo's outdoor property, gives patrons an opportunity to sample dishes from dozens of local restaurants, sip drinks from multiple bars and listen to live music from a variety of bands.

Tickets, which are capped at about 5,500, sold out within four hours this year—slightly faster than 2015, when it took seven hours. In 2014, it took a day and a half.


McDearmon
"We sort of see it as the premier fundraising black-tie event in the state," said Julie McDearmon, director of institutional advancement for the zoo. "It is the event to be seen at. It's the hottest ticket in town."

Tickets usually cost more than $200, with increased prices for early admission and discounts for zoo members. This year's tickets ranged from $250 to $475.

By late May, tickets were selling for about $300 on secondary market websites like StubHub. As of June 1, StubHub reported only 20 tickets remaining.

"It's one of those things where people put it on their list way in advance—'We're going no matter what,'" McDearmon said. "The demand is definitely there."

Other not-for-profit finance experts said the strong demand can keep prices high.

"I don't think their price is out of line for what they're doing," White said. "And obviously, people are buying it."

White, who also served as director of development for The Children's Museum for five years, described the fundraiser's 30-year run as "really rare."

Race for the Cure has been around 23 years, and the IU Dance Marathon, which was the first dance marathon fundraiser for Riley, has existed for 25 years.

"The trouble with all events is, they kind of lose their pizazz," White said. "I'm just amazed they've been able to keep it going."

McDearmon and other not-for-profit experts credit the zoo's mission of animal conservation as one natural reason for the event's popularity.

"It goes back to, the zoo is a great place to support," said Greg Fennig, senior vice president of public affairs for Indianapolis Power & Light Co.

IPL has been presenting sponsor of the event for eight years and has been involved in other sponsorship roles about 15 years.

This year, other sponsors have lined up to provide everything from beverages to gift bags to photo booths. Companies are also sponsoring the arrival carpet and the "exit experience."

McDearmon said the zoo isn't struggling to find sponsors, but is always looking for new partners.

"We still have to pound the pavement out there," she said. "We don't just sit back."

The zoo also doesn't rely on past success when planning for the next year. It works to keep the gathering relevant by introducing new restaurants and bands, incorporating new technology and adding new drink-tasting options like "Whiskeys of the World."

The party has its own app, a hashtag for social media—#IndyZoob—and a monthly newsletter.

"We try to keep it exciting to get people to want to come back," McDearmon said.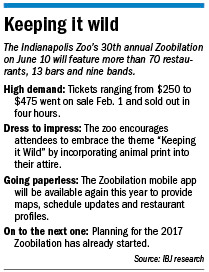 Fennig, a longtime zoo member and previous chairman of the Zoobilation committee, said staff and volunteers are always searching for small ways to enhance the event.

"We don't look at making any huge major changes to Zoobilation, because it's working very, very well," he said. "But keeping it fresh and vibrant and exciting is something we always strive for."

Even though it's one of the few remaining black-tie events, non-traditional attire is encouraged to match annual themes, like an all-orange tuxedo for the "Rock the Orange" theme in 2014 or zebra-patterned shoes for "Keeping it Wild" this year.

"You can put your own interpretation into what you think black-tie means," McDearmon said. "We have some people who come to Zoobilation who wear some interesting things. People really get into it."

Hosting the event on zoo grounds also appears to be a draw. "It's a very unique venue to have this kind of event take place," Fennig said. "Other people have tried to replicate this, but when it's not at the zoo … it makes it very different."


Angela White
Angela White, senior consultant and CEO of Greenwood-based Johnson Grossnickle and Associates, said the location—tied with the organization's mission and food and drink options—has made it "an unbelievably successful event."

"I think that's what all nonprofits are looking for in their event mix," White said.

Planning for 2017 has already started. Organizers are brainstorming themes, talking to sponsors and looking at logo options.

"As soon as the event's over, you gotta get going," McDearmon said. "We saw how great the 100th running of the Indianapolis 500 was. I do think Zoobilation could see its 100th year."•