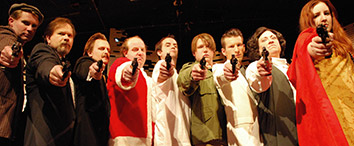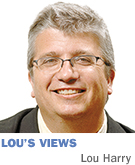 The theater world right now is falling all over itself over Broadway's "Hamilton." And for good reason. But that hit isn't the first bold, rule-breaking musical that looks at our past in a fresh way.
When Stephen Sondheim's last great musical, "Assassins," opened off-Broadway in 1991, eyebrows were raised over its unusual cast of characters, which consists of John Wilkes Booth, Lee Harvey Oswald, Lynette "Squeaky" Fromme, John Hinckley Jr. and other lesser-known folks who, successful or otherwise, attempted to kill U.S. presidents.
By giving voice to these characters, was the musical celebrating these dangerous misfits? Were Sondheim and book writer James Weidman saying that a conversation about the American dream should include the hopes and dreams of Garfield assassin Charles Guiteau and McKinley shooter Leon Czolgosz? And how dare this show open during the Gulf War, when we were supposed to be rah-rah America? Reaction was mixed, to say the least.
Would anyone have imagined then that, 25 years later, the same show could be successfully staged in a small community theater in the middle of an election year in a largely conservative state without eyebrows being raised?
But that's what's happening at Buck Creek Players, which is offering "Assassins" (through June 12) as its season closer.
The southeast-side theater has a history of gutsy musical choices—show me another group that has tackled "Parade" and "Grey Gardens"—and it backs up this one with a confident production that doesn't mitigate its unpleasant subject matter. If you have a problem with gunshots or attempts to understand the root motivations of the horrific, this isn't the show for you.
Some of the humor falls a little flat—having Gerald Ford fall on his face has as much to do with "Saturday Night Live" as it does with historical reality—-and the singing doesn't always soar. But Buck Creek's production doesn't lack guts.
Two examples: While the licensed version of "Assassins" includes an optional song, "Something Just Broke," that movingly allows the audience to hear middle America's reaction to the Kennedy assassination, Director Scott Robinson opted not to include it in this production. And Robinson also has the sympathetic, voice-of-the-people Balladeer (Luke McConnell) double for Oswald.
A downside of any major production of "Assassins" is getting past seeing polished, name-brand talent portray people who were, before their crime, unknowns. But that's a positive for a community theater production such as this. Without access to Broadway talent—Victor Garber, Terrence Mann, Mario Cantone and Neil Patrick Harris are among notables who have tackled these parts—Buck Creek has a cast that consists of actors you wouldn't necessarily notice in a crowd. That underlines rather than diminishes the show's strength.
When Hinckley (Trenton Baker) sings of his love for Jodie Foster, the scene is heartbreaking in part because we can relate to the pain of a guy we see—or look past—every day. Yet we can't escape the knowledge of what his yearning for connectivity led him to do.•
__________
This column appears weekly. Send information on upcoming arts and entertainment events to lharry@ibj.com.
Please enable JavaScript to view this content.