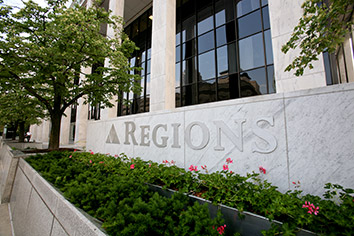 One of the city's largest apartment developers is moving downtown from its longtime headquarters on the north side.
Flaherty & Collins Properties has signed a 10-year lease to occupy nearly two floors in Regions Tower—the third-largest office building in the urban core.
The firm is aiming to complete the transition from Keystone at the Crossing to downtown sometime in November. The growth in downtown's population prompted the decision to move, which is appropriate in light of how the firm is contributing to the downtown apartment boom.
"What we're looking at is how you attract young, sharp people to your company," said David Flaherty, CEO of Flaherty & Collins. "I think that's why you're seeing companies shift to places where you have a really neat living environment. It helps you on the recruitment side."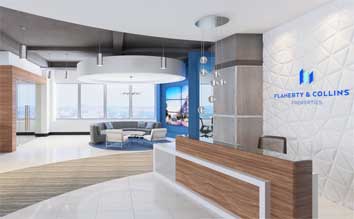 Flaherty & Collins plans to enliven its lobby space with a sleeker design. (Image courtesy Flaherty & Collins Properties)
Flaherty & Collins has 450 employees in 13 states where it has apartment projects, including 80 at the local corporate office. The company occupies 18,000 square feet on two non-contiguous floors at 8900 Keystone Crossing—the building immediately north of The Fashion Mall that fronts North Keystone Avenue.
At Regions Tower, Flaherty & Collins will occupy nearly 25,000 square feet on two contiguous floors—the entire 30th and half of the 29th—with an internal stairwell for easy access between the two.
By coming downtown, the company is returning to its roots.
Flaherty and business partner Jerry Collins founded the firm in 1993 and set up shop in subleased space in the basement of the building at 950 N. Meridian St. They left a year later for College Park on the northwest side, where the company spent about 10 years before decamping to Keystone Crossing in 2004.
"It was a little different then," Flaherty said. "It was easy to get to, and it was all about parking. You didn't think as much about recruiting the young talent."
Flaherty & Collins' downtown apartment projects include Cosmopolitan on the Canal, Axis at Block 400 and 360 Market Square, which is under construction on part of the former Market Square Arena site.   
Flaherty said the company also scouted locations in the suburbs before choosing downtown. The firm found the space it needed at Regions Tower, which is starting to undergo renovations under new ownership, including refurbished lobbies.
In September 2014, New York City-based The Nightingale Group LLC bought the 36-story building for about $65 million from a group including Todd Maurer, a principal at Newmark Knight Frank Halakar, which managed the property. The group also included his father, Michael S. Maurer, along with local businessman Robert Schloss and Pittsburgh-based McKnight Group. Michael Maurer and Schloss also are shareholders in IBJ Media, publisher of IBJ.
At 662,000 square feet, it's the third-largest office complex in downtown, behind the Chase and OneAmerica towers. It was built in 1969 and is roughly 75 percent occupied. In addition to Regions Bank, big tenants include law firms Taft Stettinius Hollister LLP and Krieg DeVault LLP.
Flaherty & Collins has hired Carmel-based Mitsch Design to design the space and local contractor Shiel Sexton Co. Inc. to handle the build-out.
The traditional wood paneling will be replaced by bright colors, glass walls and high-end finishes, Flaherty said, to give the space a modern and sleek look. The space also will be open to encourage interaction, and intermixed with treadmill desks, a Golden Tee golf arcade game and either shuffleboard or a pool table to help employees blow off steam.
And, as more offices are offering their employees now, a beer keg will be available.
John Crisp of Cushman & Wakefield represented Flaherty & Collins in its search for new space.
"Office space plays a key role in a company's culture and its ability to attract and retain top talent," Crisp said. "The recent announcement of quality firms relocating their operations to downtown is confirmation of downtown's appeal to the workforce. It's a testament to the hard work of groups like Indy Chamber, Downtown Indy, Visit Indy and all of the other civic organizations that make our city great."
Flaherty & Collins manages 109 properties and more than 15,700 units nationwide with roughly $500 million in projects under development.
 
Please enable JavaScript to view this content.