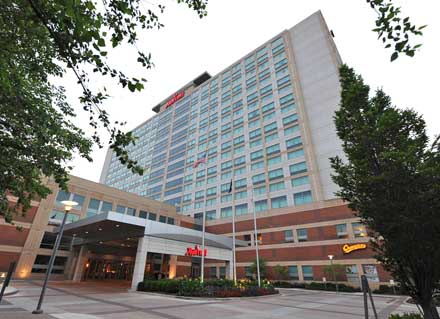 The soon-to-be-new owners of the Indianapolis Marriott Downtown are planning a massive renovation to the 19-story hotel, the second-largest in the city.
The revamp, which would cost "tens of millions of dollars," would begin early next year and take about 18 months to complete, said Chris Anderson, White Lodging Services senior vice president and chief revenue officer.
The overhaul is set to include all 622 guest rooms, the lobby, meeting spaces, restaurants and other common areas, Anderson told IBJ. The number of guest rooms could increase by four or five, he added, and the hotel would remain open during the construction work.
"We have the resources and the wherewithal to get this done quickly," Anderson said. 
The project also could include "re-concepting" the hotel's restaurants, although details have yet to be worked out. Located at 350 W. Maryland St., the Indianapolis Marriott Downtown is home to Champions Sports Bar & Grill and Circle City Bar and Grille.
The hotel, which opened in 2001, is set to be sold for $165 million to Merrillville-based White Lodging and Carmel-based REI Investments, one of its original developers. The transaction is expected to close early in the third quarter.
White Lodging has been managing the property for the current owner, Bethesda, Maryland-based LaSalle Hotel Properties, since 2004.
Anderson said one of the reasons White Lodging and REI wanted to buy the hotel is to keep the Marriott and the 1,005-room JW Marriott in sync for corporate meetings and other gatherings that require a large block of rooms and considerable meeting space.
"We knew the property was going to be sold, and if we weren't involved there was a possibility that the equation for meeting planners could change—and not in a good way," Anderson said. "We wanted to maintain this as a complex that is a great place to get a committed number of rooms for conventions and where a group could get nearly 2,000 rooms and 143,000 square feet of meeting space within our own [adjoined] buildings."
White Lodging and REI officials say they are intent on bringing the hotel up to the same standards as the JW Marriott.
"This project is not about skimping on value," Anderson said. "We feel this is a good time to put a meaningful modernization plan in place."
Further details are still being finalized, he said.
The JW Marriott—which is one block west of the Marriott—opened in 2011 and has been a hub for various high-profile events, including the 2012 Super Bowl and the 100th running of the Indianapolis 500 last month. The JW was developed by White Lodging and REI.
The sister properties are the city's two largest hotels in terms of number of rooms. Anderson said there are no plans to change the name of the smaller Marriott.
"We think the Marriott name makes it easier to sell to meeting planners," he said. "We want people to understand this is one complex."
Please enable JavaScript to view this content.