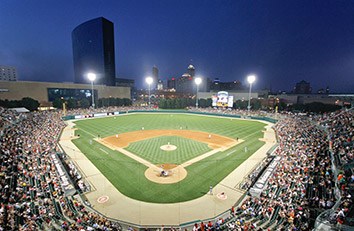 WRTV Channel 6 is shutting down its Hometown Sports & News network and replacing it with a national syndicated network called Grit that features a lineup of action movies and westerns, the Indianapolis TV station announced Wednesday in a press release.
The 5-year-old HTSN broadcasts a lineup of high school sports, Indianapolis Indians baseball and Indy Fuel hockey games, and numerous Indiana college games in multiple sports. The network aired more than 300 sports events annually.
WRTV cited business reasons for the decision. It did not provide a date when HTSN would cease operations, but said Grit would start broadcasting Oct. 1.
An Indians spokesman said HTSN is committed to broadcasting its home games for the rest of the season, which runs into September.
HTSN airs on digital channel 6.2 in Indianapolis and on eight cable networks in central Indiana, including Comcast and Bright House Networks, with potential viewership in almost a million homes.
"We have taken great pride in delivering this local programming," said Larry Blackerby, vice president and general manager of RTV6, in a written statement. "We've watched the Indianapolis Indians dominate the minor leagues and our Indy Fuel skate hard on the ice. Parents who couldn't make it to Friday night high school football or basketball games could tune in on our digital channel to watch the action unfold from the comfort of their home. It was wonderful to be the only station in town providing so much local sports, but the cost of this programming is too great. The choice to switch to Grit is strictly a local business decision."
Officials for WRTV could not be reached for further comment Wednesday morning.
HTSN has broadcast home games for the Indians since 2010 and Fuel games since 2014. It also airs state championship high school games in volleyball, softball, basketball, football and soccer.
"Any time anyone stops broadcasting high school sports it doesn't shine well on anyone involved in high school sports," said Chris Kaufman, Indiana High School Athletic Association assistant commissioner. "Hometown Sports Network really helped promote high school sports—the schools and the student athletes—and we're really sad to see that end."
While Fox Sports Indiana will continue to broadcast IHSAA tournament events, Kaufman said HTSN will be missed by fans during the regular season.
"They were one of the primary outlets for high school sports during the regular season in this region and I'm sure some people will be really upset they can't see the high school games on that station," he said.
Indians General Manager Randy Lewandowski said the Indians would look for a new broadcast partner to carry the team's games.
"Since HTSN went on the air, we have enjoyed the partnership and are grateful for the opportunity provided to showcase Indianapolis Indians baseball to central Indiana," Lewandowski said in an email. "The exposure HTSN and RTV6 provides has played a role in the Indians attendance increases that occurred during each year of the relationship, which included single-season records in 2014 and 2015."
HTSN's cancellation is a big blow to fans of local sports, said Bob Lovell, host of "Indiana Sports Talk," a Friday and Saturday night high school and college sports show that airs on more than 30 stations statewide.
"The sense I got is that a lot of fans of high school and college sports watched this station," Lovell said. "I've heard nothing but positives about it. That's what makes this so disappointing."
Lovell, who has called IUPUI men's basketball games that have aired on the channel, said the loss will also hurt a number of smaller state colleges. HTSN frequently covered games for the University of Indianapolis, Wabash College, Franklin College and Marian University.
"When you lose an outlet like this, it impacts the schools, the athletes and the families," he said. "It's disappointing without question, and I think it really hurts the teams that got air time on the channel. This type of exposure adds value to your program and brings it validation."
Webstream Sports, an Indianapolis-based production company, has produced numerous events for HTSN over the years.
"It's been a good relationship and we're disappointed," said Webstream President Greg Weitekamp. "But the reality is they needed to do what was right for their business and we understand that."
Weitekamp said Webstream's work for HTSN was no longer "a large piece of business." The production company has grown and diversified its work in recent years, especially after it was acquired by Raycom Media, an Alabama company that owns more than 50 TV stations in 18 states.
Weitekamp said he couldn't speculate on whether another station might try to duplicate what WRTV did with HTSN, but said it would take a major commitment.
The Grit network, founded in April 2014, is owned by Atlanta-based Katz Broadcasting LLC. The network carries programming aimed at men in the 25-to-54 age bracket.
As of March, the network said it had affiliation agreements with stations covering nearly 80 percent of the nation. It currently isn't available in Indiana.
Please enable JavaScript to view this content.