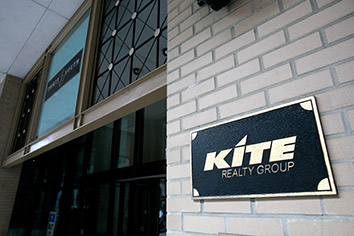 Indianapolis-based Kite Realty Group Trust is in merger talks with fellow retail landlord WP Glimcher Inc., Reuters reported late Wednesday, citing people familiar with the matter.
The companies have "significant issues" to resolve for the deal to materialize, the sources said.
Kite Realty, founded in 1960, has a $2.3 billion market value. Columbus, Ohio-based WP Glimcher has a market value of $2.1 billion.
A representative for Kite had no immediate comment. WP Glimcher didn't immediately respond to requests for comment.
A combination would give the two real estate investment trusts greater scale and diversity as online retail growth pressures traditional stores.
Kite operates about 120 neighborhood shopping centers across 20 states. WP Glimcher owns a similar number of shopping centers and enclosed regional malls.
WP Glimcher was formed early last year in a $4.3 billion merger of Washington Prime Group Inc. and Glimcher Realty Trust. Washington Prime was created in May 2014 when Indianapolis-based shopping mall giant Simon Property Group Inc. decided to spin off 98 mostly smaller properties into a separate publicly traded company.
Reuters did not say whether Kite or WP Glimcher was taking the lead in the merger discussions or where the merged firm would be headquartered.
Robert Laikin, founder and CEO of Indianapolis-based Brightpoint Inc.until its $840 million sale in 2012, is Glimcher's lead independent director.
Shares in WP Glimcher rose 8.2 percent Wednesday before the news report to $11.39 each. They rose another 2.6 percent in after-hours trading, to $11.68 each.
Kite Realty shares slipped 1.6 percent, to $27.39.
Kite has a history of buying other real estate companies to bolster its property portfolio. In 2014, Kite acquired Illinois-based Inland Diversified Real Estate Trust Inc. for $1.2 billion, enlarging its holdings by more than 50 properties.
Please enable JavaScript to view this content.