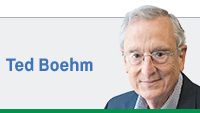 Everyone vaguely aware of current events understands that the current election is, in many respects, unlike anything any living American has seen before. If you are reading this, you are probably among the thoughtful Republicans, Democrats, Libertarians and independents who are horrified by Donald Trump's campaign of daily insults, shifting positions, name-calling and sound bites without content. You may also be frustrated and confused that there seems to be no effective antidote to Trump's toxin. The answer lies within you and millions like you.
Let me be clear at the outset that electing Trump would be a disaster for at least three reasons. He commands no respect outside our borders. Electing him as president threatens our role as leader of the free world. Electing a president who publicly touts the size of his genitalia and attacks the appearance of an opponent's wife elevates a very unfortunate role model for our youth and pollutes our public discourse. It is a reckless gamble to elect a man who obviously has no understanding of world affairs, the constitutional framework that limits his authority, and many substantive domestic issues.
Every news cycle presents a new Trump claim that is obviously false, or a policy that plainly can't be implemented, or another preposterous suggestion of something sinister. Each of these is soon eclipsed by the next. Remember the claim that Ted Cruz's father was somehow involved in the Kennedy assassination? How about Trump's wondering aloud the nonsense that President Obama was born in Africa? Now he disgustingly resurrects the thoroughly investigated and refuted theory that Clinton White House aide Vince Foster's suicide 22 years ago might have been a murder, and wonders aloud whether Hillary somehow might have been involved.
Perhaps Clinton should start referring to Trump as Deceitful Donald, but her ability to reason with Trump's supporters is limited in this world of splintered media channels and social media. And whatever the Clinton campaign is able to produce may not be enough to offset the daily barrage of baloney that the Trumpster emits.
It is the responsibility of all of us as citizens, and particularly those in respected leadership positions in every aspect of American society, to speak out publicly and, importantly, enlist public media to point out the consequences of electing a buffoon as our president. Not-for-profits are generally limited in their ability to take positions on political issues. But leaders in business, the professions and academia are free to express themselves and need to weigh in on the side of sanity in this chaotic election year.
Employers and social, fraternal and community groups can use internal communications to explain some of the nonsense Trump spouts and the risks they would raise if actually implemented. Individuals can use Facebook, Twitter, etc., to reach out to friends and family with these messages.
A final word. Recall that Trump first said he would release his tax returns. Then he claimed there would be no release because they were under audit, when in fact the IRS imposes no prohibition against releasing returns under audit. Then he reversed himself again and said he would release the returns at some unspecified date. We are left to speculate. Is he just stalling to get past the election? Is there something in the returns that shows he's not worth the $10 billion he claims? Or something the IRS hasn't yet identified but scrutiny by experts might reveal? Or is it just that he pays no taxes or gives nothing to charity? If wondering aloud about others is OK, isn't it OK to return the favor?•
__________
Boehm is a retired Indiana Supreme Court justice who previously held senior corporate legal positions and helped launch amateur sports initiatives in Indianapolis. Send comments on this column to ibjedit@ibj.com.

Please enable JavaScript to view this content.