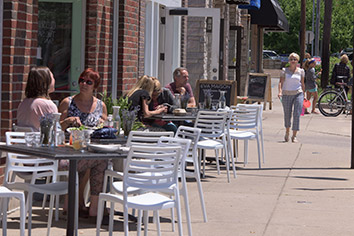 A deluge of apartment projects is on track to bring 500 units to Broad Ripple—a building boom that promises to bolster the daytime traffic village leaders have long coveted.
The neighborhood for years has been known for nightclubs and late-night revelry, while struggling to develop a critical mass of shops that draw customers during regular business hours.
Broad Ripple Village Association officials are confident the four apartment developments either under construction or in the works will help strike a better balance.
"We are a cultural district, but now we're mostly known for our nightlife," lamented BRVA President Kent Springer. "If we increase density, there's more people living in Broad Ripple, and that's how you get more retail and restaurants in the area."
Envision Broad Ripple, a guideline for village development that was completed in late 2012, calls for more density in some parts of the neighborhood. It is mostly responsible for spurring the recent spate of projects.

Browning
But it took Indianapolis-based Browning Investments Inc. to test the waters with its development dubbed The Coil, which is going up on North College Avenue along the northern edge of the Central Canal.
Browning, along with Sheehan Construction Co. Inc., is building the $37 million, 151-unit project that will be anchored by a 33,000-square-foot Fresh Thyme specialty grocery. The Coil is slated to open early next year.
"I think it is a project that has been a catalyst for further development in Broad Ripple," said Jamie Browning, the company's vice president of real estate development. "It was a shot in the arm for the area, in addition to replacing a situation that was not desirable in terms of the Shell station."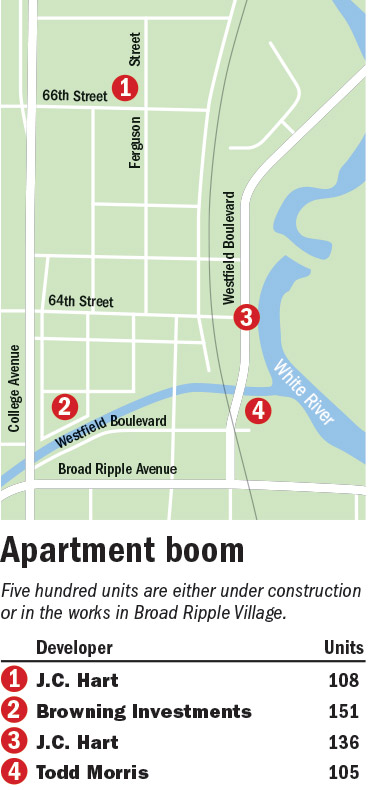 Browning assembled the property on which to build The Coil by buying adjacent parcels that housed the long-vacant Shell station and several low-riseapartment buildings.
The Indianapolis Metropolitan Development Commission in October 2013 approved Browning's request to rezone the two-acre site, despite some objections over its large size and potential to create traffic snarls.
If congestion occurs, another signal might be necessary on College, Springer said. In addition, village leaders are lobbying for Rebuild Indy funds to help resurface streets that are in poor condition, said Elizabeth Marshall, BRVA's past president.
"With any development, there can be some issues," said Marshall, who operates a State Farm insurance agency on College. "But we don't just want to be an entertainment zone. We want it to be a robust community with full services, so the daytime is as robust as the nighttime."
The Coil is the first true apartment project to be built in the heart of Broad Ripple.
The village boasts several complexes, but most are in surrounding neighborhoods. The last to be built was Buckingham Cos.' 150-unit addition to its Monon Place property just east of the Monon Trail between Kessler Boulevard and 61st Street.
Now, Carmel-based J.C. Hart Co. Inc. has started construction on its $17 million Park 66 project. It will include 108 units at the northwest corner of East 66th and Ferguson streets, just south of the Indianapolis Art Center.
The developer also wants to build a $16.3 million project with 136 units split between two buildings on the Rogers Pools property at 6364 Westfield Blvd.
Plans call for demolition of three buildings, two on the south side of 64th Street and one on the north side. Construction likely would start early next year, after Rogers' lease expires.
The property is owned by the Blickman family, which is partnering with Hart on the project.
The Metropolitan Development Commission's hearing examiner on July 14 is set to consider Hart's request to rezone 1.4 acres.
And to the south, at 6311 Westfield Blvd., Todd Morris is proposing to build an 80-foot, six-story building with 105 apartments and 5,000 square feet of street-level retail where a three-story office building now stands.
If it progresses, the mixed-use development would be the village's tallest yet—rising even above The Coil. The MDC approved Morris' rezoning request May 18.
"I think Broad Ripple is always going to be charming, but I think it needs something new," said Elizabeth Morse, co-owner of the Corner Wine Bar. "If that means a big, tall building that's going to house young people, I don't care."
Morse and Liza Zapata bought the wine bar in 2001. It's been a cornerstone of the Broad Ripple dining scene since John and Nancy Hill opened its doors in 1982 at the southeast corner of Westfield Boulevard and Guilford Avenue, within two blocks of the proposed developments on Westfield.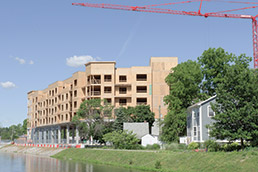 The Coil, a $37 million mixed-use project by Browning Investments, will have 151 apartments and a 33,000-square-foot Fresh Thyme specialty grocery. It is slated to open early next year. (IBJ photo/Eric Learned)
In the years since, scores of dining choices have emerged, including several in the nearby Meridian-Kessler neighborhood that keep those residents from trekking to Broad Ripple, Morse said.
"There's not much to offer that is current; change is good," she said.
Village leaders expect the 500 units to attract about 750 new residents. The four developments all would feature one- and two-bedroom apartments aimed at millennials, who tend to prefer renting over homeownership.
Community leaders also are emboldened by the planned Red Line bus route that will travel up and down College Avenue, potentially bringing more foot traffic to the neighborhood.
Units at the Coil range from 700 square feet for a studio to 1,600 square feet for a two-bedroom town home. Browning has yet to establish rents but already is getting inquiries even though it won't start leasing until the fall, Jamie Browning said.
Opposition to large apartment projects in Broad Ripple has calmed since Browning's proposal, said Springer of the BRVA. Projects are first presented to the association's land use committee. Though not binding, the committee votes on proposals before developers present zoning requests to the city.
"When a developer comes to us, they tailor their presentation to the Envision Broad Ripple plan," Springer said. "You can tell they're tailoring their building to meet our plan, which is what we want."
Springer is unsure how many apartment projects Broad Ripple could support, but said a condominium development would be a welcome addition.•
Please enable JavaScript to view this content.