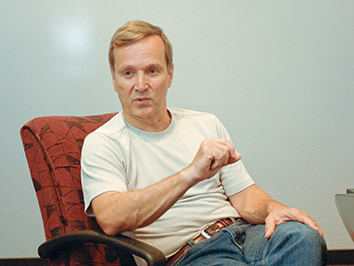 Call-center software maker Interactive Intelligence Inc. is one of the state's largest technology companies, boasting 1,070 employees in Indiana and more than 2,100 worldwide.
Over the past several years, it's been steering customers away from the legacy "on-premise" version of its product to the cloud-based versions. Clients purchase the legacy version upfront and run it off their own servers while the subscription cloud-based versions run off remote servers.
Interactive's first cloud product, called CaaS, debuted in 2009 and operated on Interactive servers. In June 2015, the firm rolled out PureCloud, which runs entirely off Amazon.com Inc.'s Amazon Web Services, or AWS, servers. The company saw PureCloud clients grow by a factor of five over the past two quarters; however, 85 percent of its customers still use its on-premise product.
Interactive held its sixth annual "Interactions" conference in downtown Indianapolis last week, and CEO and founder Don Brown spoke with IBJ during the event about progress with his company's cloud push, as well as other initiatives such as virtual reality.
The following are edited excerpts from that exchange:
IBJ: You've been putting on Interactions for six years. What do these conferences mean for your company?
BROWN: Well, it's great exposure for us as a company. We love using the city as a backdrop—we think it's great for the city of Indianapolis. I've had people come from Europe or the West Coast, and they're pretty impressed by Indianapolis and kind of surprised that it's different from their expectations.
IBJ: Is there anything special about this year?
BROWN: This year is really our first year of holding the event with our new PureCloud platform in production. We talked about it last year kind of in the future tense. Now it's the present tense and we can parade up specific customers and show what they're doing.
We've got a PureCloud demo this week where we'll show off some of the cool features like customer-agent video, screen sharing and co-browsing—because so many organizations are moving to internet-based customer service.
IBJ: Talk about the evolution of your business as it relates to the cloud.
BROWN: When I started the company [in 1994], the standard way that software was sold and consumed was through [media] that you bought—in those days, compact discs. And people would buy it and own a license to it, install it, run it, and get periodic updates from the manufacturer. And that's how we sold our Customer Interaction Center product.
Along the way, the internet went from something that was slow and semi-reliable to a really fast part of the global infrastructure, and it made it tenable for companies to just run their software over the internet. So vendors started moving to this cloud model where they would take care of the software in a data center somewhere and let customers pay a subscription.
And then Amazon built up their AWS offering, [in which] they provided all that expensive data-center infrastructure up in the cloud and a really nice programming environment so that vendors like Interactive Intelligence could create cloud-based applications and offer them via subscription.
So that part of our business has taken off like crazy to the point where that's the lead offering that we're rolling out pretty aggressively to new customers. And this week, we're talking to a lot of existing customers about moving from their current licensed software to a cloud subscription.
IBJ: How's the rollout of PureCloud going?
BROWN: We launched it last year and signed 24 customers in the fourth quarter of last year. We were hoping we could double that count and maybe get 50 customers in the first quarter of this year, and we ended up getting 118. So we blew away our expectations and we've continued to sign up new customers. Now we're coming up on about 200 PureCloud customers around the world.
IBJ: But only about 15 percent of your customers are cloud-based. Is there any hesitation by some on-premise companies to convert?
BROWN: Oh, absolutely, for various reasons. For one thing, some of those companies own the license to the software, and they're happy with what they've got. So it really depends on how dynamic the organization is. If it's an organization that's set in their ways and it's a relatively static environment, what we do works for them and they're happy with it. And that's cool by us and we'll continue to support that.
But there are an increasing number of organizations that want to get out of the IT business altogether. And they'd rather have somebody else take care of the headache of running the servers and doing the updates and security patches, and that's why so many organizations are moving to the cloud.
We have a lot of our customers looking, this week, to add PureCloud to see if it's mature enough, if it's ready for prime time to meet their needs, and we're pretty confident that it is.
IBJ: What's going on with virtual reality?
BROWN: It's really cool. One of our customers in Europe is a division of Carnival Cruise Lines, and they send out brochures for ocean cruises and they include Google Cardboard … a poor man's Oculus Rift, a cheap way of generating a virtual reality headset. And then their prospective customers can initiate a session with somebody back in the contact center where the agent is able to take them on a virtual tour of a cruise line.
They can walk around the ship, can step into various rooms to see, for example, what an estate room looks like versus a standard. They can check out the bar, look at the pool—so it's a really cool way for a customer to see what it'd be like to book this particular cruise ship.
I just think it's going to be popular in a number of settings. Obviously, you can imagine travel or tourism or something. You're looking to book a hotel in Istanbul, and you've never been to Istanbul before … and you're able to walk around, go into the room, see the fitness center and more.
So there will be huge opportunities within the tourism industry. But you can imagine all sorts of applications in health care, where your physician may be remote and you can have a virtual consultation with your physician, where he or she can see you, look at a burn that you've gotten on your leg and tell you if you need to go into the ER or write a prescription.
It's pretty cool and it's going to catch on more quickly than people realize.
IBJ: So what exactly is your company's role with that?
BROWN: Especially in the customer-service environment, what we do is act as the broker. You need to have a consultation with your physician—there's no way for you to make a virtual reality call directly. What we do is provide that virtual meeting software … and handle the routing of your call—getting it to whoever is going to be servicing that interaction. So we do the brokering of setting all that up and then handling the communications, security—in a lot of industries, those sorts of interactions have to be recorded. So we do all the blocking and tackling around making that not just a gee-whiz technology but something that's actually usable in a business setting.
IBJ: Tell me about your degrees. Aren't you currently in a graduate program?
BROWN: I went through Indiana University's School of Medicine to get my MD, and I got a graduate degree in computer science [from Indiana University]. I found out about a really cool graduate degree in biotechnology and molecular biology at Johns Hopkins University. So I'm coming down the home stretch there.
I've been through med school, so I've always had an interest in life sciences, but biology is increasingly information science. There's this convergence between information technology and life sciences that I find to be fascinating. So I've got a number of investments in biotech companies. And to me, biotech feels like the computer software industry did when I came out of school back in the mid-'80s. We're going to see wild things and tremendous opportunities, so intellectually, that's an area that I'm really fascinated by.
IBJ: It seems like customer service is more important than it's ever been, and there are more channels for it than ever before. What does that mean for firms like yours going forward?
BROWN: I think you're right. I think that, with globalization, the ability to compete on manufacturing prowess or price becomes increasingly difficult. The way companies really build loyalty is how they treat their customers. And so you see that with really well-run companies—wanting to engage with their customers, figuring out how they build customer brand loyalty.
So I think a lot of companies are investing heavily in customer service technologies because it's so critical to maintain those customer relationships. So it puts companies like us in good shape. That's what we do. We really try to give them the tools, technologies and services to effectively manage those customer relationships. 
Please enable JavaScript to view this content.