The owner of the Ritz Charles in Carmel has proposed a $20 million mixed-use development on one of the few remaining vacant parcels in Carmel's Arts & Design District.
Chuck Lazzara, who owns the well-known Hamilton County event venue with his wife, has revealed plans for the project, called Monon and Main, which would be built on the southwest corner of Main Street and the Monon Trail.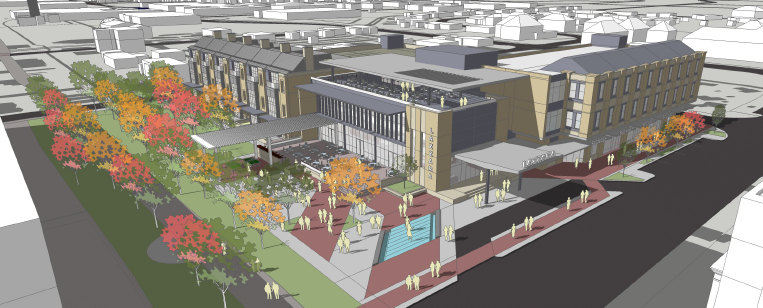 The development plan calls for a three-story building with an upscale steakhouse, a three-story office and retail building, seven townhouses and a park along the Monon Trail.
The 12,000-square-foot steakhouse, called Anthony's Chophouse, is being developed by Lazzara's son, Anthony Lazzara. The two-story restaurant will feature 20-foot ceilings and glass windows facing the Monon Trail. It will have indoor and outdoor seating and provide fine dining for lunch and dinner.
The second floor of the restaurant will include the original mahogany bar from the Glass Chimney, the well-known elegant Carmel eatery that closed in 2008 after 32 years in business. The Lazzaras rescued the bar after the restaurant went out of business.  
A rooftop bar called 3 Up will have a kitchen that serves more casual food starting at lunchtime.
The office and retail building will offer 17,600 square feet of upper-level office space and 8,000 square feet of ground level retail space along Main Street.
The town homes will be 3,000 square feet each with rooftop gardens, patios and two-car garages.
Parking will also be included in the project, but those details have not been finalized.

Chuck Lazzara said his family slowly acquired the land for the project over the last 12 years, and initially only planned to construct a high-end steak and seafood restaurant with a plaza.
"We've been working on this development for a long time," Lazzara said. "We think we're doing all the right things, and we're pretty excited about it."
Lazzara has hired Indianapolis-based Ratio Architects Inc. and the Indianapolis office of Terre Haute-based Garmong Construction Services to lead the project.
Construction could start as soon as October would take about a year to complete.
The project is subject to approval by the Carmel Redevelopment Commission.
Please enable JavaScript to view this content.